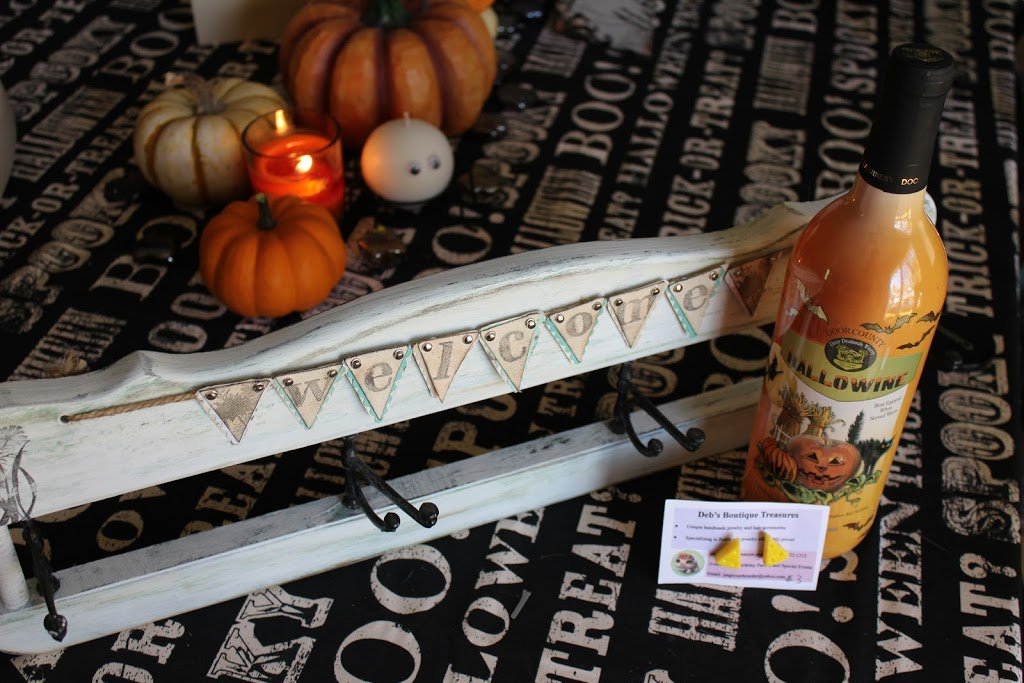 Recycled Thrift Store Find Turned Fabulous!
So here I am walking through my local thrift store when I found this
ugly
piece. I absolutely
hated
the old fruit vine decal and the wood was in rough shape but LOVED the iron swinging hooks! I knew that all this needed was a little paint and a lot of love to make it into something FABULOUS!
If you look close enough you can see the price tag. Yup! ONLY $2.00!!!  Read on to find out how I breathed new life into this UGLY piece!
First step was to tape off my hooks and places that I did not want painted. I just used a
painters tape
so it would remove easily when I was done.
Next I painted my first 'under' coat of paint. I went with a light turquoise/teal color. I used a combination of white, green & blue
Folk Art Acrylic Paint
for this step. Once the paint was dry I took a bar of soap and lightly rubbed a few spots where I wanted the green to stay once I sand my final piece. You'll see…
Next I painted the entire thing with a top white coat of paint and let dry over night. Once completely dry I took a fine grit sand paper and lightly sanded the entire thing for a distressed look. When you are sanding something with two coats of paint, both layers tend to rub of quite easily.
*This is where the bar of soap comes in. If you rub your under coat of paint lightly with soap it helps to keep that layer from rubbing off when you are sanding. Cool tip huh?*
So I am sorry for jumping straight to the final piece, but here it is! After all my sanding, I wiped the piece down and took the tape off of the hooks. It was lacking character so I added a
canvas
'Welcome' pennant banner and a few stamping details.
I gave this to my mother as a birthday gift for our cabin up north. It turned out very pretty.
I added in a bottle of wine and some cheesehead earrings (Go Green Bay Packers!) and it was the perfect gift! I
…and as you can see her birthday was in October, hence the Halloween table cloth.
You could use this distressed painting technique to redo all sorts of great thrifty finds and make FABULOUS gifts this holiday season!
Hope you liked the post!
What do you think of my final piece?
Yay? or Nay?