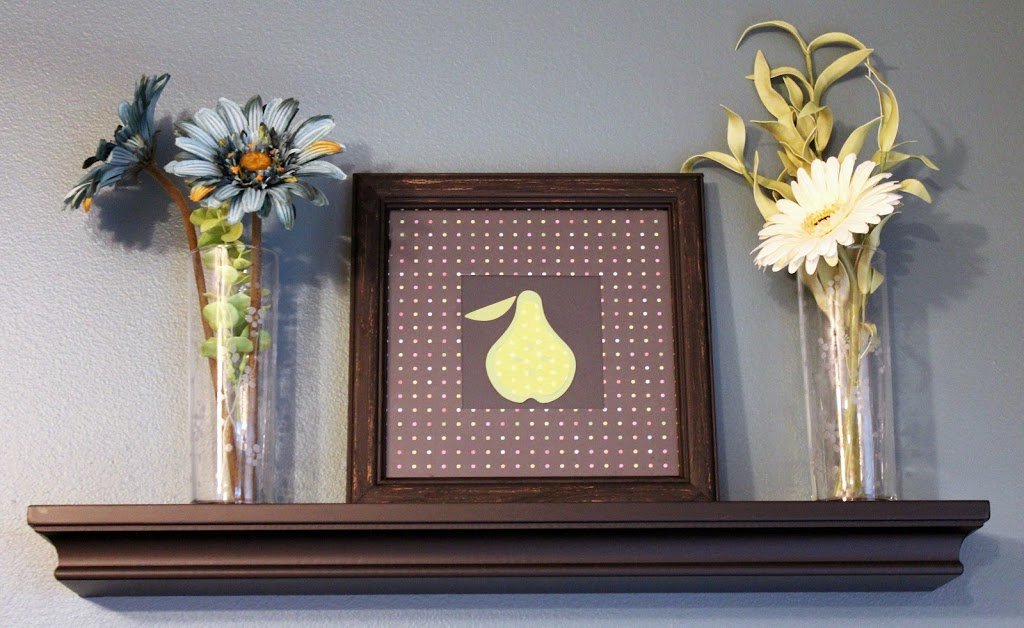 Repurposed Thrift Store Frame Tutorial
 It all started with this ugly $1.00 thrift store frame and an empty spot on my kitchen wall (with a small nail in it)  that taunts me every time i walk by…
It was time for a face lift!
 There it is…what a beauty, huh? Look closely and you can see lil ol' me taking this picture. Hello!
I started off with a simple thin coat of black paint. My kitchen appliances are black so i thought this would look nice.
 I used a rough brissel paint brush so it would have a more antique look.
Here is the mat from the frame. I took it out and used it to trace on the back of the black polkadot paper… then i cut out the traced square with my fiscars paper cutter from my local craft store.
My kitchen is a bluish-grey with black appliances and pops of greens and teals. As i looked around the kitchen i realized I had unconsciously been collecting pear items. Since I LOVE lime greens and blues together i thought this green polka dot paper was perfect for my pear, and the black polka dot paper was behind it in my paper bin and was perfect! There is something about polka dots that make me happy!
 I used my ZIG pen to adhere the paper onto the (ugly) mat. Beautiful- SO MUCH BETTER already! Then I cut a solid black square (American Crafts cardstock rocks!) slightly bigger than the opening and adhered that to the back on the mat.
 For the pear I cut out my shapes from the Preserves Cricut Cartridge! I LOVE this cartridge. The images are SUPER-DUPER-CUTE! It reminds me of the local farmers market I just went to last weekend.
 I used the green polka dot paper for the inside of the pear, and a solid green for the base/back layer of the pear. I then adhered it to my frame with a few small pop dots and centered it in my square. The pear was about 3 inches wide. I cut the inside a bit smaller to get a layered effect.
 Cute. Cute. Cute. It turned out better than I thought- It is SO simple. Only two cuts and a few other steps and wha-la a cute framed pear!
 Here is the frame on a shelf in my kitchen. If your wondering why it's not hanging on that dreadful blank spot on my wall- it's because i thought it was too cute on the shelf. This morning I did move it to the wall, but now I might need to make a few more for my shelves. Maybe a set of three? Apple- pear- strawberry???
 I THINK SO!
Hope you liked the tutorial! The whole project took about 20 minutes total including the painting and cost around $2! You can't beat that!
WHAT DO YOU THINK!?