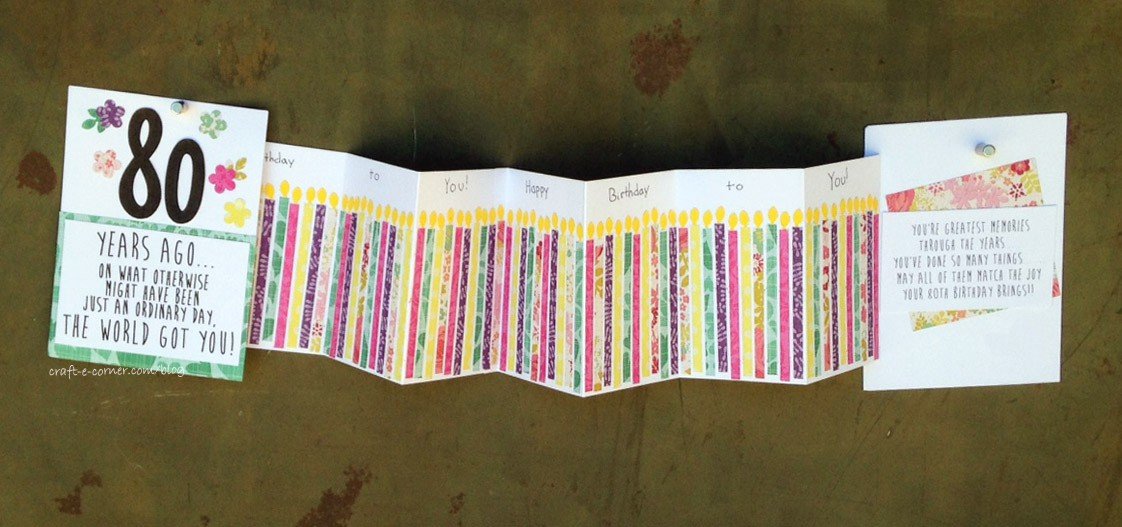 Scrap Paper Candle Birthday Card
My Grandma's birthday is just around the corner and she is turning 80! I wanted to make her a special card for her for this milestone birthday.
This easy card was simply made with scrap paper, a punch, paper trimmer and adhesive.  Let me show you how…
I started with cutting the front and back pieces of my card to the size I wanted my card to be.
I used 2 long strips of paper 11″-12″ long and a height that fit my card. I first folded about a quarter inch in on both ends of each strip for attaching. Using an adhesive roller I attached the two pieces with one fold inside the other in the middle. The other 2 folds I used to attach the accordion to my front and back pieces on the inside.
Here is a YouTube video showing how to do an accordion fold card.
I wanted 10 candles per fold, 80 total, so I measured one fold and divided by 10 and made the strips slightly smaller so there would be space between. Using my straight edge paper cutter I sliced the paper into thin strips for candles. To make the flame I used a tri-leaf hole punch and tried punching just the top leaf and then cut the rest off to get the flame look. Other easy options would be drawing them with markers or colored pencils, stamping them or using a tear drop punch.
After cutting everything out I sorted my strips and flames into piles of 10 dispersing the colors. Then I attached pieces one section at a time.
 After completing the candles I typed up some text and printed it out on card stock to use in my card. I cut the word block out and used a scrap piece of paper to mount the text onto. This was done on the inside back as well as the front of the card. The number 80 I had printed and cut it out with my scissors, but you could hand write it, use a machine to die cut it or stamp it. To add more decorative elements I used the same scrap paper and a flower punch to add flowers to the front of the card.
Grandma was very happy with her card, and look at all those candles!
Paper crafter's love their scraps. This is a perfect way to make use of them!
What do you like to make with your scrap paper pieces?