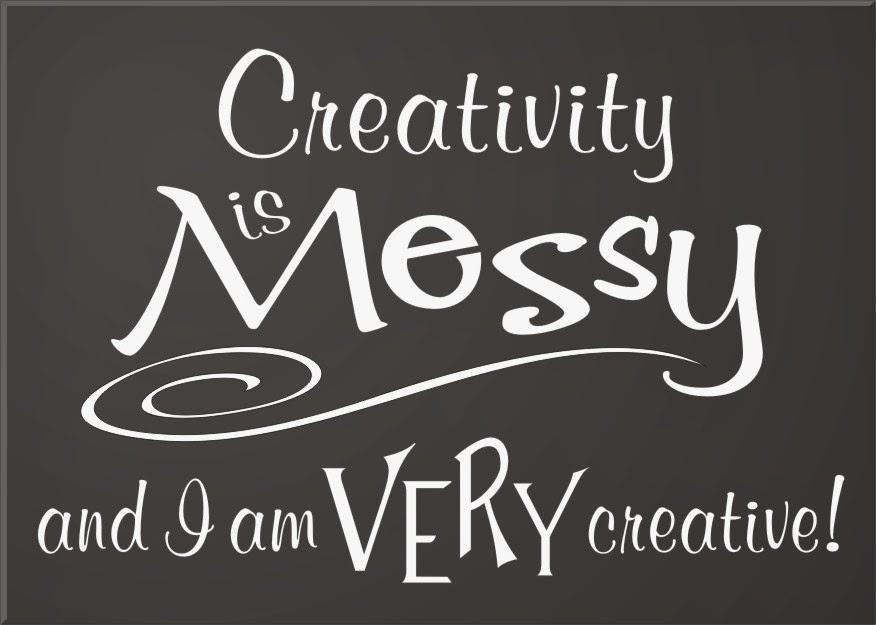 Spring Cleaning! Great Craft Supplies Storage Tips
The first day of spring is coming!  Nicer weather is heading our way and all the snow will melt (…eventually).  Every spring, I get a spring cleaning itch.  There is something therapeutic about opening up all the windows, airing out the house and getting some cleaning done.  One area I HAD to tackle during my spring cleaning this year is my craft area- it was a total mess!  With so much time spent crafting over the winter months, things got a little out of order (okay… a lot out of order). I know I am not alone in this one…  Check out my list of great storage solutions that I used to whip my space into shape!

My "crafting space" is part of my room and it has now taken over the majority of my closet.  What room I do have is… well… crowded to say the least! I have an abundance of craft supplies and with space at a minimum, organization is key!  If you keep everything organized so you can find what you're looking for, you can spend more time being crafty- not searching for the hole punch you KNOW was just right here a minute ago.
Here are 10 things I used to organize my crafting supplies!
I'll admit, I have more ribbon than I could possibly ever need.  All my spools were crammed in a shoe box and I could never find what I was looking for… so I would buy more ribbon and eventually find that I already had something similar.  This wire ribbon carousel helped me get all those pretty rolls of  ribbon out on display where I can see it (and if I can see it, and find what I'm looking for, I'll USE it more!).
I have a lot of markers & pens that could go into these Spectrum Noir marker storage racks.  These racks are great because you can build them up or out; do a staircase type of stack or stack them straight up!  What I love about them is that they store your markers flat- which helps keep ink to both ends of your marker (ideal for any brand of dual tipped markers)!  BUT, don't let "Marker Storage Rack" make you feel like you can't store other things in them.  I have tubes of beads, paint brushes and extra Cameo blades to store in mine too.  We sell individual racks, as well as 6 & 14 packs, so you can get just as many as you need.  They are come in clear or black!
Paper is my vice!  I have so much that it is hard to keep it organized.  I had everything in a bin, but could never find the scrap pieces that would fall to the bottom of the bin.  I have become notorious for cutting up a whole new sheet of paper when a scrap would have done.  I grabbed a few Cropper Hopper Expandable Paper holders to separate out all my paper scraps by color.  If it's not a full sheet of paper, it goes in the paper holders.  This keeps me organized with my scraps and makes it easier to find that little piece of color I need, so I can save my full sheets for bigger projects.
I don't have many metal dies (yet), but I grabbed an Art Bin Case & a pack of magnetic sheets to keep everything in one place.  I popped the magnetic sheets into the Art Bin case and stuck all my metal dies right on the magnetic sheets.  They'll stay put, and I'll be able to find what I'm looking for much faster.  If you have a lot of dyes, think of how much time this system will save you!  Plus, I love that it's portable.  I can grab my Cuttlebug , this case, and take everything with me.  Bonus, it keeps me organized as I craft- just put the dies right back on the sheet and then find the next die!
 Another vice of mine is beads, brads, buttons, Sparkle Lightz…. if it's something small, I tend to collect it.  Sometimes I have enough to warrant an entire jar (see below), but often I have a little of this, a little of that- it's hard to keep everything straight.  Craft Mates Lockables have been my go to for all the little odds and ends I have.  They're like a tackle box for craft supplies!  Plus, the lid locks tight so if it drops (mine has…), you're not picking everything up and resorting again!
One thing I MADE room for was a storage cart (similar to this one).  I love being able to dump all the pieces of a project into a drawer and walk away from it for a while and have all the pieces stored together in one place.  The cart I picked up is clear, but I must say, I would prefer this colorful alternative!  Not only is it pretty, but you can HIDE your stuff, if you need to (tell me I'm not the only one that stashes and dashes sometimes!).  Wheels are a must on storage carts… pull it out for whatever you need it for then roll it right back where it "lives."  Mine has a home in the closet so the wheels really help me get at what I need!
Last year, my "collection" of embroidery floss grew by exponential numbers from all the ornaments I made for Christmas.  I tried keeping the little skeins of floss organized by wrapping each color around a clothespin (thanks Pinterest), but it was taking forever!  I grabbed a pack of Floss-a-Way so I can stash each skein in it's own little baggie.  I put the bags in R.O.Y.G.B.I.V. order & attached all the bags with the ring that is included in the pack.  Now I can just flip though the baggies & find the color I want.  Bonus, I can hang it up on a hook when not in use!
9. Photo Boxes
Any scrapbooker will tell you that organized photos is the key to scrapbooking.  I have several photo boxes to store my photos that need to be put into books.  I also have boxes for each member of the family to store memorabilia that I want to put in a scrapbook.  The note from the tooth fairy, the first report card, a ticket stub from the movies… it all has a place until I can make a page for it to go into the scrapbooks!
I don't think any organized craft room is really organized without using storage jars!  There are SO many styles and types of jars, you are bound to find just what you need to store your crafting goodies.  I have jars of buttons, paint brushes, crayons, bows… anything miscellaneous goes into a jar!  Jars are great because you can pop the lid on and keep things contained.  You can take organization up a level and paint the lid of the jars with some chalkboard paint and write what is inside.  Put the jars in your cart and always find what you're looking for!
I hope you enjoyed this list and seeing how I organized my space! Craft-e-Corner has a lot of other crafting storage solutions for you too!  Find just what you need on our website.
Oh, I didn't stop at just cleaning up my space, I did some deep cleaning and even went as far as cleaning out my Cameo blades too!  Click here for the tutorial!
Now that my space is clean, I may have to make this sign for myself:
Did I inspire you to clean up your crafting space?  What tip are you going to put to use first?? 
Happy cleaning and then even happier crafting!
*Kala*
Read the whole post over at http://blog.craft-e-corner.com/