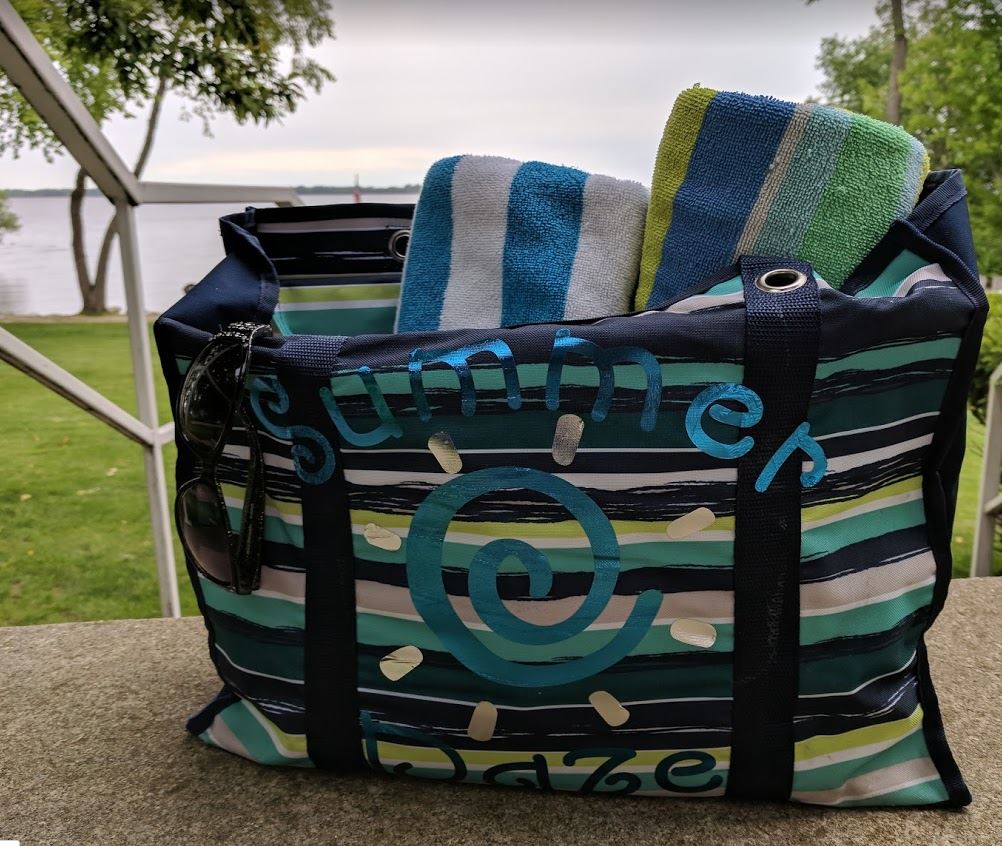 Summer Daze – Thirty One Tote with Cricut Foil Iron on
Excited for kids or grandkids to be home from school for the summer?  With kids home for the summer, I think of childhood lazy days, soaking up the sun and not remembering what day it is.  It feels like summer will be endless and the fun to be had is limitless.  I didn't get the chance to spend my childhood days of summer with my best friend, but I do cherish those days I share with her now.
I found out that "Summer Daze" is when you celebrate your "best friend" by giving him or her a gift that already belongs to you. I was thinking about how I had an abundance of totes that my bestie commented on before.  I decided to spruce one up with some Cricut Iron On and the phrase Summer Daze.  I can then gift the tote to her to use and enjoy during her summer days!
I grabbed my Cricut Machine, a Thirty-One Tote, a Cricut Foil Iron on Sampler, my weeder tool and Cricut EasyPress.
Based on the colors in the sampler, I chose the turquoise and the silver colors, to make a 2 colored design.
It is shown on the Design Space image with the center of the sun and the words in black and the rays of the sun in gold.
Once I followed the prompts in Design Space to Make the Project, I remembered to Mirror the image and place the shiny side of the material down on the mat.  I simply weeded the negative pieces of material so my design remained on material liner.
I felt like the holographic iron on material gave a shimmer like the sun does and was a perfect expression of how I can feel on those warm summer days.
Not having worked with a bag material before, I checked the tag and found out the tote was 100% Polyester.  I went to the Cricut Easy Press Heat Guide online and found the correct settings and prepped the Easy Press for heating.
I own a Cricut Easy press, so I just warmed my tote prior to application for better results and positioned my text, sun and rays on the bag.
After applying heat of 330 degrees for 30 seconds, I was able to pull of the backing material and reveal my upcycled tote for my gift.
Mistakes to Learn From:
If I was to do this project again, or something similar I would put the following tips to work.
Measure twice cut once…. A famous saying of my husband's!  I had made my design on the computer, but once I found where I wanted it on my bag I didn't recheck the dimensions in relation to the bag straps.  As well when I put items in the bag, it sagged a bit causing it to be harder to read the word "Daze".
If I was to do it again, I'd avoid the bag straps where the iron on material was placed, as the heat of the Easy Press, seemed to have caused a bit of a melting process in the material.
Overall, even with a few tips to learn from, I'm super excited to gift my tote to my friend for a "Summer Daze" present!
Additional Project Details
Project Time:  Less than 30 minutes
Project Level: Easy
Looking for a Cricut Easy Press or Foil Iron on?  Click on the links below
Image Used: Sun (#MB5341BC)
Font Used: Girly Stencil Girly Stencil Original Font Conta
What are things that bring summer memories flooding back to you?
What will you be doing to enjoy your summer days?
Happy Crafting – Carrie
Related Posts
DIY Canvas Bag Using Iron-On and an EasyPress
Cricut Infusible Ink Tutorial: Custom Cosmetic Bag