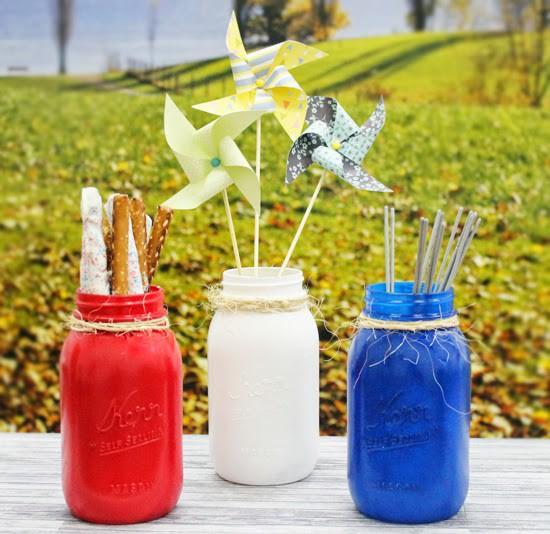 Sweet Summer Pinwheel Tutorial- Happy 4th of July!!
Can you believe it?  TOMORROW is the 4th of July!!  I'm so excited, I can't wait to go see the fireworks and check out our local festivities!  I love this holiday. To get ready for our 4th of July picnic, I decided to create some fun mason jars to hold treats, decorations and SPARKLERS (gotta have sparklers!):
This grouping was easy and fun to make- let me show you how…
The first step was to paint our mason jars, we used regular Kerr canning jars.  I went with red, white and blue paint (of course!).  You could use spray paint, but we opted for regular acrylic paint. My little lefty decided he would paint the blue jar, because blue is his favorite color.  It took about 4 coats of acrylic to get a solid coverage on the blue (2 on white and 3 on red).  We let the jars dry between coats and then sealed the jars with a clear acrylic sealer once they were finished to protect the paint.
Next we made chocolate covered pretzels to put inside the red jar.  Chocolate covered pretzels are such an easy (and tasty) treat:
We dipped the pretzels in white chocolate and added red sprinkles and blue sprinkles to keep them festive.
Finally I made some pinwheels to add to my white jar- I love pinwheels, they just say summer:
You wouldn't believe how easy these are to make!  Check out this quick photo pictorial:
I started out with a 4×4 piece of double sided scrapbook paper.  Use a pair of scissors and cut in from each corner towards the center.  Leave about a quarter sized space in the middle where you do not cut.  Next take a pencil or your bone folder and curl every other edge.  Use hot glue, glue the same end of the corners to the center of your pinwheel.  Just a dab of glue is all you need.  Add a brad to the center (or a button or some other embellishment) to hide your glue!  Glue your pinwheel to a dowel or wooden stick and you're all done!  How cute did these turn out?  These pinwheels don't spin, but they do make a cute centerpiece!
Finish off the mason jars with a bit of twine, add your sparklers and you're all done!  How cute and easy was that?
What is your favorite part of the 4th of July?