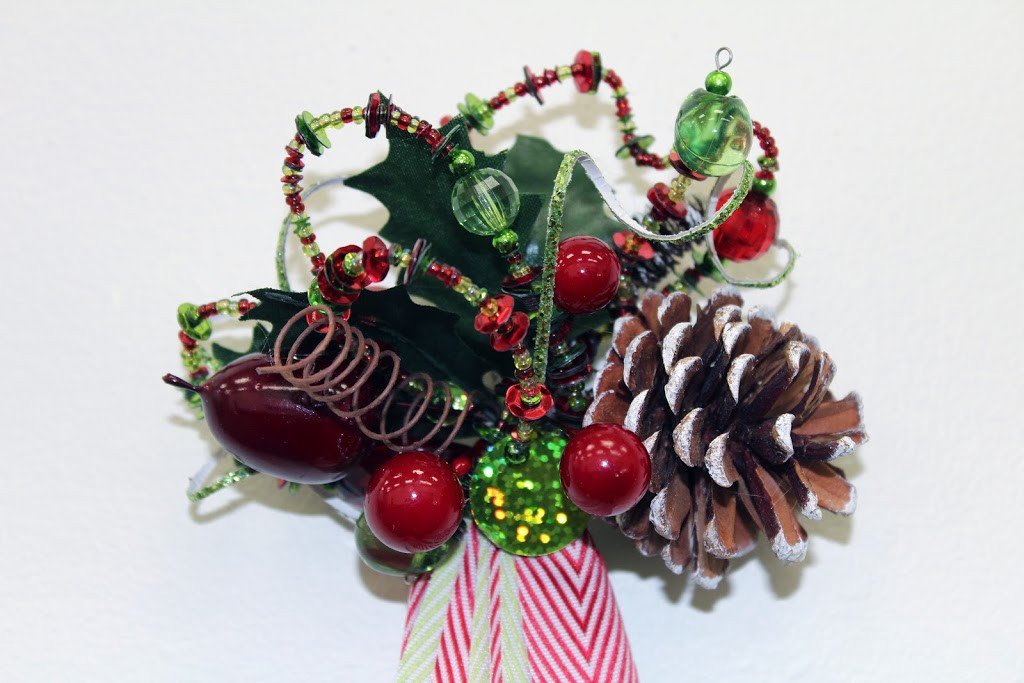 Take A Hike! Holiday Pine Cone Crafting.
So a few weeks ago my sister 'pinned' a picture of an autumn pine cone door hanger on Pinterest. It just happened that I had a bag of pine cones in the attic calling my name for this project!
I got to thinking about what supplies I have for the project and I decided I had some red and green May Arts Chevron Stripe Ribbon that was a must use and my autumn project suddenly turned Christmas!
For the top of the hanger I used a small holiday "pick" that had a small frosted pine cone, berries and beads galore! It was so cute and I love the beads and sparkle! I added in a few American Crafts Glitter Paper curls for a little extra pow!
I then cut strips of my oh-so-chic Chevron Ribbon in red and green and hot glued them to the pine cones. For the top I glued the ribbon strips on top of each other and then glued it to my Christmas pick.
So easy! This was my first try but definitely won't be my last. Next time I will alter the ribbon lengths so the pine cones are staggered and not all at one height and add a snowy spray or sparkle to my pine cones!
Here are a few fabulous pine cone projects by others that I am dying to try!
 (I am jumping for joy because I have just the cancel holders and glitter paper for the start…YAY!)
… or use spray adhesive and throw them in a bag of glitter like Kelli and her boys did from
Random Thoughts Of A Super Mom
!  A great project to do with the kids that look so beautiful and 'adult' like when your done!
Check out this beautiful card by
Sharon Field from Created By You
! A gorgeous and simple card for the holiday season. I love the wood grain background! Great job Sharon!
..and last but not least one more beautifully created card made by anonymous. (I couldn't find an author and the link was bad sorry!)
Hope you liked the projects and are inspired to start some pine cone projects of you own!
Now go take a hike…and get yourself some pine cones! (hehe)