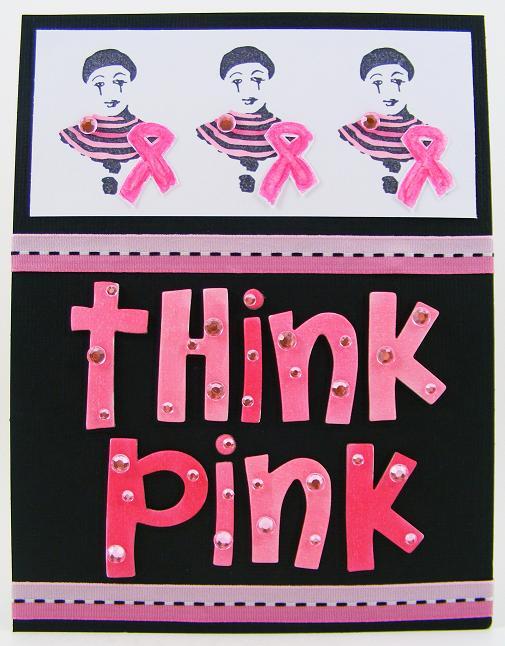 Think Pink- Actions Speak Louder Than Words
Hello everyone! Happy Monday and welcome back to our breast cancer awareness blog series, Craft Pink! Today we are featuring a card made by the talented Hampton Art designer
Beverly Sizemore
!
Check it out!
Beverly created this bright and vibrant "Think Pink" card using an array of stamps, inks and a few pops of pink bling! I love the big bold lettering of the words and the repetition of the stamp.
The stamp on this card reminds me of a mime. As we all know mimes are silent and do not speak- and in this case, in light of Breast Cancer Awareness,  I read this as – ACTIONS SPEAK LOUDER THAN WORDS.
Here is a list of supplies and directions for Beverly's card!
INSTRUCTIONS:
1.  Trim black cardstock for card base.
2.  Stamp image three times with black ink pad as shown.
     Trim and adhere to top portion of base.  Color images
     With pink marker pens.
3.  Heat emboss ribbon image three times on white cardstock
     Using pink embossing powder.  Trim each image closely.
     Go over embossing with marker pens to highlight and
     Shade.  Adhere to stamped images.
4.  Use white chipboard for die cut letters.  Color each letter
     Pink using marker pens.  Adhere letters to card base.
5.  Secure ribbon above and below die cut letters.
6.  Adhere pink gems as shown.

THINK PINK CARD SUPPLY LIST: