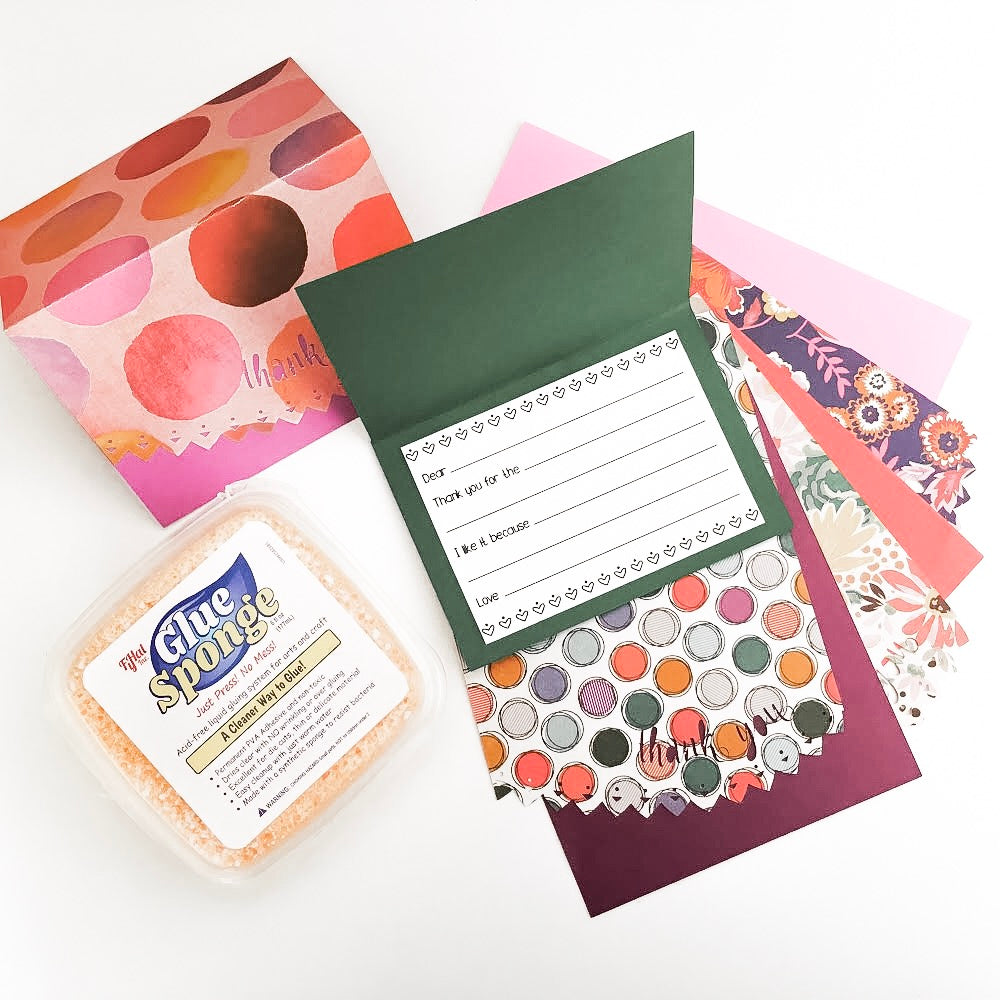 Valentine's Gifts for Teachers
If you're looking for some gift ideas for a crafty teacher, you've come to the right place! We've got ten ideas to give as Valentine's Day gifts this year.
1. Smash Folio Gift Set 69/Pkg
This unique and necessary journal kit will bring a new dimension to how you view one day at a time. Share the progression of one year worth remembering with friends and family in this stylish journal. This package contains sixty-nine pieces (one 7-1/2x5 inch journal, one pen and glue, one elastic pen band, sixty adhesive notes, one mini list pad, four pockets, two rolls of paper tape and one divided box).
Does your teacher enjoy creating paper projects? Then this tool will be perfect for them! They can make over 100 boxes without math or measuring in sizes of 2"X2" to 4"X4" or any size in between. Create envelopes for cards from 2"X3.5" to 6"X8.5". Create bows to add the perfect final touch. The scoring stylus included stores neatly in the board. Non-slip feet prevent sliding. The extendable scoring arm is great for paper up to 12"X12". The 3-in-1 punch rounds corners, notches and creates locks. Make gift boxes and envelopes for the holidays or any other occasion. SO many uses!
3. 12-Month Dated Planner Box Kit
Box kits are perfectly coordinated and include a BIG Happy Planner and all the planner goodies you'll need to get started planning your happy life! This package contains one 8.5x11 inch 12- month planner, one folder, 13 dividers, 634 stickers, three sticky note pads, one pen and one highlighter.
We all know and love Bob Ross, so this would be the perfect gift for any paint-lover -- beginner or professional! This set contains everything you'd need to paint like Bob Ross, from paint to brushes and everything in between.
5. Pentel Arts Sign Pens with Brush Tip
These water-based pens draw fine and bold lines. They're great for a variety of techniques: feathering, cross-hatching, calligraphy, detailed line work and outlining. Comes with 12 pens.
This tape dispenser provides convenient and fast applications with the touch of a finger. It bonds on contact and works on a variety of materials. 
The Glue Sponge has been an extremely popular item this year! It's exactly like it sounds and is perfect for teachers who have lots of kiddos in their classrooms. All you do is simple place the material on top of the sponge to gently coat with glue. I'd recommend stocking them up on two or three!
8. Cricut Explore Air 2 Bundle
Imagine all the projects your teacher could be making with a Cricut Explore Air 2! They for sure would have the best looking classroom. Not only that, the Air 2 can also help them organize everything with stickers, vinyl labels + more. This would be an incredibly generous gift for the teacher in your life!
9. Multi-Bin Circular Organizer
While we're on the topic of storage, this is another great option for teachers! This multi-bin is a circular 49 hole organizing bin for all their art, craft, and studio supplies. This would be great for the classroom in keeping everything organized!
10. 12x12" Essentials Box with Handle
This would be a great gift for teachers! This bin is the perfect storage for 12x12" paper and supplies. It has two latches for safe transport and a handle for easy carrying.
There you have it! What are you getting your teacher's this Valentine's Day?