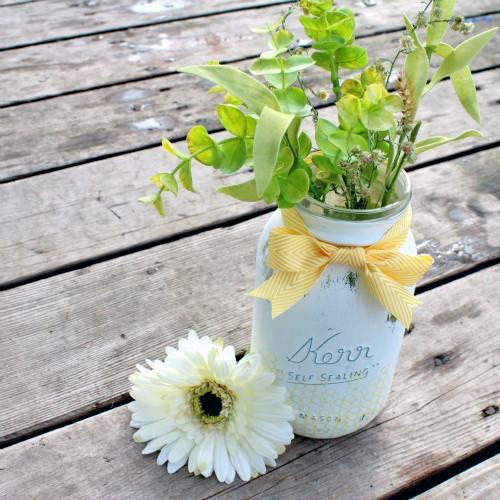 Weekend Project: Recycled Mason Jar Spring Vase – Part II
(seen below)
Get out those old dusty mason jars or any glass jar for that matter. Remove any lids or caps and cover your work area with an old sheet or newspaper, just in case you get a little messy.
I used an old can (can you tell?) of Valspar paint in Flat White. I used a sponge brush for painting. You can use a paint brush but you will get more 'brush' marks if you do. It's your choice.
Simply paint over the glass in even strokes. I left the very tops of my lids unpainted. As you can see, painting on glass makes the paint look very thin. Let the first coat dry and then come back and add a second coat for better coverage.
After both coats are completely dry, take a fine grit sandpaper and lightly rub off the paint in a few areas. By doing this it makes the paint look wood and distressed.  I also rubbed over the 'Kerr' lettering on my jar to make it stand out.
After a quick sanding I left my small square jar as-is. No stamping or color for this little guy! I loved how it looked all on its own and I can always add a ribbon and change that out for some variety!
To finish the jar off I added a yellow chevron May Arts Ribbon and bow around the top and added some fresh greens!
The jar turned out beautiful! The yellow stamped pattern reminds me of a honeycomb patter, which was not intended, but I love it anyway! I think I might add a tag with a bee on it and give it to my mother with some fresh flowers for Mother's Day.
(Comment below)