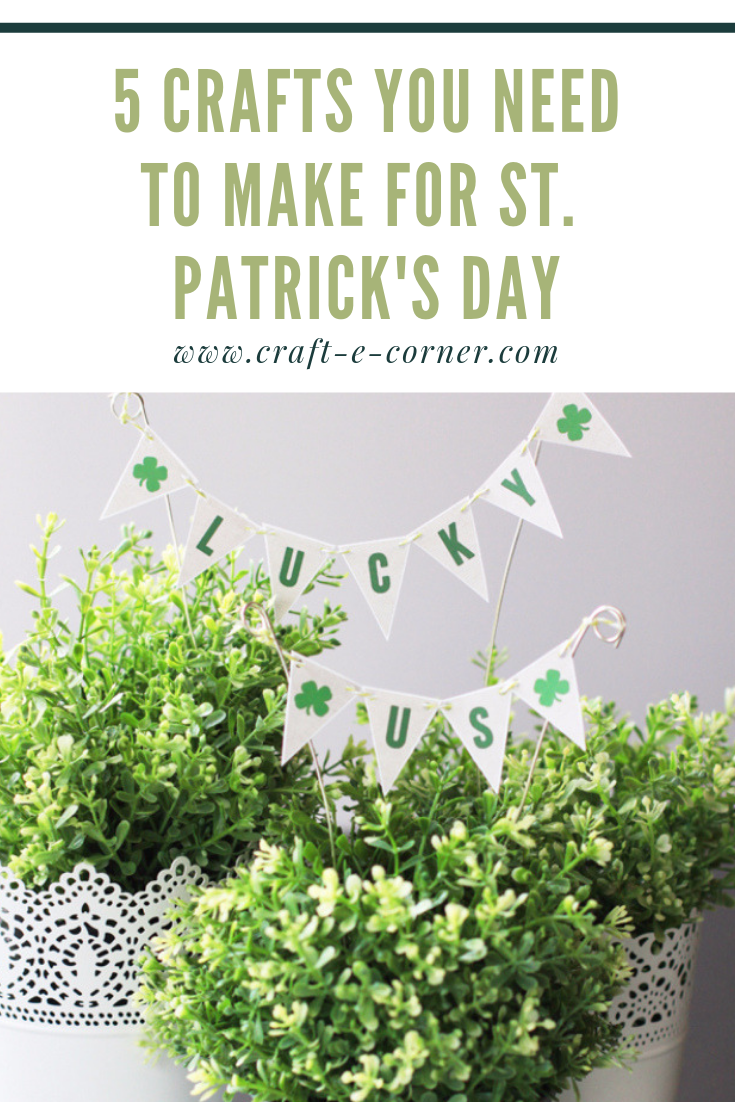 5 Crafts You Need to Make for St. Patrick's Day
With St. Patrick's Day just around the corner, I thought it'd be a great opportunity to round up some of my favorite St. Patrick's Day crafts that I have been pinning lately. As you read through, I've included links to each of the tutorials. 
1.  Farmhouse Shamrock Garland
When I first found saw this photo on Pinterest, I immediately stopped scrolling to pin it. I love absolutely everything farmhouse-related. When I saw this garland, I knew I needed to pin it so I could try it later. I'm definitely not a professional sewer by any means, but this banner is so simple that anyone can do it! In her tutorial, Kimberly cut out every shamrock by hand. However, I love my Cricut Maker, so if I make this – I'm definitely going to save myself the time and cut it on my Cricut Maker! I also love how she styled it on an old window. It's simple and timeless and I really love that it's not overly in-your-face-green. This is definitely one to make for St. Patrick's Day! Click here for the link to her blog to make this.
2. Mini St. Patrick's Day Banner
This was another scroll-stopper for me on Pinterest. I think that a lot of us have these faux plants in our house, so what a brilliant way to style them up a little bit for St. Patrick's Day! Landee, from Landeelu, walks you through step-by-step on her blog how to make this. She even includes a free file so you can make her exact version! The best part about this craft is that I bet you can have it done in under 30 minutes! You can check it out by clicking here.
3. "Lucky" Banner
Next up is this "Lucky" banner from the girls at Dirty Dishes Messy Kitchens. They used their Cricut to cut everything out. You can cut out the burlap pennants and then a vinyl stencil for the letters. I'm all about working smarter over harder and the Cricut is great for that! This would be great hung in your house on a mantle or over a sign on your wall. I think a lot of us already have most of these materials on hand, so it's a great craft to add to your home. Link here!
4. St. Patrick's Day Wood Signs
If you're looking for a more advanced craft, you should totally try making some wood signs! It seems daunting at first, but it's actually really simple. And I promise, once you make one, you'll be addicted and want to make ten more! The girls at Clover Lane Blog show you how to make a vignette of St. Patrick's Day signs for your home. They even provide free files for you to import into your cutting software! I love how they sanded them to look old and rustic. And who doesn't love getting to use some power tools too? Check it out here.
5. Paper Four-Leaf Clovers
I've been pinning a LOT of paper flowers lately, so I was really happy to come across this tutorial from DIY Inspired on how to make paper four-leaf clovers! I love how this is an inexpensive and quick craft. She even has a YouTube tutorial which is super helpful! You could make a little cluster of them to display or make a bunch and display it like a faux plant. Link here.
I hope this inspires you to get crafting for St. Patrick's Day! It's just under two weeks away. Even if you don't celebrate St. Patrick's Day, it's still a fun way to start incorporating spring into your home…and trust me, here in central Wisconsin, we are desperately needing spring!
Thanks for reading along!
-Courteney
Related Posts
DIY St. Patrick's Cricut Premium Vinyl Craft
Leprechaun Treat Boxes for St. Patrick's Day