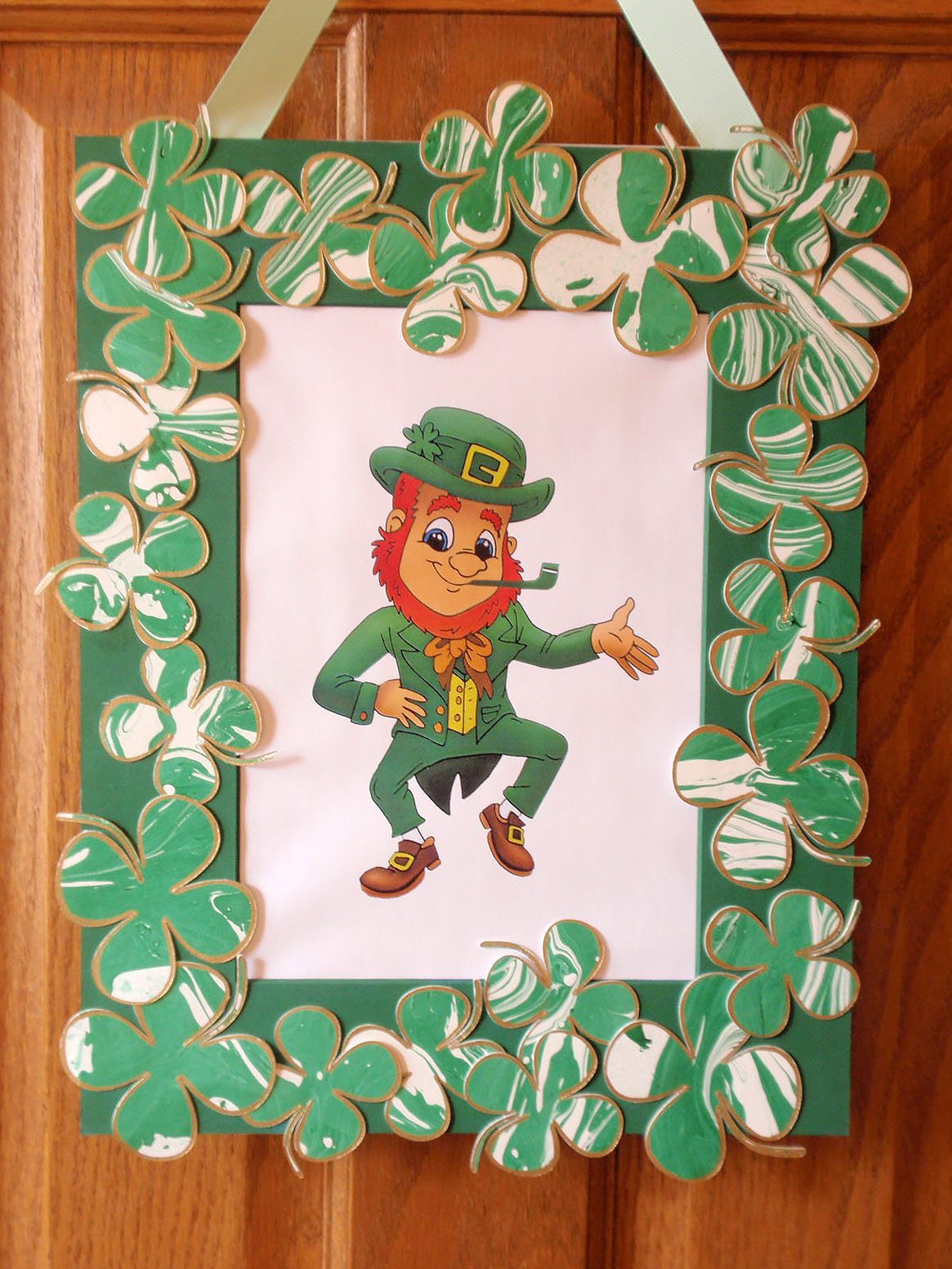 Marbled Paper Shamrock Wreath for St Patrick's Day
Looking to add a touch of creativity to your St. Patrick's Day decor? This easy-to-make shamrock wreath will do the trick! Using Easy Marble paints in green and white, this wreath is sure to stand out with its unique marbled design. With its lightweight and flat design, hanging and storing this wreath is a breeze. Using watercolor paper, a photo mat and backing board, and some leprechaun-themed decorations, this project is perfect for those who love a bit of DIY. Check out the instructions below to get started!
Supplies:
Easy Marble paints in green and white
Water container
Disposable gloves
Watercolor paper, 2 sheets, 9×12-inch
Photo mat and backing board, 11×14-inch
Acrylic paint, dark green
Gold paint pen (optional)
White glue
Ribbon for hanging, about 12-inch
Directions:
For information about Easy Marble paints before beginning this project, check out our blog post, Creative Collage Papers using Easy Marble Paints.
Drip Easy Marble paints on the water following the manufacturer's instructions.  Work quickly to swirl the paint with a skewer and then lay the watercolor paper on the surface.
Allow the papers to dry thoroughly.
Cut your shamrocks from the dried watercolor paper using a die cutting machine or scissors.  To die cut the shamrocks, create a new project in Cricut Design Space.  Bring a shamrock image (like this free one found on Pixabay) onto the canvas.
Duplicate the shamrock in various sizes from 2 to 4 inches.  You'll want a good assortment of shamrocks to add to the wreath.  Make the project.  If you'd like, outline the cut shamrocks using a gold paint pen.
Paint the front of the photo mat with dark green paint.  Allow to dry.
Arrange the shamrocks on the front of the photo mat and glue in place.
Print a copy of a leprechaun image on letter size paper. Glue or tape the leprechaun image and ribbon to the backing board of the mat.
Glue the front of the mat to the back of the mat.
And there you have it - a unique and festive St. Patrick's Day wreath that is sure to bring a bit of luck to your home! Whether you hang it on your front door or inside your home, this wreath is a fun and easy way to celebrate the holiday. So gather your supplies and get started on this DIY project today. Don't forget to share your creation with us and spread the St. Patrick's Day spirit!
Related Posts
Leprechaun Treat Boxes for St. Patrick's Day
5 Crafts You Need to Make for St. Patrick's Day