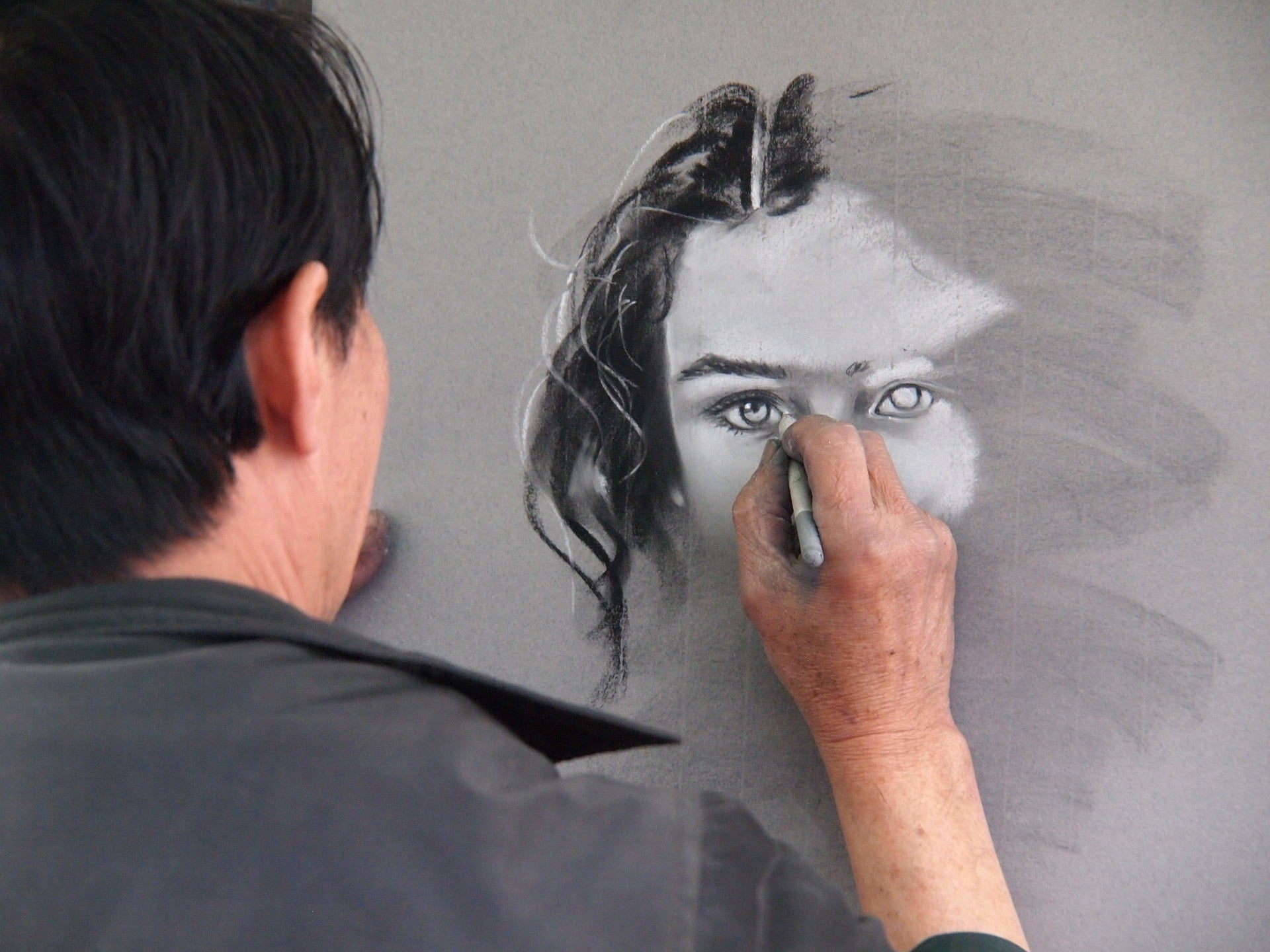 7 Drawing Supplies to Begin Sketching Today
Ready to start drawing?  With everything on this list, you'll have just what you need to sit down and get to work.  Drawing materials are easy to find and easy on the budget.
What You Need:
Graphite Pencils
Graphite pencils are rated by hardness.  The hardness rating (number) is stamped on the side of the pencil followed by the letter "H" for hardness or the letter "B" for blackness.  The hardest pencil is marked 9H and creates the lightest marks.  H pencils hold a point longer, erase easily, and fill in the spaces on textured paper better than B pencils. The softest pencil is marked 9B and makes very black marks.  Choose a hard pencil for drawing fine details and a softer pencil for blending and shading dark or mid tones.
A pencil set is a convenient way to get started drawing.  Look for a set that includes at least 3-4 graphite pencils in the range from about 2H to 4B or 6B.  Often, these sets come with a pencil sharpener and tin for convenient storage. Woodless graphite pencils are another option; these pencils can be used both on its point as well along its broad side.
If you're buying a single pencil and not a pencil set, 2B is a good choice for general sketching. Alternately, you might consider General's Layout pencil.  The layout pencil combines some of the qualities of an H pencil with the darkness of a B pencil.
Paper
Paper for drawing or sketching differs on principally on weight, finish or texture, color, and whether the paper is acid-free.  Acid-free refers to a manufacturing process where the paper is treated to neutralize acid absorbed from the air or formed through natural aging.   These papers are more resistant to yellowing over time.  Virtually all artist sketching and drawing papers, even relatively inexpensive student-grade papers, are marked acid-free.
The weight of the paper is determined by how much 500 sheets of the paper weighs.  Typically, the higher the weight, the thicker the paper.  Medium-weight newsprint paper intended for practice drawings and preparatory sketches might weigh only 32 lb.  Heavier paper intended for finished artwork typically weighs between 60 and 100 lb.
In addition to white, drawing or sketching paper also comes in some colors like tan, gray, and blue.  Papers in these muted colors can help create an appropriate mood for drawings with dim lighting, including drawings at night.  Colored papers also are well-suited for any drawing with a plain or no background, such as a portrait.
Eraser
Erasers are used for cleaning up mistakes, but they also can be used alongside other media to create marks in your artwork.  Erasers differ by the material used in their construction as well as their mechanism for removing marks.
Rubber erasers come in many shapes and sizes, including ones found on the top of ordinary pencils.  These are good for erasing graphite pencil on bond, drawing, or sketch papers.  Rubber erasers work by friction and shred themselves as they work.  Art gum erasers also are made from rubber; however, these are a softer rubber than standard rubber erasers and will not tear paper even with aggressive use.  Because gum erasers are so soft, they crumble as they erase and can be "used up" quickly as a result.
Kneaded erasers are soft and malleable.  They can be formed into shapes to create interesting light marks in graphite and charcoal works.  Unlike erasers which work by friction, kneaded erasers lift graphite and charcoal from the surface of the paper.  This makes them very safe to use on a variety of papers.  Because these erasers pick up graphite, they can become quite dirty.  Kneading the eraser will help renew its surface for continuing use.
Vinyl erasers are made from soft vinyl.  These erasers remove the most pigment of all the erasers.  However, you can tear your paper when using one if not careful.  Vinyl erasers come is many shapes and sizes, including eraser pencils that can be sharpened to a point using a regular pencil sharpener.
Charcoal
Charcoal is burnt organic material that produces rich dark marks useful for creating value contrasts in black and white artwork.  It is available in sticks or pencil forms.  Stick charcoal includes vine charcoal, a softer charcoal for lighter marks, and concentrated compressed charcoal for darker marks. Charcoal sticks can be used on the flat edge for broad strokes or fashioned to a point using a sanding block.  Charcoal in a pencil form can be sharpened to a point using a pencil sharpener for drawing fine lines and details.
Conte is used for similar effect as charcoal, but it is made from clay instead of burnt organic materials.  White charcoal is not charcoal at all, but often white Conte or even white pastel.
Blending Stumps
Blending stumps are used to smudge graphite and charcoal, moving it around on the surface of the paper to create different color gradations.  They are an alternative to blending material using a finger and prevent any oils from your fingers from being introduced onto the surface. Blending stumps and the smaller tortillons are typically manufactured from compressed paper.  Stumps are larger with points on both ends, while tortillons are smaller in diameter with a point on only one end.  These are inexpensive blending tools that are often discarded when they become too dirty; however, blending stumps can be cleaned somewhat by rubbing the end on sandpaper to remove dirty parts.
Pencil Sharpener
A basic, hand-held pencil sharpener will work to sharpen graphite penicls.  The main requirement is that the sharpener be sharp.  One way to tell if your sharpener is sharp enough if it produces a long, continuous pencil shaving instead of small shaving bits.
Fixative
A light application of fixative spray applied to finished pencil art will protect the the work from smudging and dust.  Spray the artwork upright.  Start off the paper and finish off the paper on the opposite side using smooth sweeping strokes.
Related Posts
Hand Lettering: Getting Started Guide
Moonlight Twinkles Using Brusho Crystals and Hand Lettering