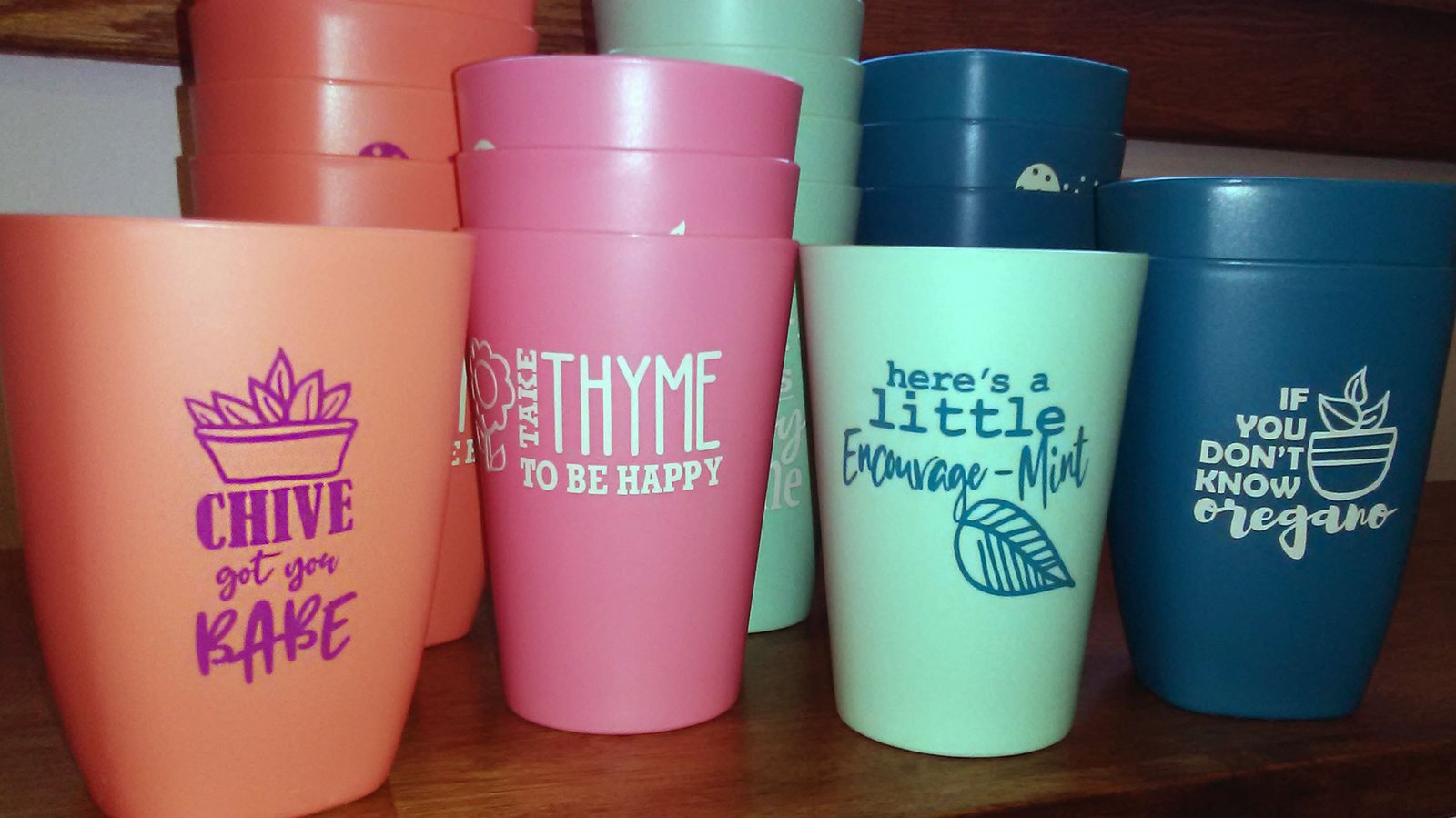 Applying Vinyl on a Curved Surface: Herb Pots
Are you looking for a fun way to add some personality to your herb pots or garden containers? Look no further than these adorable punny designs that you can easily apply using permanent vinyl and transfer tape. While applying vinyl to flat surfaces is relatively straightforward, curved surfaces can present a challenge. But with the helpful tips and tricks shared in this blog post, you'll be able to apply your designs seamlessly and create unique and charming herb pots that will make a great addition to your kitchen window or garden.
Materials:
Directions:
Step 1
Upload the cut design to Cricut Design Space. Size the design to fit your container (I made my designs about 3-4 inches for the longest dimension). Attach each design. Make the project using permanent vinyl. 
Weed to remove the excess vinyl. These are pretty detailed designs set to a small size, so be prepared for weeding to be a bit fussy. Just take your time, and if your eyes aren't as young as they used to be (like mine!), you might like to check out Cricut BrightPad Go or Cricut Bright 360 craft lights to help you out. 
Step 2
Remove the backing from the transfer tape, but don't throw it out! Set it aside to use in the next step. Lay the transfer tape over your cut vinyl design and burnish it well. Discard the backing from the vinyl, leaving the vinyl stuck to the transfer tape.
Step 3
Now back to that transfer tape backing:) Cut the backing in half and place it back on the transfer paper, leaving a small gap between the 2 pieces. The gap will be the only place where the sticky transfer tape is exposed. The gap is also the place where the transfer tape will make initial contact with the pot.
Depending on the curve of your pot and the orientation of the cut design, you may want the gap to be situated horizontally or situated vertically. I would consider employing a horizontal gap if the cut design is an elongated portrait orientation and/or your pot has the most significant curvature from top to bottom. I would consider a vertical gap for a cut design with a pronounced landscape orientation and/or your pot curves primarily from right to left.
Step 4
Secure the pot between 2 towels, with a squishy pillow etc.- anything that can hold the pot in one place on its side and free you to use both hands to apply the vinyl. Clean the pot in the spot where you want to add the vinyl using rubbing alcohol and allow to dry.
Line up the design and apply the vinyl to the pot only in the gap between the backing paper.
Step 5
Then remove one piece of backing paper and secure the exposed half of the cut design onto your pot. Finally, remove the remaining piece of backing paper to apply the other half of the cut design.
More Tips
If your pot is especially challenging, with more than a gentle curve, here are a few additional tips to help transfer your cut design successfully.
Trim the excess transfer paper away from your cut design to make it easier to handle before starting your application.
Cut your transfer paper backing into 4 (or more!) pieces instead of two, so you can apply one quarter of the design at a time instead of one half.
Cut a few slits into the transfer paper before you apply it to your surface to keep it from creasing or buckling when smoothing it onto a pronounced curvature.
I love how these little herb pots turned out! When the weather warms up here in Wisconsin, I'll be planting them with herbs from my garden and offering them for sale at a local annual plant sale event. But your mom (or grandma or sister) would surely also get a kick of out one of these for Mother's Day, don't you think?
Looking for more information about applying vinyl on non-flat surfaces?
Check out our video, How to Apply Vinyl on Curved Surfaces: The Hinge Method, as well as these other Cricut garden projects on our blog. Happy making!