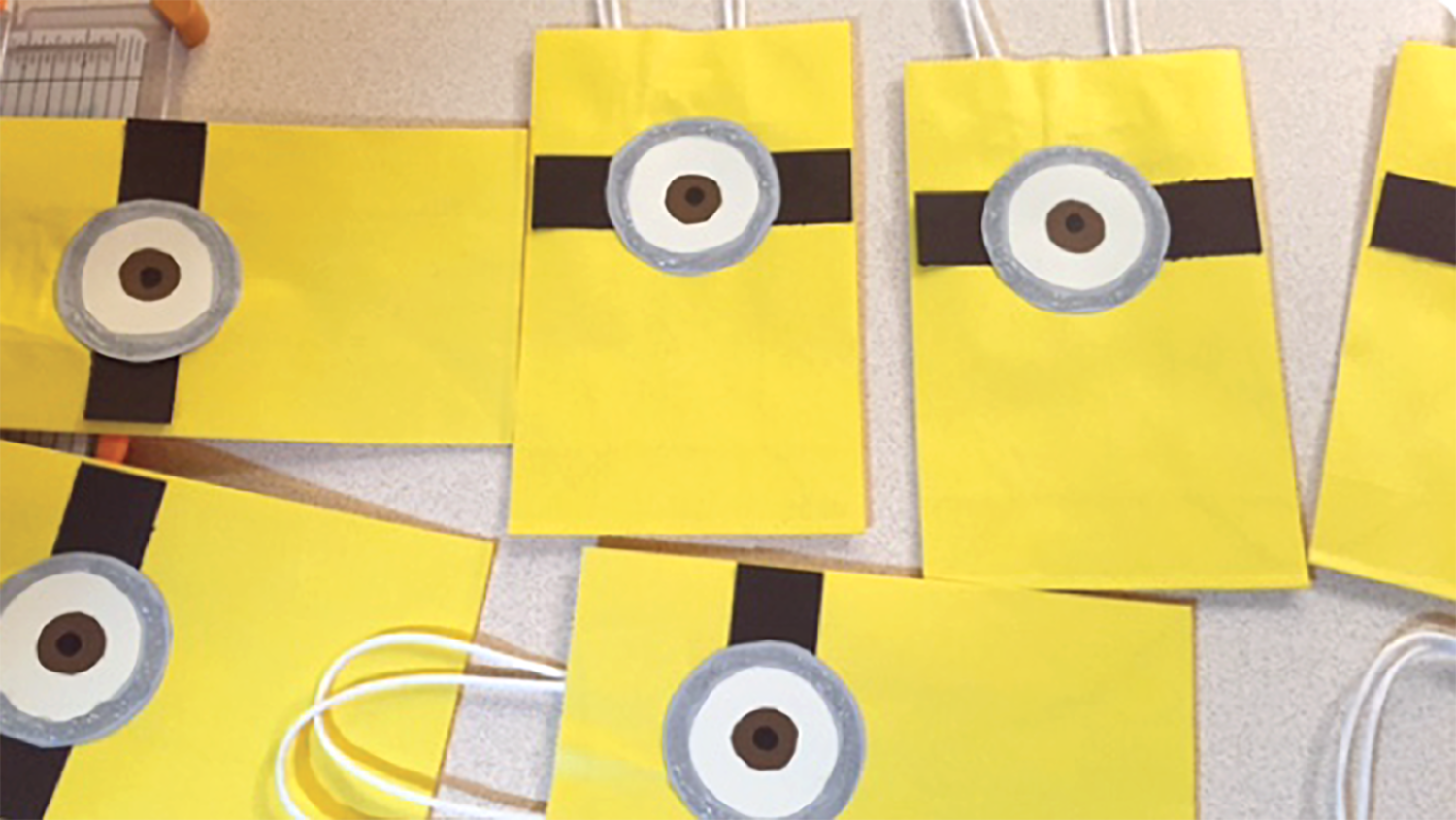 DIY Minion Gift Bags in 5 easy steps
Do you have a minion lover at your house?? I do- He is five and just can't get enough of these short, yellow, hard to understand, creatures.
If your need some cute anytime gift bags for a young person, these minion bags are super easy and likely to please just about anyone.
What you will need:
Yellow Gift bags/or purple if your want to do the purple minions
Grey/Black /Brown/White cardstock or colored paper
Three different sized circles to trace
Scissors/die cutting machine/paper cutter
Glue
Optional-Glitter Glue
Black Sharpie
Start off by counting out all your paper for each bag. I made twelve, so I made sure that I had enough to cut out all of the eyes. I actually found a pack of cardstock in my craft storage that just happened to have all the colors I needed.
1)Trace your largest circle onto the grey paper and cut out.
2) If you have a paper cutter, use this to cut strips that are just about one half the width of your grey eye circle, and also make sure to cut the strips to the width of your bag.
3) Take your slightly smaller circle template and trace circles onto your white paper for the next layer of the eye. I ended up having to find just the perfect size object to trace around to get the best size. If you are using a die cutting machine like a cameo or other machine, then adjust accordingly, and you will probably have these made much quicker than I did.
4)Now find one more small circle and trace onto brown paper to make the colored part of the eye. After they are cut- draw in your black pupil with your sharpie.
5) Everything is cut, so you are ready to assemble. Glue down your black strip, onto the yellow bag about three quarters of the way up the bag. Now glue your grey eye circle onto your black strip centering it, then your white eye circle centered on the grey circle and finally the brown circle centered onto the white eye circle.
6)Optional- I finished mine by taking glitter glue and outlining the grey circle but that is totally up to you!
Ta Da!!  Aren't they cute?  Party decor is something that is super fun for me to make.  How about you? Do you like to make accessories for parties?  What is your favorite thing that you have made for a party?