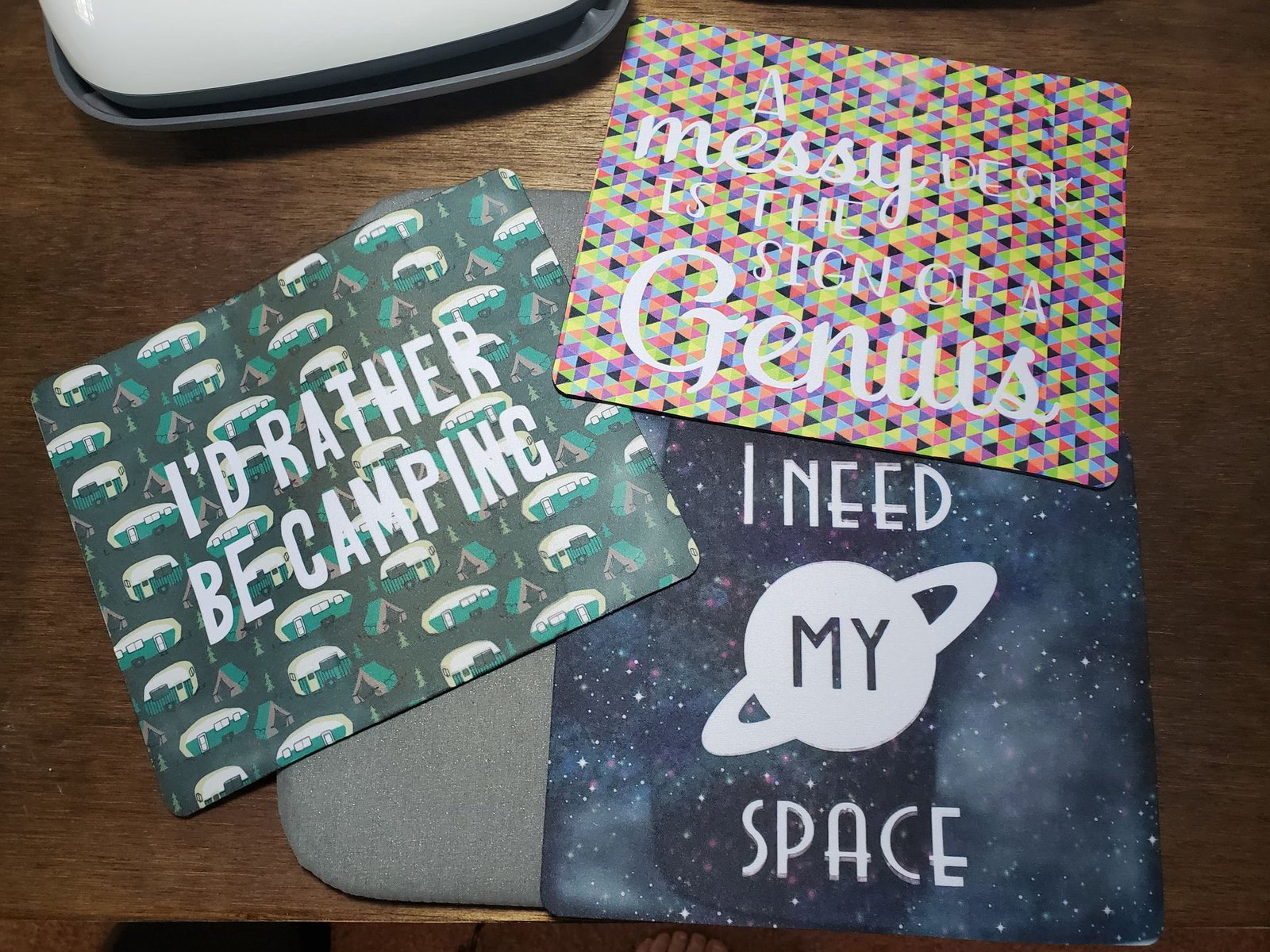 DIY Mousepads with Cricut Infusible Ink
My husband made me this absolutely amazing desk for me to finally have all my Cricut stuff in one area. Its awesome and beautiful. The only problem is my mouse doesn't seem to want to work all the time on the wood. That is when I decided to look to see if there were sublimation mousepads. I found some on Amazon and thought I would give it a try.
Supplies:
                Cricut
                Cricut tools
                Standard Grip Mat
                Cricut Infusible Ink Transfer Sheets
                Heat Resistant Tape
                Easy Press 
                Easy Press Mat
                Sublimation Mouse pads (bought mine on Amazon)             
I started over in Design Space. I measured my mouse pads and I created a square that was slightly larger than the pad. Then I created my design to fit into that square. After I had my design all set I welded it all together (not including the square, just the design). Then I centered that on my square and sliced it.
Then it was time to cut. Infusible ink transfer sheets feel almost like a thick paper. They are placed pretty side up on a standard grip mat. Try to not use your hand as much to press down and use a brayer instead. The oils from your hands can sometimes ruin the ink. Select the Infusible Ink transfer sheet setting and mirror your image. I also always select more pressure with Infusible ink sheets. It makes it a little easier to weed when doing this.
Weeding Infusible Ink sheets are much different than vinyl. Start by rolling the sheet a little and you'll hear some cracking (that's a good thing). Then just use your fingers to peel away the negative space. Try not to use the weeder tool too much. It can sometimes poke the ink into the backing and mess up your image.
Now it is time to transfer! I always place a piece of cardstock over my Easy Press mat when working with infusible ink just in case. Then I put the mousepad on the cardstock.
Next, I put the transfer sheet face down towards the mousepad. I lined it all up and made sure the design was in the center of the pad. Then using the heat resistant tape I taped down the transfer sheet to the cardstock. The transfer sheet needs to be as close to the pad as possible. Really tape it down and make sure it stays in place. Then place the butcher paper that comes with the transfer sheet over the top.
I always check the Cricut EasyPress heat guide (https://cricut.com/en_us/heatguide) to know exactly what temp and for how long to heat. For this project I picked tote bag as it seemed the closest to a mousepad. The guide told me 385 degrees and to press for 40 seconds.
Press!
Allow the project to cool completely. It is super hot! After it is cool, peel the tape off and pull back the sheet. And just like that you have an awesome personalized mousepad! Infusible Ink is just the coolest thing. It really 'infuses' to the blank unlike vinyl that sits on top of the blank.
That one turned out so well I did the other two right away. 
My EasyPress was not big enough to do the entire mousepad at the same time so I had to press it twice. With the 'I need my space' one you can tell that the overlap part was better and the sides didn't get the same pressure. I thought it looked kind of spacey so it didn't bother me too much but did better on the last one.
Good thing I put that card stock down on my EasyPress mat or this would have been permanently on there.
Think of all the DIY gifts you could do! You can create your own design and there are so many different infusible ink patterns.
What would your mousepad say?
* I rescue craft supplies. I'm not a hoarder. I'm a hero.
~Beth
Related Posts
3 Projects to Make With an Infusible Ink Bundle