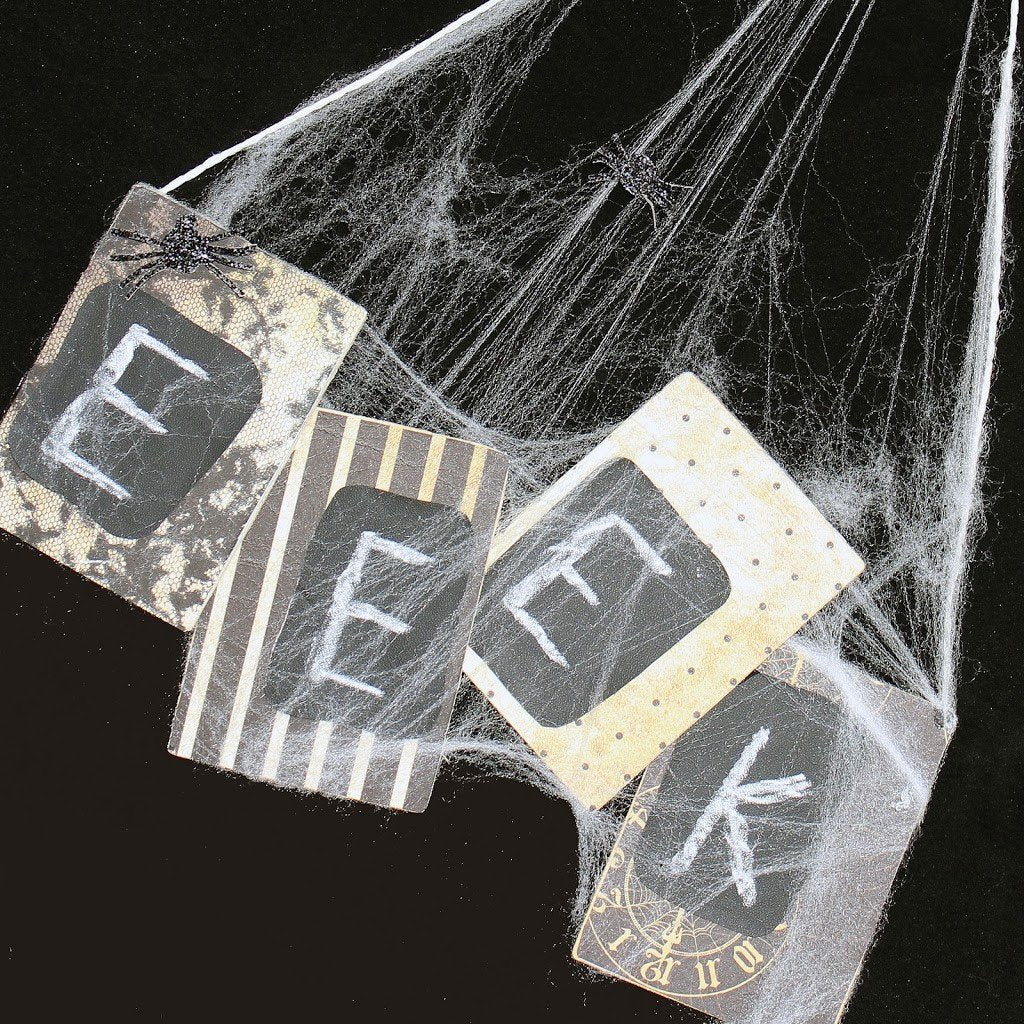 EEEK! Frightfully Fun Chalkboard Sign
Hello everyone! Just finishing up some Halloween crafts I've been working on. This one was one of my favorites! I've been trying to use my massive amount of chalkboard fabric I bought years ago and this was just one of many things I have done with it!
I started out with some wooden rectangle shapes I got at my local Hobby Lobby Store. There are 4 in the pack so it worked out perfect! I covered each one individually using Fabscraps Classic Black Papers (except the clock paper on the right- that's Graphic 45 Midnight Paper) and my Zig Glue Pen. 
TIP: Cut the paper slightly larger that the piece, glue it on and then using an Xacto knife, trim the edges with the paper side down)
I then simply cut out 4 lopsided rectangle shapes with rounded corners from my chalkboard fabric and hot glued them on. After the glue is dry, I then glued the pieces together in a creepy crooked way!
 I like having things "off" just a bit in life. It reminds me that nothing and nobody is perfect and flaws give things their personality!
Next I glued on a simple May Arts cream colored cord ribbon which matched the paper colors great. Last I added a bit of faux spider web and glitter spider.. I cut this spider by hand using American Crafts Glitter Paper.
Once it's finished you can use chalk and write whatever you'd like! I used white chalk and chose "EEEK!" You could also do the word BOO! 
TIP: You could use orange chalk for a pop of color!
Here is the finished sign. It turned out great! I chose to hang mine but the nice thing about this project is you can alter it how you'd like. Instead of adding a string to hang it, you could lean it on a shelf or hang it like a picture frame! You can choose different paper and colors to create so many different fun chalkboard signs for Halloween, Christmas or ANY time!
Hope you like it!
SUPPLIES:
Wooden Shapes
Chalkboard Fabric
  Fabscraps Classic Black Papers
 Graphic 45 Midnight Paper
American Crafts Glitter Paper
What H

A

L

L

O

W

E

E

N word would YOU write on a chalkboard sign?