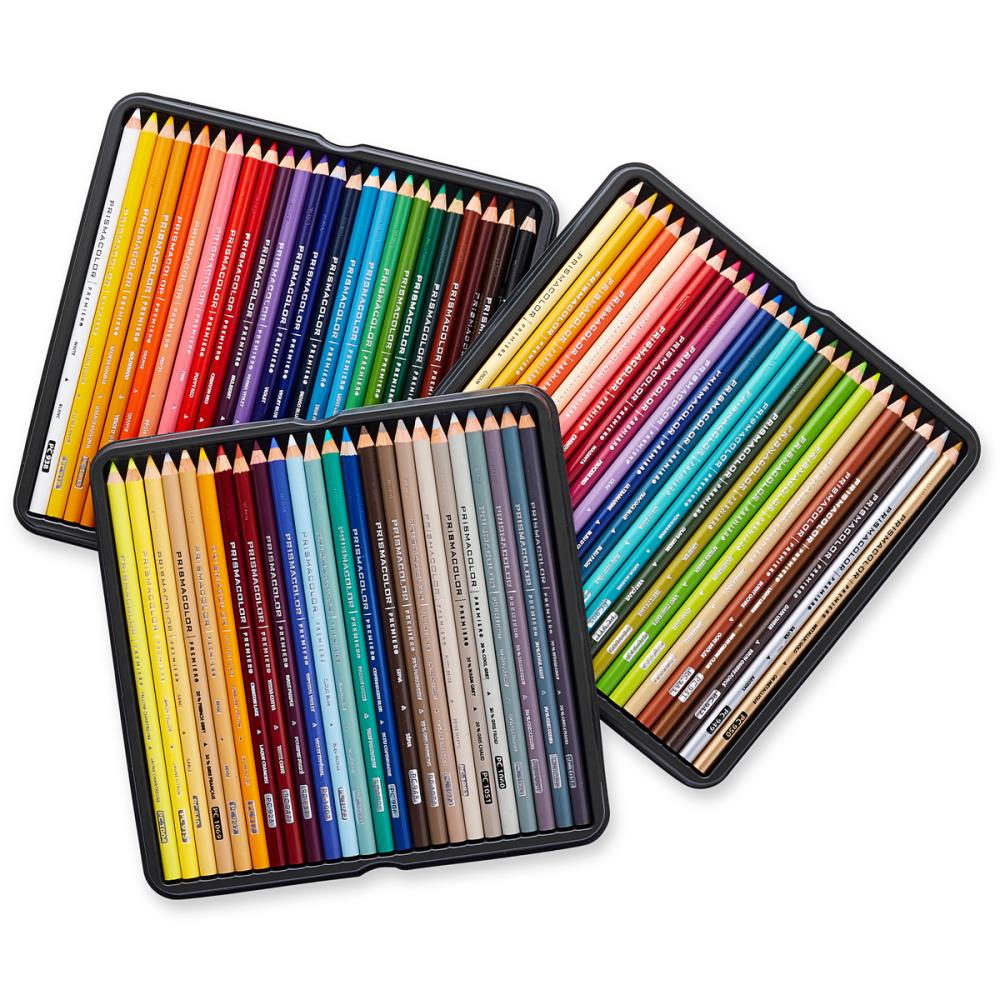 Exploring Colored Pencils: 6 Supplies to Get Started
Colored pencils are another easy-to-use art medium for artists on the go.  Few supplies are needed to get started with coloring and some sophisticated effects are possible with basic techniques.
What You Need:
Colored Pencils
Colored pencils are made using pigment and a binder.  The binder binds the pigment, so the color can be applied to the paper.  True colored pencils use either a wax or oil-based binder.  Both these types of pencils layer well and offer a smooth application with intense color.  Wax-based pencils tend to be softer, more prone to breakage, and easier to erase.  Oil-based pencils are harder, less prone to breakage, and maintain a point better than their wax counterparts. Both types of colored pencils can be used together in the same artwork without restrictions.
Colored pencils are available in student and artist grades.  Artist grade pencils feature more or better-quality pigments and binders.  They are more resistant to fading than student grade pencils. Artist colored pencil brands include Prismacolor, Caran d'Ache, and Staedtler.
Tip: Because the inside core of wax-based pencils is soft, these cores can break if the pencil is accidentally dropped on a hard surface.  Prismacolor suggests repairing these pencils by placing them in a sunny location to soften and then fuse the broken core.  Microwaving a colored pencil with a broken core is not recommended.
Pencil Sharpener
Basic, hand-held pencil sharpeners are recommended for use with wax or oil-based pencils because these substances can accumulate inside and damage electric sharpeners.  Working with a sharpener that is sharp can help you avoid the excessive breakage that can occur with a dull sharpener.  A sharp sharpener produces a long, continuous pencil shaving when used.  A dull sharpener produces shavings in small pieces.
Paper
The type of paper you select for a project largely depends on the way you like to color.  A good quality smooth paper like Bristol paper will enable you to create fine details.  However, smooth paper does not accept a large numbet of overlapping applications of colored pencil. If you like to color in a painterly way, with layer upon layer of colored pencil, select a paper with a bit rougher texture like watercolor paper or Canson Mi-Teintes.
Eraser
Select a  vinyl eraser to erase colored pencil marks.  A click eraser or pencil eraser is a handy tool for getting into small spaces.
Colorless blender
The colorless blender is simply a wax colored pencil without any pigment.  The blender is used on top of pigmented wax pencils to help mix the color and burnish the color into the paper.  Sometimes a white or other very light colored pencil is used for this same purpose.  However, unlike the colorless blender, the white pencil will act to lighten the underling colors when blending.
Fixative
A light application of fixative spray applied to finished colored pencil art will protect the the work from smudging and dust.  Fixative spray also can protect the coloring from wax bloom if wax colored pencils were used to create the drawing.  Wax bloom refers to a white hazy look that can appear as the wax in the medium rises to the surface of a completed work.  Wax bloom can be easily removed using a clean tissue, but fixative can prevent it from forming or returning to mar the appearance.
Related Posts
Art Markers: What You Need to Know to Get Coloring
Santa Ornaments: A Step By Step Coloring Guide