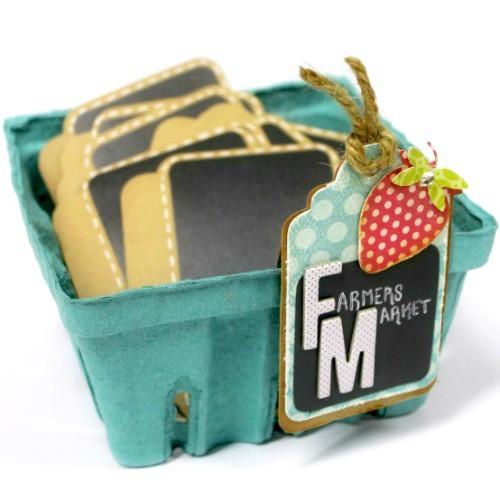 Farmer's Market Recipe Basket Part II + How Much Is Too Much?
Last week, I shared with you a simple farmer's market recipe basket project. If you missed that post,
check it out HERE
.
Today we will add just a few simple finishing touches and talk a little about how much really is too much…

 First I must share my number one rule…
If you keep making changes and are getting frustrated, WALK AWAY!
It's a hard concept to grasp, but truly, it's for the best!
With this project I finished the tag/cards and knew I wanted to add more details, but was wracking my brain for what exactly would be 'perfect.'  After a few minutes of going back and forth I forced myself to stop crafting for the night and walk away. A few days later, once my mind was clear, I came back and added the last finishing touches.
The first thing I did was add some red twine to my basket to contrast with the teal and make my strawberry on the tag POP!
 Rather than tie a pretty bow, I just did a knot and covered it with my tag.
Here is a shot at the back of the tag. I love the fact that the tag is removable, because I can make as many tags as I want and switch them out!
For the tags, I decided to just add some bold black and white polka dot Thickers. I was originally going to write the recipes right on the chalkboard cards, but am going to use these as alphabetical dividers instead.
For each letter, I can add recipe cards (next step) and on the chalkboard write down my favorite recipe in that letters section, or maybe write a recipe I have, but have not tried yet as a reminder!
 Since the standard recipe cards would not fit, I made my own! I took  a piece of one of my favorite papers with lines (My Minds Eye Love Me Love Sheet), and cut down cards to size.
 Then I went 'old school' and got out my single letter mini block stamps and stamped the word recipe on one of my cards using my 1:00am Black Ink Edgerz.
 I only did a few to start and will add more as I need them. I liked the old typewriter look of the font and vintage look of the letters. The picture says it all!
After those last few simple finishing touches, my basket was complete! You might be thinking, that's it? Those are the finishing touches? The reason I know it's complete is this:
 After finishing a project, or thinking it's finished at least, walk away again. If after a few days you see it and think it looks 'incomplete', back to the craft room you go! If you put it in it's place and love it every time you see it, your project is perfect! All projects take time…walking away is my number one rule. Go with your creative GUT on all projects and make sure to stop before you overdo it.
Now I just need to stock pile my fresh farmer's market food and think of some yummy recipes! Hope you all love the project and check out my favorite products I used and links to purchase them below.
The product I used the most on this project was the Cricut Preserves Cartridge (one of my faves). Here is another great video project using the cartridge. Also, make sure to check out more "fruity" projects with the preserves cartridge on the Fantabulous Cricut Challenge Blog.
WHAT IS YOUR GO-TO RECIPE???
Share a recipe in the comments below if you'd like, it will help me fill my basket!