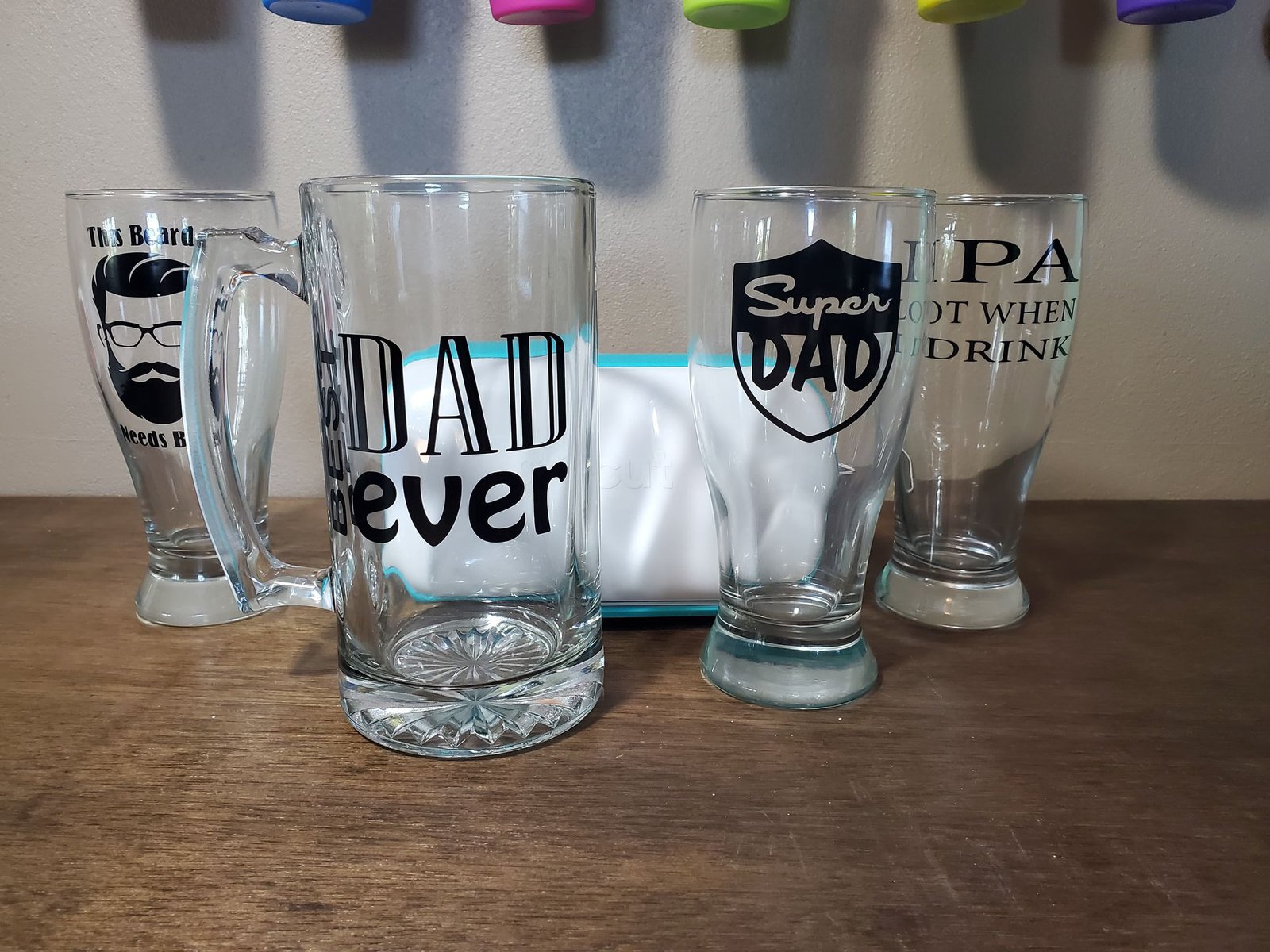 Father's Day Cup with Cricut Smart Vinyl
I made these awesome beer cups for my husband for father's day. I made them with the Joy with Smart Vinyl but could be done on any Cricut with regular vinyl. Great beginners project but any dad would be happy to have a personalized cup!
Supplies:
                Cricut Joy
                Cricut Smart Vinyl
                Cricut tools
                Transfer tape
                Cup
                Father's Day SVGs
                                IPA lot when I drink
                                Super Dad
                                Best Dad Ever
                                This Beard needs Beer
Start in Design Space and upload the designs. Size them correctly for your cup.
Click on Make It. It will ask you how you will be load the materials. Click on Without Mat.
It will then put your images on the vinyl to show the placement. You can move them around here to make it work better or leave them how it is. It will also tell you here how long your material must be to be able to cut all the designs. Click continue.
Then you will select your material. You will want the Smart Vinyl-Permanent.
As soon as you click your material it will go to the next page to select pressure. I like to select more pressure, it makes it a little easier to weed. This is also where it will remind you to put the fine point blade in the clamp.
Next, you just load the material. No need for a mat. It will pull the vinyl right in. It will first check to make sure you have enough material for the entire cut. Then you will need to click go in Design Space.
After it is cut out you will need to weed it.
I cut my designs apart so it was easier to do them one by one.
Cut a piece of transfer tape to fit the design. Peel the backing off and place it over the design. Use a scraper tool to really burnish it down. Flip the whole thing over and burnish the back as well. Smart Material can be a little stiffer so it really needs to be burnished to the transfer tape. Peel the backing off the vinyl.
Line up the design on your cup. Gently lay the transfer paper down. Starting in the middle of the design, press the vinyl and transfer tape down. Be sure it lays flat with no bubbles.
Be sure the whole design is pressed onto the cup, you can use your scraper to help press it. Then carefully pull the transfer paper off at a sharp angle.
You're done.
Pretty simple project but can make an awesome gift!
Which cup is your favorite? Will you make these for the dad in your life?
*A father is someone you look up to no matter how tall you grow.
~Beth
Related Posts
Cricut Beginner Project - Father's Day T-Shirt
How to Make a Father's Day Card with a Cricut Joy