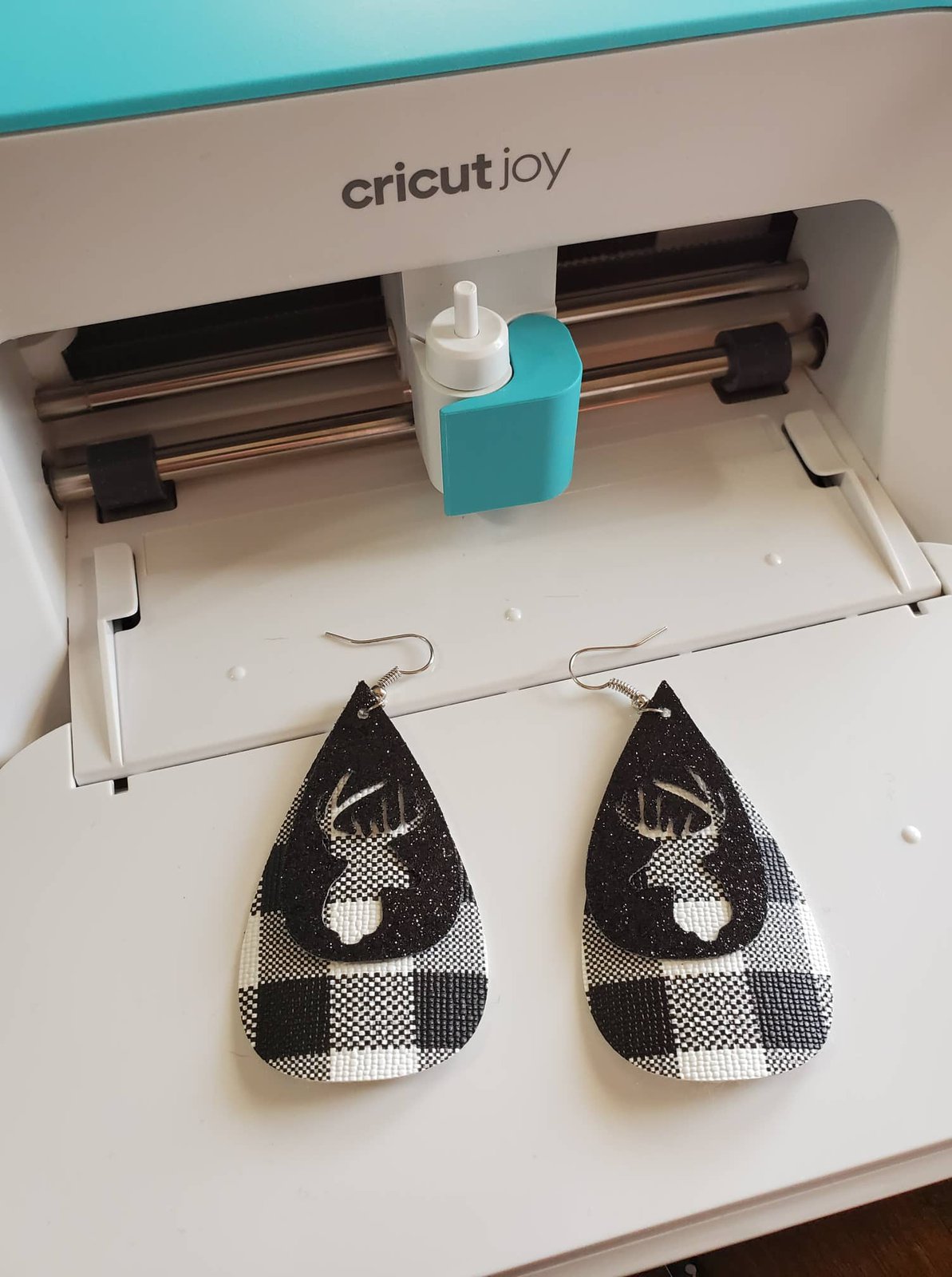 Faux Leather Earrings with Cricut Joy
I have been wanting to make some faux leather earrings for awhile. I have cut faux leather on my Explore Air 2 but I wanted to see if the Cricut Joy was up for the challenge. I am so please with how well the Joy did and it is just the perfect size to make your own custom earrings.
Materials:
Cricut Joy
Standard Grip Joy Mat
Faux leather
Earring hardware (hooks and jump rings)
Cricut tools
Painters tape
Needle nose Pliers
I found the Tear drop Layered earring in the images in Design Space. I inserted that into my canvas. I sized them to the size that I wanted (2.5 inches high).
 I then found an image that I liked of the deer head. I sized the deer head on one of my top layers. After it was the size that I wanted, I duplicated the image and flipped it horizontally. I placed this flipped deer on the other top layer. I then sliced both of these images out of both top layers of the earrings.
I then hit make it. It asked me how will I load all of the materials for this project. I selected On Mat.
I cut a small square that was just bigger than my earrings out of my plaid faux leather and placed it pretty side down on my mat. I used Painters tape around all the edges to make sure it didn't go anywhere.
I selected faux leather (paper thin) as my material and also selected more pressure. I loaded the mat. And the Joy does the rest! It was such a clean cut I was actually quite impressed.
Then I did the black glitter faux leather. Because I didn't want my mat covered in glitter I did this faux leather pretty side up. I still used painters tape to tape it all down.
After both layers were cut, I used the needle nose pliers to attach both layers to the jump ring and the hook.
For next time, I plan to use bigger jump rings. The ones that I had are too small and do not go over the top of both layers of leather. I think I would also make the top layer with the deer a little bigger as well.
Other than that I was pretty happy with how they turned out. The Joy is just the perfect size for making some custom jewelry for yourself, to give as a gift, or even to sell. It really was such a simple project and the Joy exceeded my expectations.
Who would you make some earrings for?
*The worst enemy to creativity is self-doubt.
~Beth
Related Posts
Faux Leather & Fabric Earrings with Cricut
Leather Luggage Tag DIY, SVG Included!