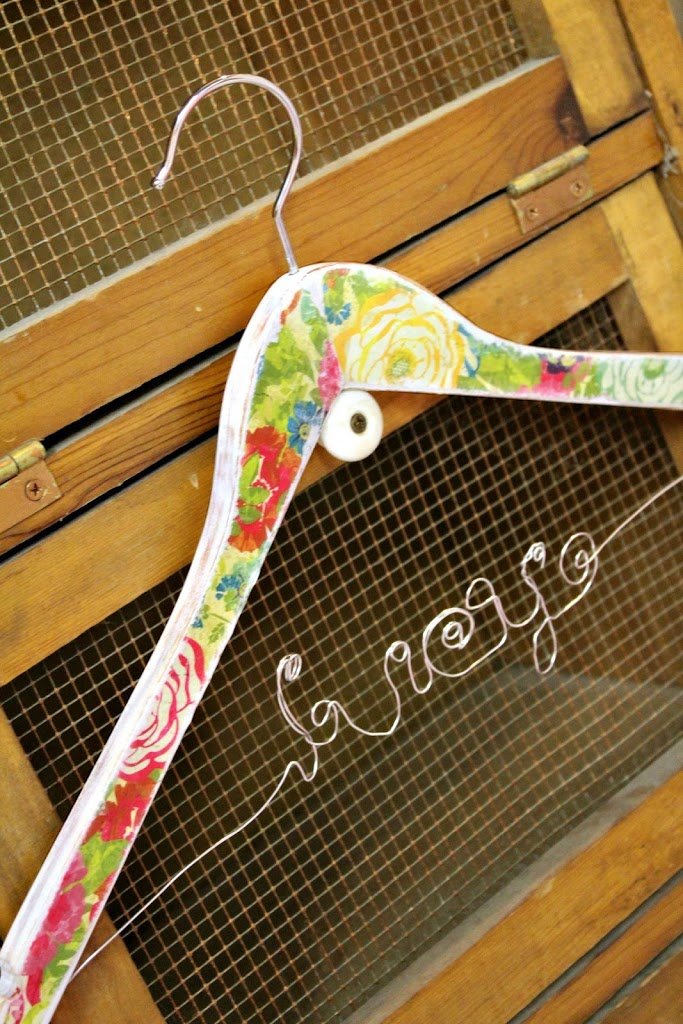 Great Gift Idea! Vintage Wire Name Hanger Tutorial-Part 2
Hello everyone! I thought it was a good day to finish our Wire Wind It Tool Hanger Project! If you missed it, we started this project by making a vintage inspired distressed wooden hanger. 
Check out Part One here
.
Here is what we were left with.
Remember that new tool I told you I was playing with? It's called the Wire Wind It Tool by Purple Cow.
The Wire Wind It Tool is a a pretty neat tool. It is a small round container with 4 wire shape plates. On each plate you will find multiple designs. The basic idea is to take wire (included in the tool kit, bundle or sold separately) into a small hole and then pull, bend and shimmy the wire around little notches to create swirls and curves with ease!
The tool is generally meant and promotes to create wire embellishments for scrapbooks and cards but I threw that idea right out the door and went for the more appealing idea, wire NAMES!
I will be honest and say this up front, the wire that comes with the tool is not the best quality. It depends what you are doing, really.
For paper crafts or embellishments, it would be great! It is a very thin wire and is not very forgiving. If you get a small bend in the wire, there's no going back! For my first try though it was easy to mold and bend and was a good starting point for this project.
My old-school hanger already had two small holes on the two bottom ends which was perfect! If yours doesn't, grab an itty bitty skinny drill bit and drill two small holes on the outer/under side of your hanger, like above. If your holes are a little bigger you might want to dab just a bit of glue into the hole…then insert your wire and push it in as far as it will go.
Holding my wire tight in my hole, I pulled the wire in a straight line towards the center of my hanger. I slid my hand down until I had a very long piece of wire for my project and trimmed the excess. Then I started using the curves to mold my first letter, an L.
I must say, this tool, is not really meant for curling letter shapes, but with the 4 plates, my imagination ran away and I started to see all of these fun curves and shapes that reminded me of letters. I took the idea and ran…
As you start to create each letter you can create one curve and then take lightly pop the wire off of one plate and bring in another to start another completely different curve or bend. Like I said before…this was total trial and error.
 …and then it happened…
I cut my wire too short and ran out of wire! Ha! I am telling you, there is just always something.
This is the reason I do these projects first though…so I can teach and you can learn from my mistakes, right?
So I was spelling out my nieces name, Lucy, and ran out of wire right before finishing my Y. I just tightly wrapped and mangled (not very nicely) my wire together and continued on….
Once you finish your letters, pull the wire (gently!) until you reach your finishing hole. You might want to pull the wire for some tension. Add a bit of glue and poke the end of your wire into the hole. Now, see above? Yea…take a look at my lovely mangled Y.
Ah well, better luck next time for me…
This being said, the project turned out just O-K. I would most DEFINITELY use a larger gauge wire for more stability and less "kinks." I do like the mangled look with the distressed hanger though…or maybe I am just trying to make myself feel better for a first attempt semi-disaster.
It made me giggle because I asked my husband if he could read it and he was so puzzled…
Well… I can see it! Can you?
Did I like the Wire Wind It Tool? Yea… I did. Would I use it again? Yes… I would.
I will get better wire and attempt this again, no fear!
Here is a GREAT Craft-e-Corner Video where our great friend Megan Elizabeth shows you all about this tool and a fun project too!
Here is another awesome card idea! Enjoy Your Day Card By Elisa
Kammerdiener
*Comment below and leave some blog lovin'*