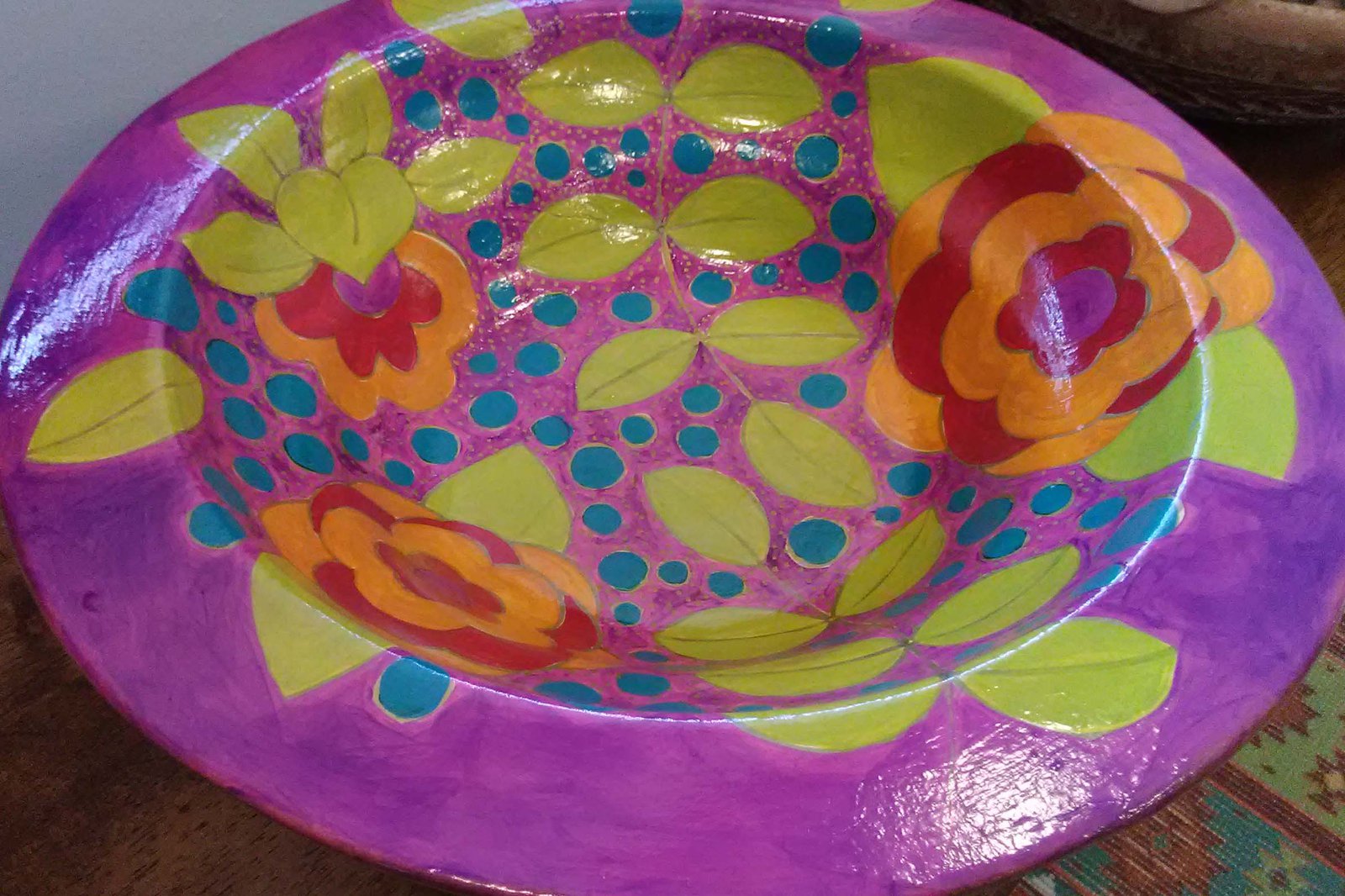 How to Use Cricut Pens to Create a Colorful Hand-Painted Bowl
Are you a fan of colorful, hand-painted bowls but struggle with drawing designs on a curved surface? Fear not, because Cricut pens are here to save the day! With this easy DIY project, you can use your Cricut to draw intricate designs on tissue paper and transfer them onto a repurposed bowl. All you have to do is paint between the lines, and voila! You'll have a beautifully decorated bowl to display in your home. Follow these simple steps and create a stunning painted bowl that's perfect for any occasion. 
Materials:
White tissue paper
Freezer paper
Decoupage glue
Chalk paint, your choice colors
Varnish
Recycled bowl
Rubbing alcohol 
Directions:
Shop for a wooden or pottery bowl from the thrift store to repurpose for this project. I was able to find this unglazed ceramic piece that was perfect for this project. Wipe down the bowl well using rubbing alcohol to clean it. If your bowl is a dark color or unvarnished wood, apply 1-2 coats of general purpose white primer to ready it for painting. My bowl was already a neutral cream color, so I simply cleaned it well without a primer coat.
Cut a 12x12 inch piece of white tissue paper and iron it onto a 12x12 inch sheet of ordinary freezer paper. The freezer paper will stabilize the tissue paper enough for you to draw on it using your Cricut machine.
Create your drawing design in Cricut Design Space. I am using the designs below, free with Cricut Access. Add a circle to the canvas to help use size the designs to fit your bowl, then hide the circle prior to making the project
Dahlia Flower Patch - #ME388377
Flower - #MBE35B4
Rowan Leaves - #M114E2EBE
Place your paper-backed tissue paper sheet on your cutting mat and make the project, drawing the designs on the tissue using a gold pen.
Peel the freezer paper from the tissue. Loosely cut out each of the pen designs. Brush some decoupage glue on the clean bowl. Carefully adhere each piece of tissue to the bowl, beginning from the center of the tissue paper and working out from there. Smooth and brush some decoupage glue on top to the tissue paper.
This is a rather delicate operation and you should expect the tissue to tear some in the process. If the tearing is minor, I suggest you go ahead and finish adhering that piece of tissue. You can touch up the design later with the gold pen after the glue dries. If the tearing is more significant, go ahead and scrape it off the bowl before it dries and try again with a fresh piece. Allow the glue to dry.
Use the gold pen to touch up any lines from your original designs. Also, use the pen to draw some circles between the main design elements. Now the bowl is ready for you to paint between the lines.
Paint the bowl using your choice of colors. I like to use chalk paint because it offers excellent adhesion on a wide variety of surfaces, but other acrylic paint options could work too.
Add any additional lines or other marks to the bowl using the gold pen. Finish the bowl with a coat of chalk paint wax sealer or your choice of varnish. I opted for a glossy varnish. You can see that it altered the color of my paint a bit, but I still love it:)
Related Posts
How to Draw with a Cricut | Gift Tag Tutorial
DIY Wall Hanging with Cricut Explore Air