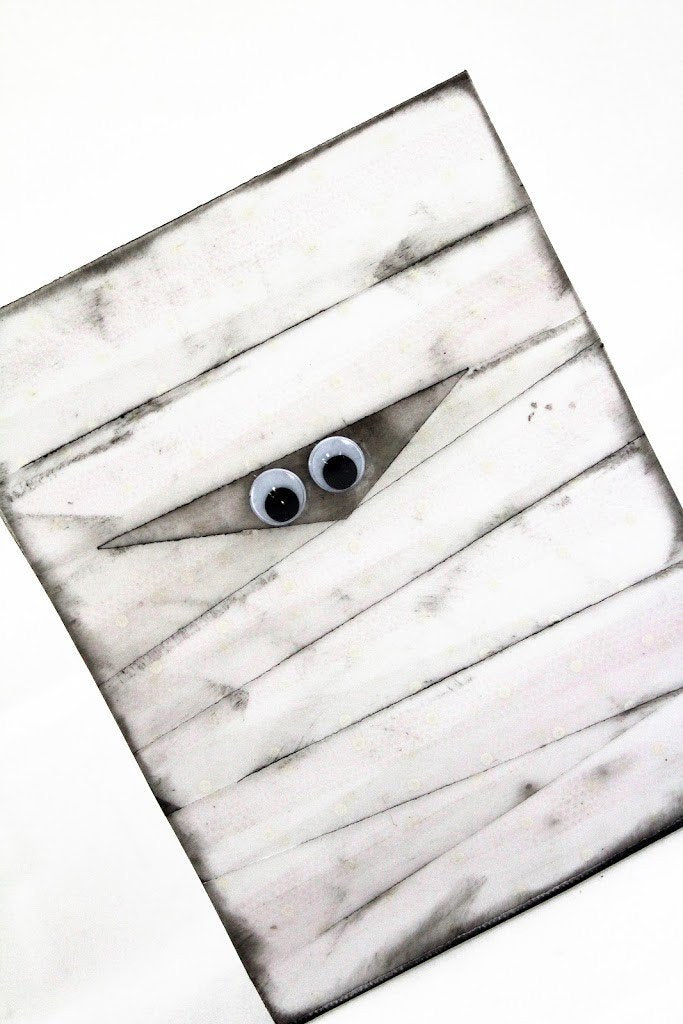 Happy Birthday Mummy Card
HAPPY BIRTHDAY to my MUMMY!
 Happy early Halloween to you all from us here at Craft-e-Corner! Here is a fun card I made for my mummy (get it?) for her Birthday this past month. Here's how I created this cute little guy…
Click below to read more about this Spooktacular Birthday card! ——->
I cut out a standard card size using American Crafts White Cardstock.
Next I took a piece of white polka dot velum paper and cut multiple strips in various widths. Each strip was longer than the width of the card.
Using a tape runner I adhered the strips in a staggered pattern to cover the card. I only did one single strip of tape down the center of each strip so the edges were not taped flat to the paper. The tape will show through a little bit, but later when you ink the card, most of it will get covered. Next I flipped the card over and, using my exacto knife, I trimmed the edges of the velum strips.
Using a piece of the vellum scrap I trimmed off, I cut out the triangle piece where the eyes are and placed it aside. Using my Megan Elizabeth 1am Ink Edger, I lightly inked the edged and brushed it along the edges of the strips. Since I did not tape down the edges they were raised just enough to catch the ink without inking the whole card. Next I inked the single triangle and taped that on. I used a bit more ink on the 'eye' triangle piece so it looked more like a dark shadow. Lastly, I hot glued on two googly eyes!
The card was SO simple and took me about 15 minutes to make! I love the smokey effect that the Megan Elizabeth Ink Edger had on the vellum paper.
Last but not least, using my Happy Hauntings Crcut Cartridge, I cut out the words "Happy Birthday Mummy" using a bright lime green cardstock for the inside of the card.
What is your favorite memory with YOUR MUMMY???
Supplied Used: