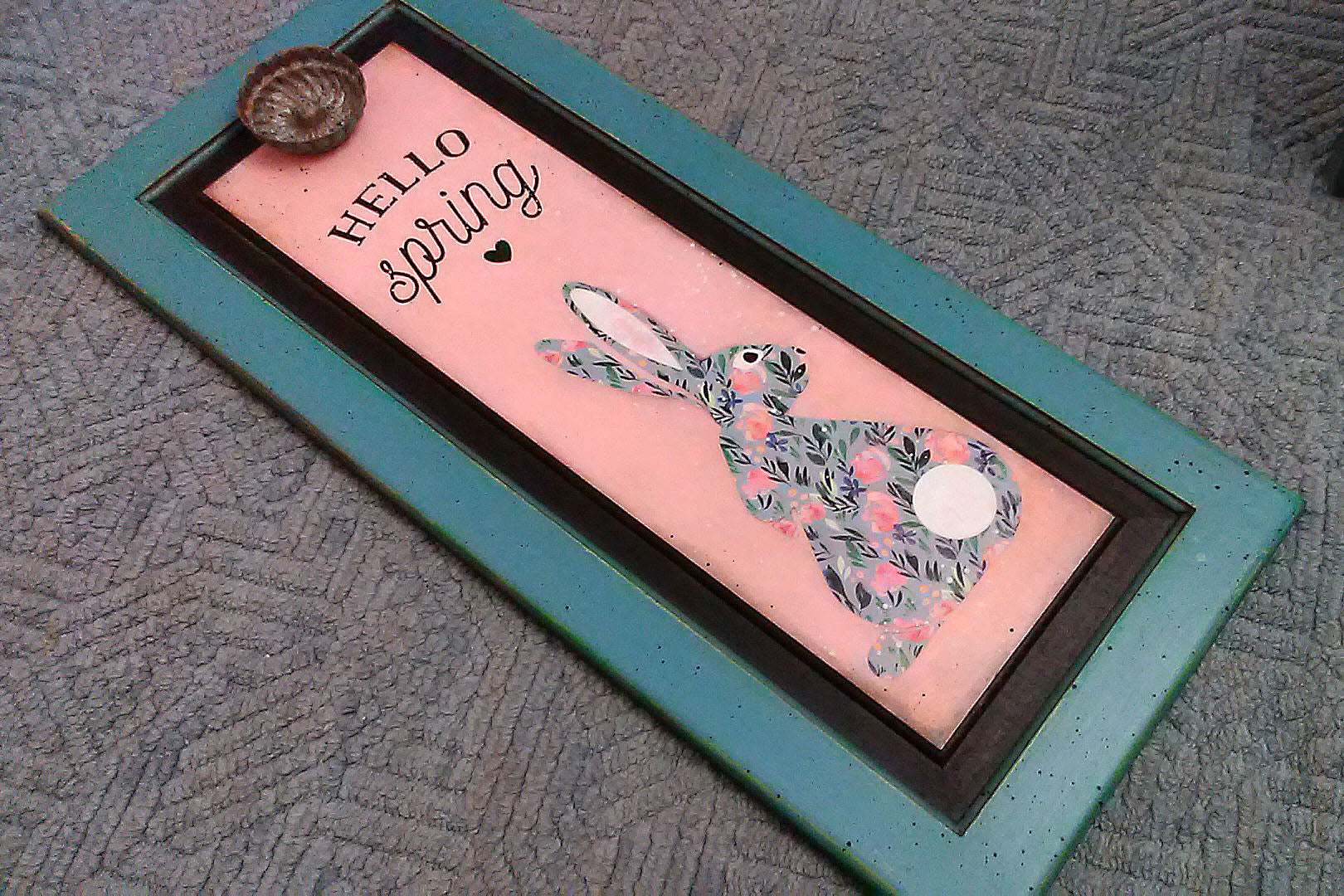 Hello Spring Vinyl Sign
If you're looking for a fun and unique way to spruce up your front porch or entryway, then porch and entry signs might just be what you need. They are not only a great way to add some personality to your home, but they're also easy to make yourself. In this blog post, we'll show you how to create a cheerful "Hello Spring" sign using recycled wood and chalk paint, finished off with some vinyl and antiquing wax. With a little creativity and the right materials, you can create a sign that perfectly matches your personal style and adds a warm welcome to your home. 
Materials:
Wood base (I'm recycling an old cabinet door)
Chalk paint (pink, black, white, blue-green or your choice of colors)
Chalk paint wax, clear and antique colors
Black permanent marker
Embellishments (optional)
Directions:
My sign is made from a wood door salvaged from an old TV cabinet.  Remove the hardware and wipe down the surface using alcohol to prep it for painting.
Paint the door using chalk paint in your choice of colors and allow to dry. Chalk paint is a "sticky" paint that adheres well to a variety of materials with little surface preparation. It can be mixed and layered to create some texture on the wood base if you'd like. 
Paint 2 colors, one on top of the other, and then sand the top layer to reveal the underlying paint.
Create your cut design in Design Space, sizing it for your wood base.  
My bunny design was larger than the 12-inch square of floral-patterned vinyl.  To cut it, I placed 2 sheets on my cutting mat, matching the repeat on the pattern and butting the edges precisely together (without overlapping) before cutting.
Cut and weed the vinyl.
Apply the vinyl to the painted wood base using transfer paper as required.
Spatter some white and black paint over the sign if desired.  Emphasize selected parts of the vinyl design using a black permanent marker.
Apply one or more coats of clear and/or antique-colored wax over the sign using a rag or paintbrush. Allow the wax to dry overnight and buff to a shine.
Attach other embellishments to the sign if desired. I used a good glue (like E6000) to glue a painted metal mold to the top of my sign as an accent.
Paint the back of the sign black and allow to dry. Then sit back and enjoy!
Related Posts
Beginner Cricut Project - Layered Vinyl Tile Name Plaques
Joy Christmas Sign Made with Cricut