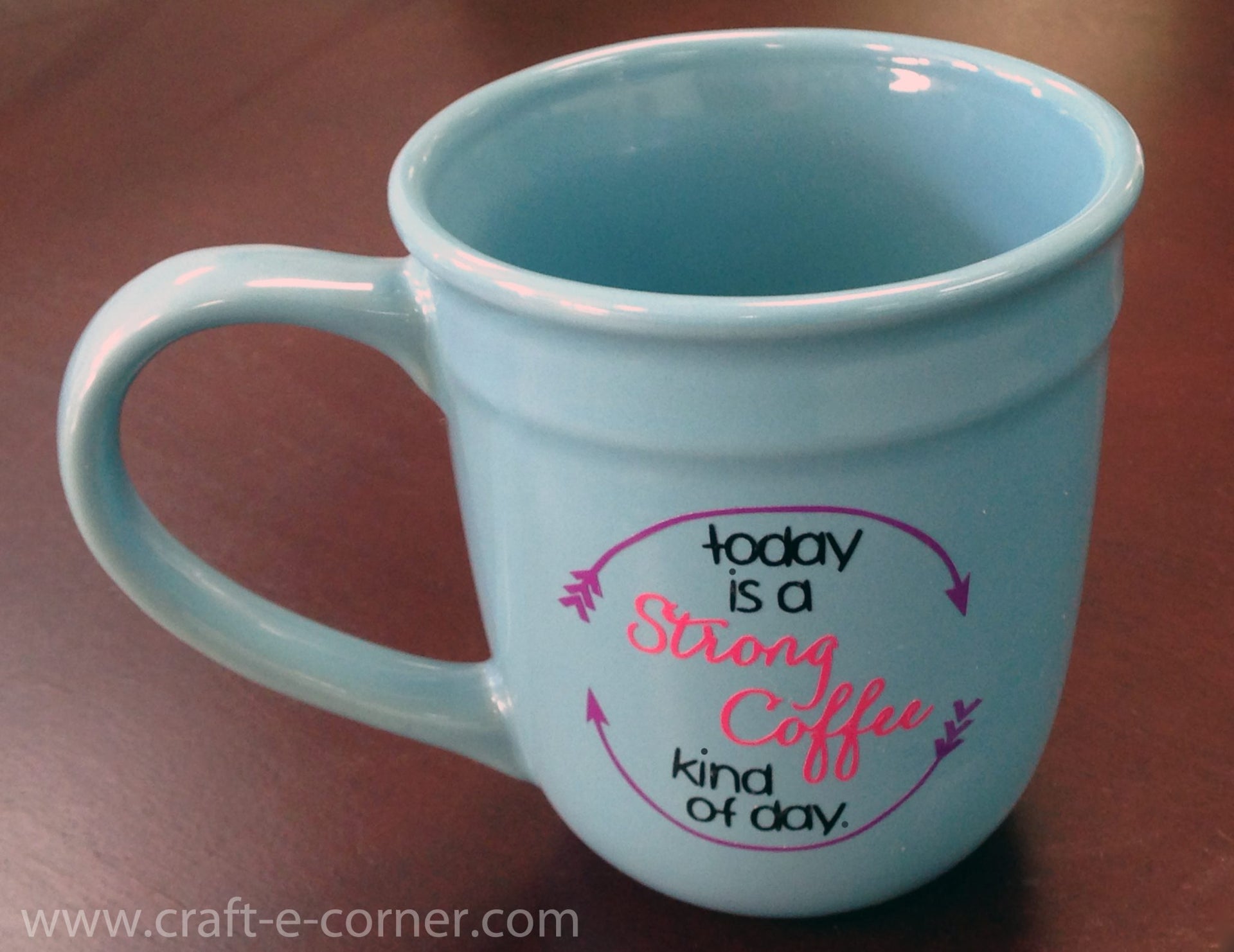 How (not) to Make Custom Coffee Cups (My Utter Failure)
I love snarky coffee cups, don't you?  And if that funny cup is a little sparkly? Yes, please!  Personalizing a coffee cup is an easy gift idea, and is actually pretty easy.

Let's talk about how (not) to add a saying to a coffee cup (and then how to)…. so grab a mug of the good stuff and read on…
I've always been a crafter.  I enjoy doing different types of crafts. Especially using materials in unexpected ways, I love a good challenge.  So when I heard about putting glitter heat transfer on a coffee cup, I thought it sounded like a fun idea and gave it a whirl.  I love the way it looked, but I have to say, it was actually an utter failure.  Don't let the pretty picture fool you:
Let's start at the beginning.  The design I used on my mug is one of the 12 exclusive heat transfer designs I created.  Take a closer look:
I opened the design and right clicked to ungroup it.  This design is saved in three groups: the arrows, the "today is a kind of day" and the "strong coffee."  I created this file this way in case you wanted to use different colors.  I've colored each group (below) to show the groups:
I measured my cup and sized the design to fit below the brim of my mug.  I've actually tried this design three times on this coffee cup and I'll tell you what I learned from each go round.
First try: I cut the entire design out of smooth black heat transfer and pressed.  Complete failure.  I took no photos.  I was never going to speak of it again… but I figured this was a good time to tell you about it… the smooth heat transfer moved and twisted and didn't transfer right at all.  I would not recommend using smooth heat transfer on a mug.  Moving on…
Second try: I switched to glitter heat transfer.  It's thicker, I've seen it done on Pinterest, this is going to work (I said with hope to myself).  So I cut the arrows and regular text out of black glitter heat transfer and the "strong coffee" layer out of silver.  I trimmed the carrier sheet around the strong coffee layer as small as I could around the words and stacked the two layers by sticking the silver layer in the middle of the black layer:
Next I lined the design up on my mug:
I used a tape measurer to keep the handle steady (because it was handy).  I heated up my home iron as hot as it would go and relied on the carrier sheet from the heat transfer to hold the design in place (which worked really well actually).  I covered the mug with a tea towel and pressed down as hard as I could while ironing in sections and rolling the iron as I went.
Everything seemed to be going well.  The vinyl took a bit to adhere to the cup, but It WAS working.  Once I got the vinyl to come off the carrier sheet, I used the nose of my iron to press down on some of the parts that refused to stick (apparently glitter heat transfer doesn't melt the like smooth heat transfer does when you touch it with your iron…)
I finally got it all in place and I was super excited.  I mean, look at this cup!  It was going to be my "Monday Mug." (grin):
But then it all went wrong… I don't know what happened, really, but about a week later the vinyl started coming up in several spots.  I tried re-ironing it, I even used my heat press, but it just would.not.stick.  I couldn't help myself:
Oh the horror (sad face):
It literally peeled right off.  So sad… it was pretty while it lasted.
Third try: This time I was determined to just make.a.mug.  I really love this design and I really wanted on a cup.  So I switched gears and changed from HTV to permanent adhesive backed vinyl.  I added some alignment boxes to my design and cut my layers:
To read more about using alignment boxes and layering adhesive backed vinyl, check out  How To Layer Vinyl
I layered the vinyl and then, balancing the mug in my lap, I transferred the vinyl:
This time I'm pretty sure it worked (wink):
So, not all projects turn out the way you want them to.  I REALLY wanted that glitter HTV to work out, but it just wasn't happening.
Some things I learned…
You CAN microwave glitter heat transfer.  I was worried that the glitter would refract the microwaves (or something) and cause sparking, but this did not seem to be the case.  Nothing spectacular happened when I popped it in the microwave to heat up some water.
To see if maybe my design was just too thin, I tried ironing a big blob of scrap HTV on the mug… that didn't work either.  Maybe it's my cup? My iron? My technique?  I could only get sections here and there to stick.
In the end, I would not recommend using heat transfer vinyl on a mug.  Save your glitter HTV, it's too pretty to be wasted!  If you want to personalize a mug for someone, use some permanent (glossy) adhesive backed vinyl and you'll be golden.
So, here's to snarky coffee cups and rolling with the crafting disasters we all experience here and there… CHEERS!
I might just need to make myself a shirt to match my new mug- what do you think?