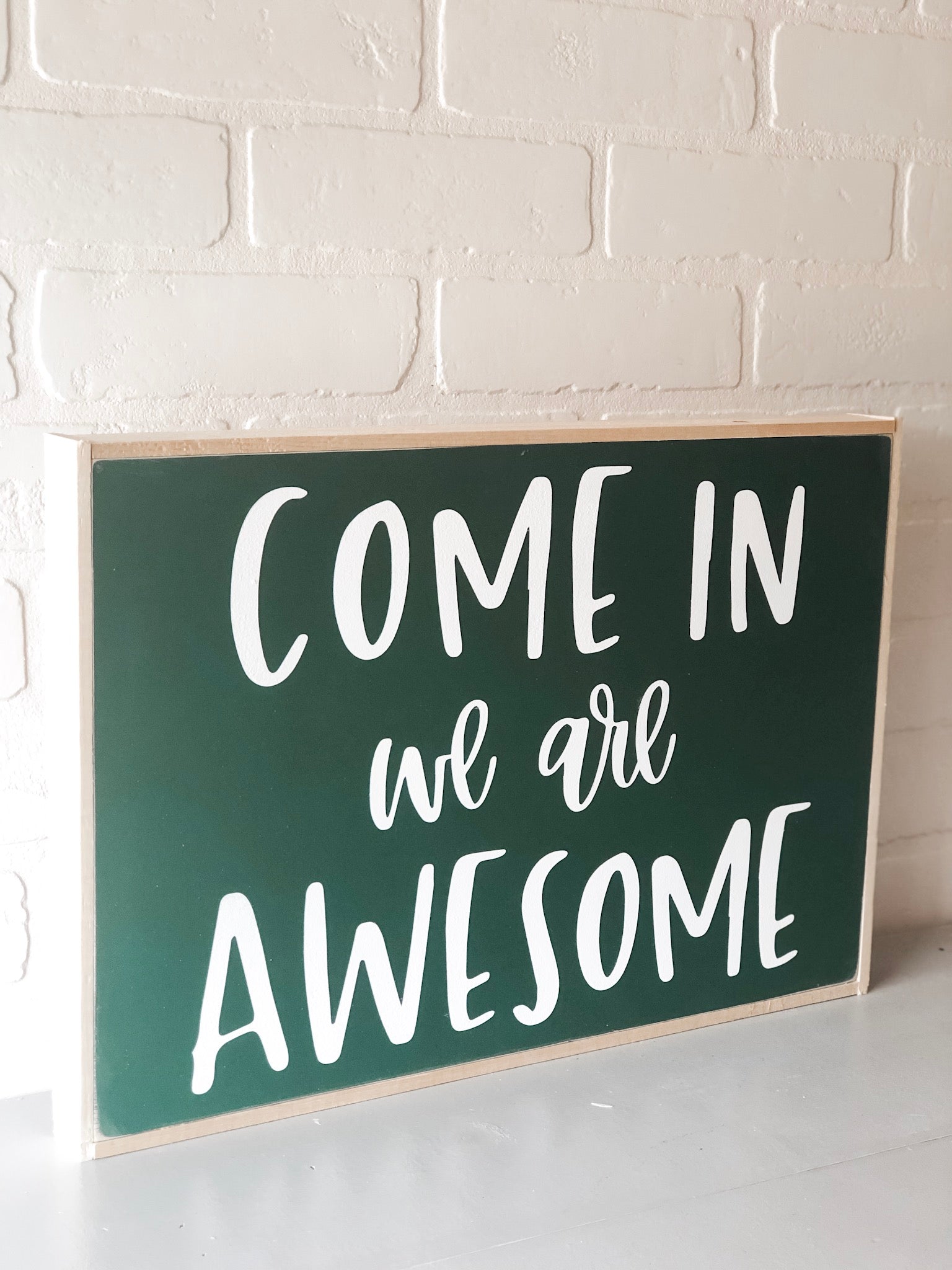 How to Make a Vinyl Stencil in Design Space
I'm a big fan of making wood signs, like the one above. To make them, I create a vinyl stencil and then paint over it. If you want to learn how to make this project, check out our blog post here or YouTube video here. Something that's really important when making wood signs or really any project that requires a stencil...is learning how to make a vinyl stencil in Design Space. So today, I'm going to show you how to do that using the slice method in Design Space.
To get started, create the design you want and put it onto the canvas in Design Space. Mine says, "Come In We Are Awesome". Like I mentioned above, I want to cut a vinyl stencil so that I can paint over the vinyl to make a painted wood sign. You could just simply cut out the letters at this point, but making a stencil will save you a lot of time when it comes to lining up your vinyl on the wood!
To start, create a rectangle in Design Space. To do this, click on "Shapes" on the left-hand side and click on the square. Then create your rectangle to the dimensions of your wood or whatever your project is. The wood I am going to paint on is 16x12. However, since my Cricut only cuts 23.5x11.5, I am going to make my rectangle 16x11.5 -- here's what it looks like:
Once you have the dimensions you want, then send the rectangle to the back by clicking on "Arrange" and then "Send to Back" (it's to the left of the dimensions, in the same bar). Then place your design over the rectangle and size it how you would like it. However you put it on the rectangle is how it will appear as your stencil. For mine, I'm making sure that it's centered on all sides (or doing my best to make sure it's centered anyway 😉)
Now that you have it where you want it, you are going to select both the design and the rectangle. You can click and drag to select both or you can click them both individually while holding CTRL on your keyboard. Then we are going to slice the two images together! The slice tool will split, or slice, two overlapping images or text into different parts. It creates new cut paths from two images, which leaves you with three or more completely new shapes. So, now that you have the two highlighted, click "Slice" in the bottom right hand corner in Design Space.
*Note: You can only weld together two images, so if you imported your words as an SVG file and have not welded them, you'll need to do that before slicing.
After you hit slice, it will appear like nothing has happened to your image, but if you look on the righthand side of your screen under the "Layers", you'll see that you now have three images! You can move the layers around and you'll see them all there. The only layer you need is the base one, the one that has the words sliced out of the rectangle. At this point, you can delete the two images that have the words on them or you can simply hide them by click on the eye in the "Layers" section. Personally, I like to keep one image but hide it and delete the other. Here's what it looks like after you slice:
Once you've done that, you're left with your stencil! Here's what it looks like:
That's it! Now you have your stencil. Now when you cut your vinyl, it will cut the outline and cut the letters and look like this:
As you can see, I've applied the vinyl to transfer tape and am now applying it to my sign. Since I cut the rectangle to the size of my wood (or pretty close to it), it makes lining up the stencil SUPER easy!
Here is the finished project -- again, you can read about it here:
You can do this technique for a plethora of different surfaces that you're working on. The possibilities are endless! I hope this tutorial helps you in your future crafting. Happy making!
-Courteney
Related Posts
How to Use Print then Cut in Cricut Design Space
New Design Space Feature: Copy/Paste Between Projects