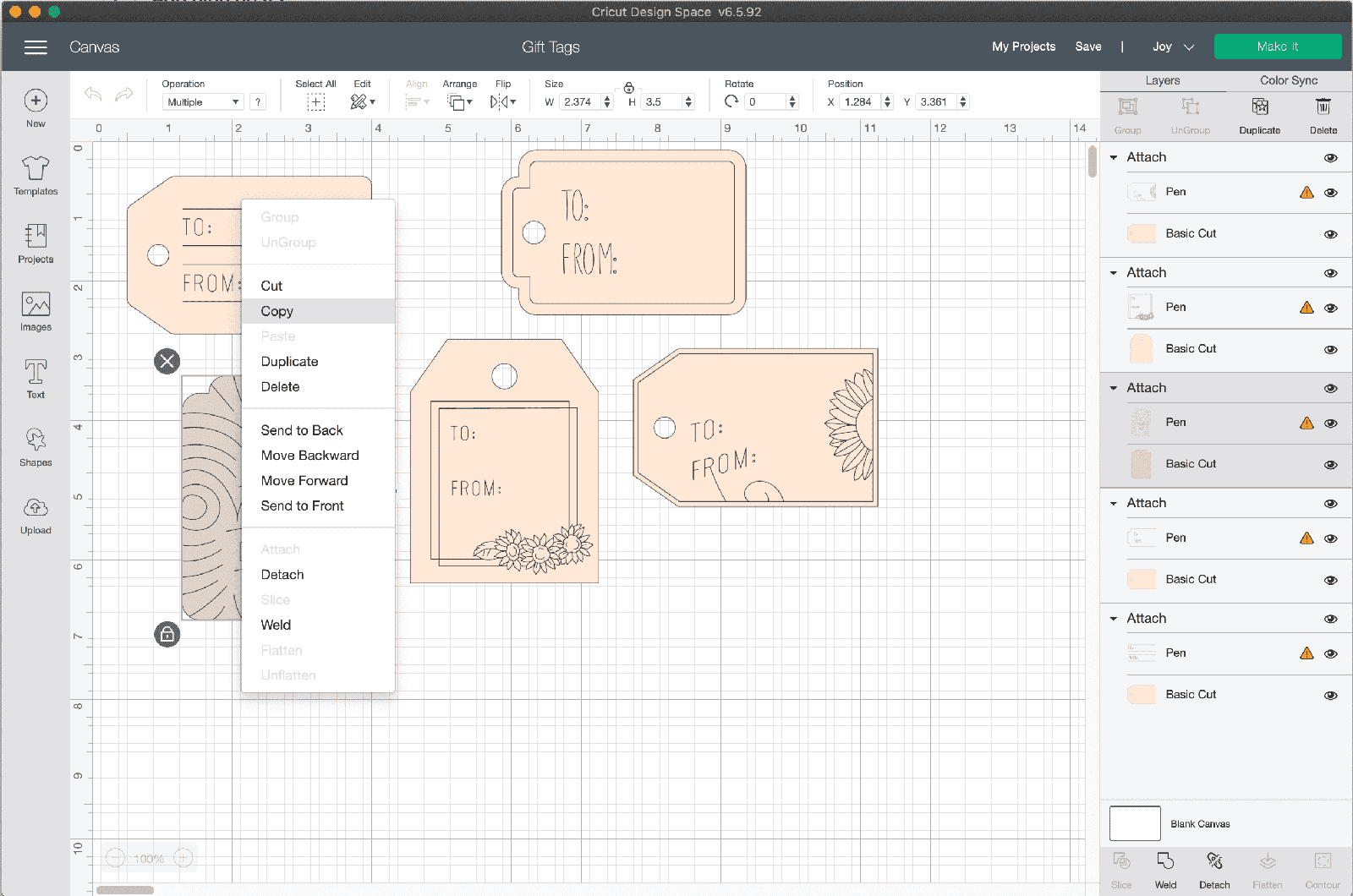 New Design Space Feature: Copy/Paste Between Projects
Cricut recently announced that they made several changes to Design Space. If you want to read more about all of those different changes, I'll include a link here and it will explain everything that changed. Today I'm going to show you how to use one of those new features. You might think it's pretty simple (and it is), but we haven't had the ability to do this in the past so I'm really excited to show you this!
In a nutshell, you can now copy and paste your designs between projects. It's really as simple as that!
For today's example, I'm going to be moving one of these gift tags. You can copy and paste your design between existing projects and also if you decide you want to make a new project. I'll show you what I mean by both of those.
Step one: copy your design
We are going to select our gift tag and then right click on it. As you can see below, a drop-down menu will pop-up and we can select "Copy". You can also use your keyboard shortcuts for this as well. I am on a Mac and the shortcut is command + C. For Windows, control + C.
Step two: Open a new project or an existing project
To start a new project, you can click on the plus sign on the left-hand side of Design Space. It looks like this:
When you click on this, it will take you to a new, blank canvas.
If you want to keep your existing screen open, you can open a brand new window by going up to the top left-hand side of your computer screen. Again, I'm on a Mac so it looks like this —
I selected "File" and then you can click on "New Window". This will allow you to have both windows open!
Step Three: Paste your Design
When you're on your new screen (whether it's an existing project or a new project), you'll just simply right-click and paste! Or use your keyboard shortcuts again — this time it'll be command/control + V.
Here's our gift tag pasted on an existing project:
Here's our gift tag pasted on a blank canvas/new project:
And that's it!
To recap, you are simply just copying and pasting across Design Space. I know it seems so simple but we haven't been able to do this in the past — so it's so exciting that we can do it now!
Don't forget to read about the other new Design Space features here.
Happy making!
-Courteney
Related Posts
How to Slice in Cricut Design Space
How to Make a Vinyl Stencil in Design Space