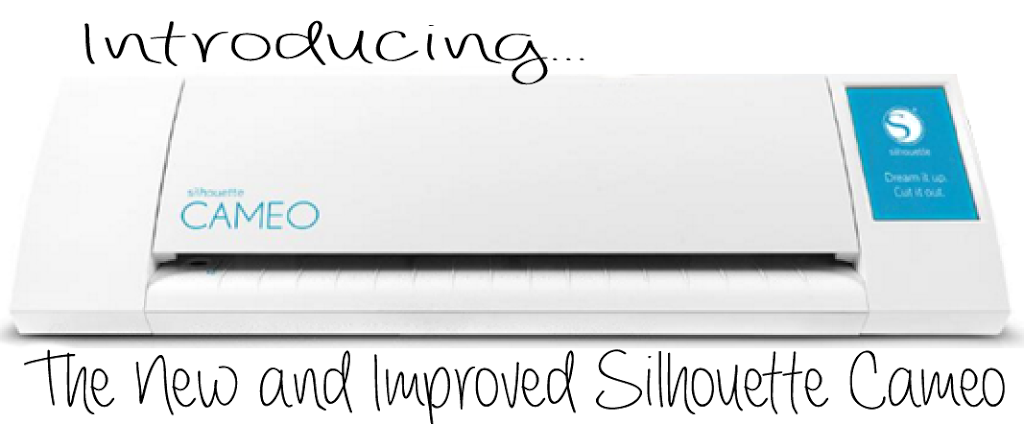 Introducing the New Silhouette Cameo 2014!
Have you heard the news?! Silhouette America has released a new Silhouette Cameo!  This new machine is still called the Cameo but there are some handy changes that have happened.

Silhouette has made some great changes to the new Silhouette Cameo!
The first thing you'll notice is that the Cameo looks a little bit different.  They gave the machine a sleek new makeover and changed it to all white! Check out everything that comes in the box with the new machine:
 The new LCD touch screen allows for easy navigation.  Need some help?  Just click on the ? icon and you'll have help at your fingertips.  Plus you can now set a sleep mode timer so your machine doesn't stay on when you've walked away.
The roller bar sports new steel spring rollers.  These new rollers are stronger than the old plastic rollers.  They also hold your project material in place with a gentler touch.  This is idea for delicate materials like foam or vinyl.
 A brand new feature on the Cameo is the Cross Cutter.  The cross cutter is along the back of the machine and allows you to easily cut a straight line without unloading your material.  This is ideal if you load vinyl into your machine with the roll feeder.  There is an "advance to cross cutter" function that will move your vinyl forward to the back of the machine so you can trim without unloading your material.  No more unloading your vinyl, trimming your design off and then loading it again.
The new Cameo features a built in USB port.  Now you can create a file in your studio software, save it to a USB drive.  Now you can travel with your Cameo and without your computer!  Simply plug in the USB drive and cut any studio file you've saved!
There is now a built in storage tray!  Pop your extra blades in here, or anything else that's small enough to fit, and know just where your accessories are!  I love that this storage tray makes use of extra space.
There were material alignment marks were on the old machine, but they were harder to see.  The new Cameo features more noticeable alignment marks which will help you make sure you're feeding in your mat or vinyl straight.
*The machine is still called the Cameo.
*The machine still cuts a full 12″ wide.
*You can still cut over 100 different materials from paper, fabric, chipboard, leather, felt, foam and more.
*The overall weight of the machine is the same- still very light (under 12 pounds)!
*The software updates are free and all versions of the software are compatible with the new machine.  (Need to update your software?  Click here.)
*You can still do print and cut and use PixScan mats.
*All the same blades, mats and accessories work with the new machine.
We will be expecting the new Cameo machines in soon!  Of course, you can still get the original Cameo machine and machine bundles!
Do you have questions about the new Silhouette Cameo?  Let me know in a comment below!