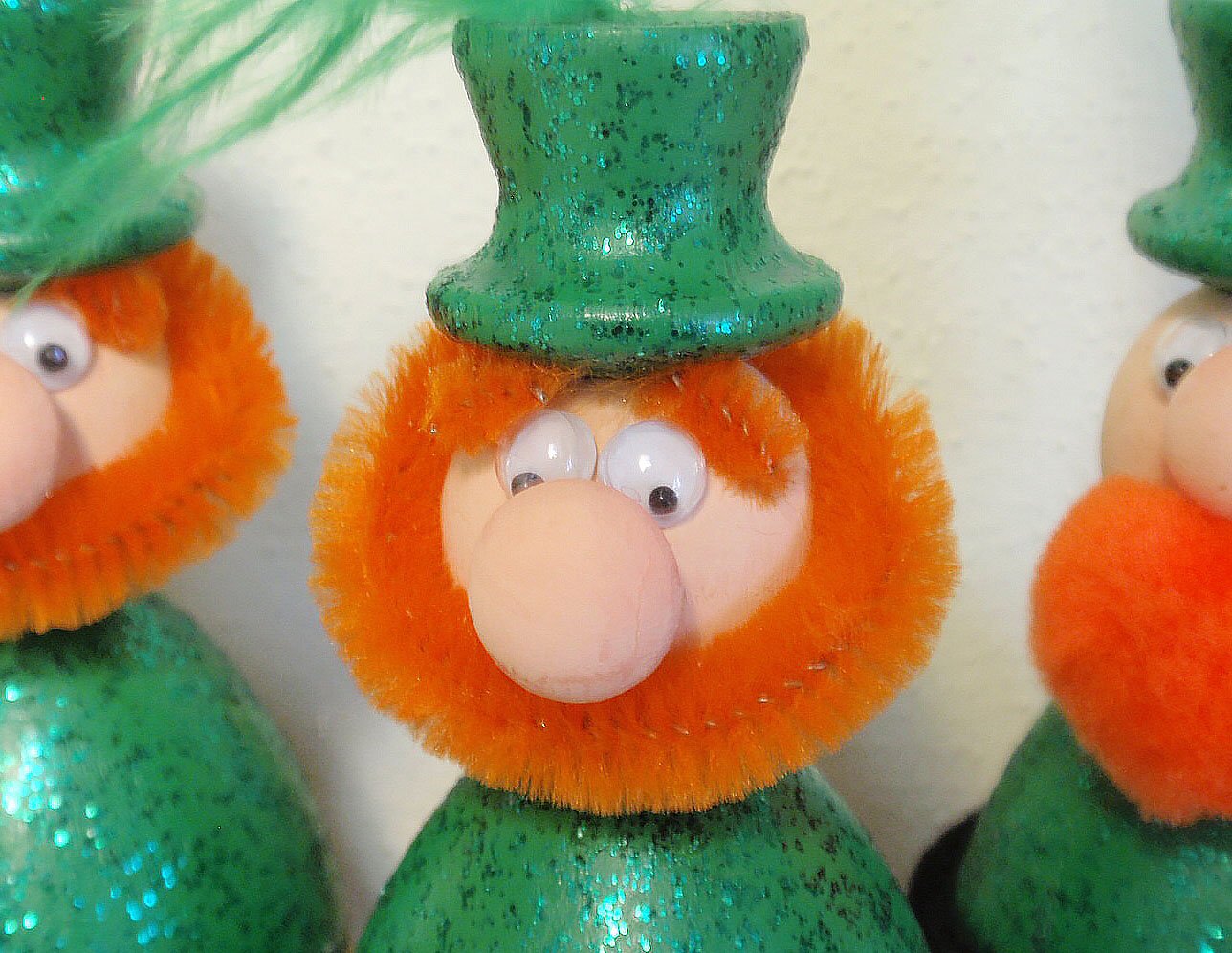 St Patrick's Day Leprechauns from Craft Wood
Supplies:
Craft wood pieces
Craft paint in green, flesh color, and metallic gold
Glitter or glitter paint, green (optional)
Your choice of embellishments (orange pipe cleaners, orange pom poms, washi tape, buttons, feathers, jewels, felt, googly eyes)
White glue
Directions:
Gather craft wood pieces to create the leprechauns.  The sample project uses the following main shapes to create each leprechaun:
one round bead (1 inch) for the head
one drawer pull (1 inch) for the hat
one egg (1 ¾-inch x 2 ½-inch) with flat bottom for the body
In addition, each leprechaun uses one ¼-inch wood bead or plug for the nose and three 1 ½-inch x 3/16-inch wood discs for the gold coins.  Feel free to substitute any similar wood pieces if you can't find these exact wood shapes for your project.
Paint the hat and body using green paint.  Paint the head and nose a flesh color and the 3 "coins" using metallic gold.  Attach the body, head, and hat using white glue.  Allow to dry.
If desired, apply green glitter paint over the green hat and body for a little sparkle.
Glue the nose to the center of the head. Stack the three coins in an offset manner and glue in place.  Glue the leprechaun on top of the stack of coins.  Allow to dry.
Attach embellishments to give your leprechaun character.  Be creative and use whatever you may have on hand. Orange pipe cleaners or orange pom poms can become beards.  Glue washi tape or felt to create a belt.  Add a button or jewel for a belt buckle.  Glue a small feather in the hat.  Draw facial features using a fine-point black marker or attach googly eyes for a whimsical look.
Have fun and personalize your characters to match the little leprechauns in your life!