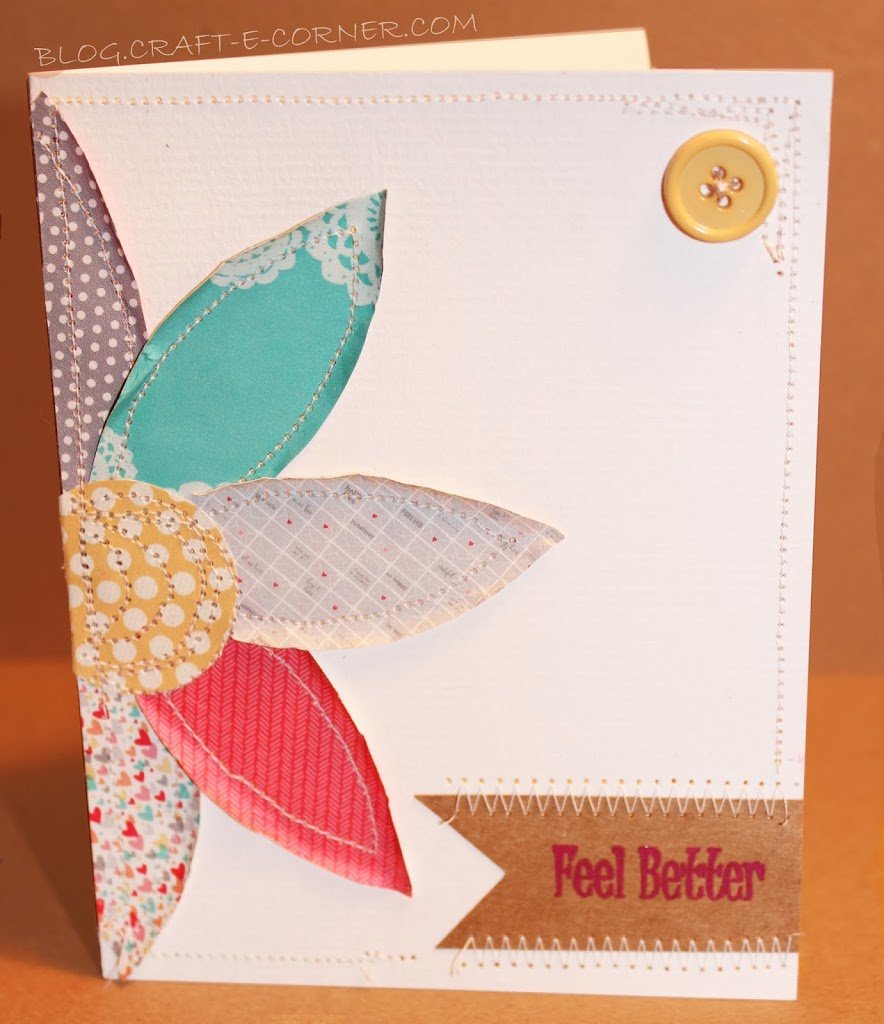 Machine Sewn Card "Feel Better"- Tutorial (No die-cutting machine required!)
Saturday is National Quilting Day!  While I know there is a difference between sewing and quilting- I thought a sewn card would be the perfect way to honor this crafting "holiday."  My Mom is a quilter, through and through… she also recently caught the bug that has been going around.  I feel terrible that she is sick so I set out to make a card for her to hopefully make her feel a little better!  This is what I came up with…
I love how this card turned out!  No die cutting machine required!  I think the stitching details and the distressed paper makes this card look almost like a fabric quilt block, my Mom is going to love it!  Read below for full tutorial on how to make this card!
I started out creating a cardboard template for my petals.  I just grabbed a piece of a cereal box and made a quick pointed petal shape:
Next I used a scrap book paper catalog for all my petals…  I love using catalogs for craft projects, there is such a variety packed into one little book and you are recycling! (Remember this recycled necklace tutorial?!)   I traced out my petals (I made the petal to fit inside the little squares in the catalog).  You could certainly use a die cutting machine for this part, but I thought "the old fashioned way" was fastest here.  If you're making multiple cards, a die cutting machine would be the way to go for sure!
I trimmed the petals with a regular pair of scissors.  I chose a variety of colors and patterns (based off what was in the catalog)- but you could do all one color or pattern.  I made 5 petals and 1 circle for the middle:
After I decided which order I wanted my petals to go in, I pulled out my sewing machine and started stitching the petals on.  You'll want to build your flower from the bottom up- so start with the back bottom petals, then add the middle two, then the top petal and then finish with the center circle.  TIP: Run a line of adhesive tape on the back of your petals to keep them in place while you sew.  I used my Glue Glider Pro with the Repositionable tape cartridge so I could move the pieces around until I was happy with their position on the card.
This might sound silly- but make sure you're sewing your petals on with your card OPEN- you don't want to be stitching your card closed as you put on your petals (ask how I know this…)!  Sew your pieces right on to the front of your card.  Trim any pieces off that overhang (see below).
Once I got to the middle, I stitched the center circle on using a few passes on the sewing machine.  If you have a setting on your sewing machine to keep your sewing needle down when you're at the end of a stitch, make sure you use that setting so you can rotate your card easily!
Once I got all my pieces sewed on, I ran my finger around the edges of the petals and roughed them up a little to distress them and make them look like fabric.
Next I made a quick banner for my sentiment using the "Feel Better" stamp from my "I'm Just Saying" Megan Elizabeth stamp set.  I stamped my sentiment on a scrap piece of kraft card stock and used my Bachelorette Ink Edgerz with clear embossing powder and my heat gun to make my sentiment stand out a little more.
TIP: Use a square punch to make a quick banner!  Just line up your sentiment with the corner of a square punch and punch out just the end.  Turn your punch upside down to make sure you're lining everything up right.
I sewed my sentiment onto the bottom of my card using a quick zig zag stitch. Next I machine sewed around the entire card (but made sure not to sew over the sentiment).  I did a little extra stitching in the upper corner (it looked too plain without it) and hand sewed on a button in the upper corner as a finishing touch!
I made a matching envelope with my We R Memory Keepers Envelope Punch Board (Click here for a full tutorial on how to make your own envelopes!).  I just love the feeling of this card- it turned out so pretty!
I hope this card helps my Mom feel a little better!  Who wouldn't love getting a hand made card in the mail instead of bills and junk mail.
Do you send out cards when someone is sick?
Take a second and leave a comment below, I love hearing your thoughts!
Happy Crafting!
Kala
Save