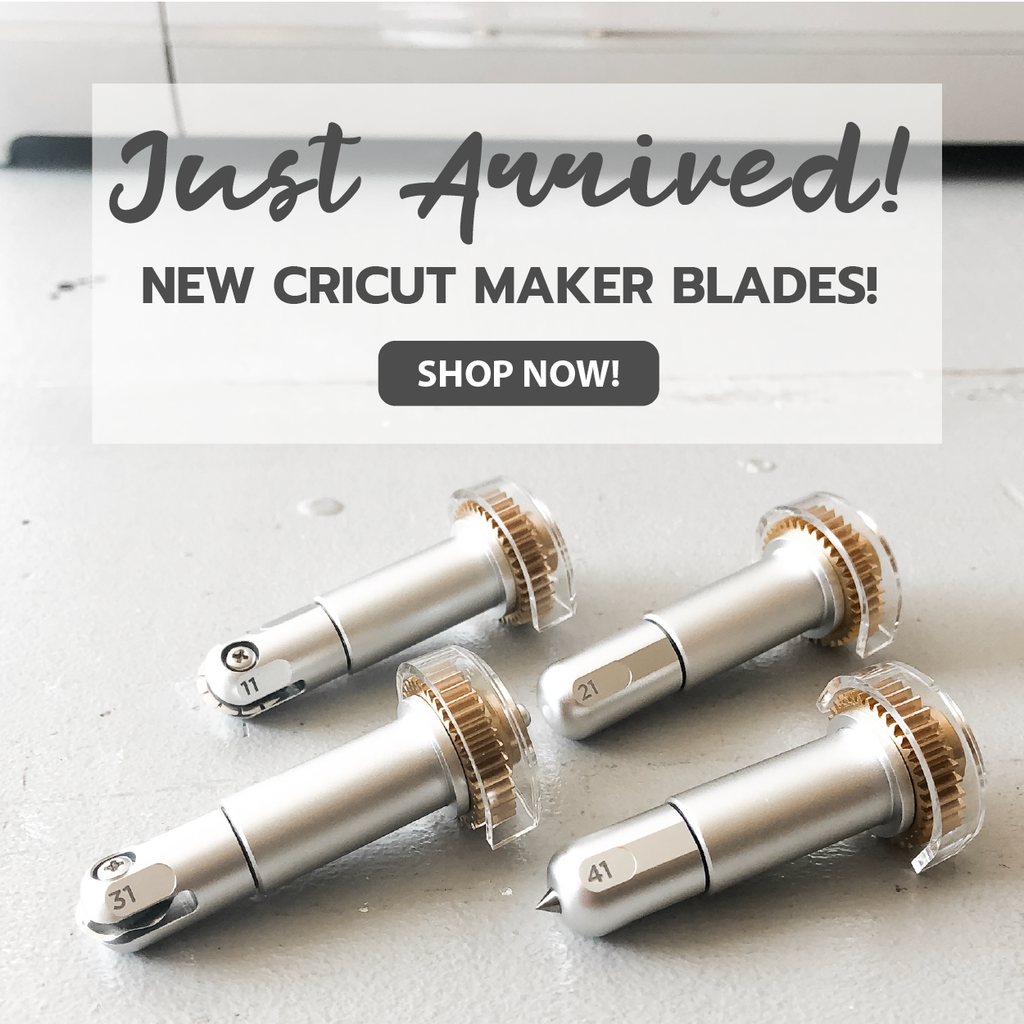 New Cricut Maker Blades/Tips are HERE!
It's an exciting day, you guys! The four new Cricut Maker blades & tips are officially here at Craft-e-Corner. We have been waiting for these for a long time and are so excited they are officially live on our website -- and as always, at some low, everyday great prices! I thought I would walk you through the four new blades/tips and give you some information that might be helpful while you shop as well! 
So there are four new blades and tips that have been released -- two blades (Wavy and Perforation) and two tips (Engraving and Debossing).
**Remember, this are ONLY compatible with the Cricut Maker.**
Links to shop:
QuickSwap Housing
First things first, if you're not familiar with QuickSwap housing yet -- keep reading because this will save you some money! On each of these new blades/tips, they are QuickSwap Housing compatible. Basically, this means that you can remove the blade/tip from the housing and swap them out. To do this, you just have to push down on top of the housing and remove the blade/tip. Then to put the new tip/blade on, you'll push down again and insert the new blade. In short, you really only need one housing for all four blades/tips! This is great news because it is much cheaper to buy the blades and tips without the housing. So if you're shopping for the new blades/tips, I would highly recommend just buying one housing and then the other three without the housing. Of course, you can buy the housing if you want for all four. The blades and tips are pretty small, so you'll need a good place to store them.
Also, if you have already purchased the Scoring Wheel with the Maker, then you have the housing already! Currently, as of August 20, 2019, the only blades/tips that are QuickSwap housing compatible with the Maker are the Scoring Wheel, Engraving Tip, Debossing Tip, Wavy Blade and Perforation Blade. 
Check out what the housing looks like here:
 And here's a helpful graphic that shows you how to change your tips/blades:
Pretty awesome, huh? Now let's take a closer look at each of the new blades/tips individually.
Wavy Blade
Do you remember when the scissors that had scalloped edges or fun designs on the blades were really popular? I was a kid when they were popular and I had TONS. That's exactly what the wavy blade reminds me of. It really just adds a fun, wavy decorative edge to your projects! This blade is great for vinyl decals, iron-on designs, envelopes, cards, gift tags...or pretty much anything you would want to add a fancy edge too! You can use this wavy blade on tons of materials: vinyl, paper, iron-on, leather, even fabric! Check out the complete list of materials from Cricut here.
Links to shop:
Perforation Blade
The next new blade is the Perforation Blade. This blade allows you to get perfect tears quickly and effortlessly with precise perforation cuts -- I mean, you guys...this thing is awesome. I tried it out for the first time on laser copy paper and even on a thin material, it was PERFECT! I'm so excited to try this out on making raffle tickets, peel-away cards, flyers, advent calendars...and so much more. This blade is perfect for materials like paper, cardstock, acetate, foil and even faux leather. The complete list of materials can be found here.
Shop here:
Engraving Tip
I think out of all the new blades/tips, this is one that I am most excited about-- I've been wanting to engrave for a LONG time! I'm excited to engrave on metal to make jewelry and to create some dog tags for my dog. The engraving tip now allows us to engrave on metal like aluminum, leather, kraft board, and acetate (for more materials, click here). This is ideal for projects like dog tags, jewelry, wood carvings. I'm super excited to try this out!
Links to shop:
Debossing Tip
Last, but not least, is the debossing tip. It creates detailed depression in a variety of materials that adds dimension and flair to your projects -- and without the need for a folder! he tip is actually a rolling ball that pushes into your material. It actually creates really crisp lines and I love the dimension it brings to projects. You can create dimensional wedding cards, thank you cards, or some texture to gift boxes, tags and more. It works well on materials like cardstock, foil poster board, foil cardstock, foil kraft board, and more. Full list of materials here. 
Links to shop:
What do you think about the new blades/tips? I'd love to hear your thoughts in the comments below! Which one are you excited to get your hands on? 
In the next few weeks, stay tuned for some projects that will feature each of these blades/tips -- we can't wait to show you what we've been working on with these incredible tools! Until then, happy making!
-Courteney
Related Posts