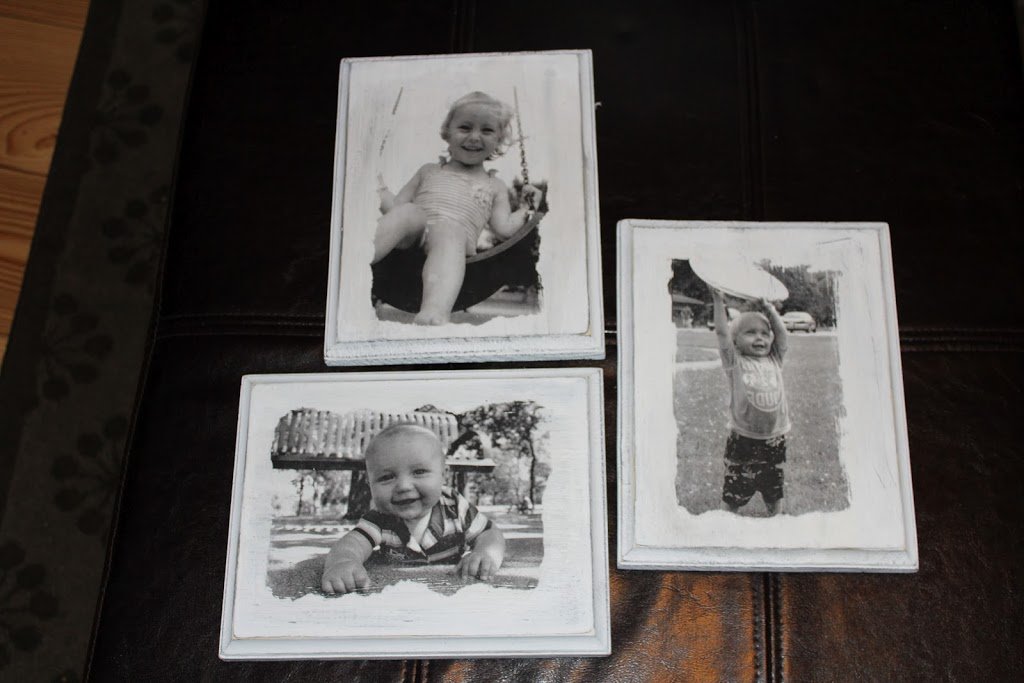 Photo Transfer Birthday Present Project
So my sister Andrea a.k.a Dre, turned the BIG 3-0 a few weeks ago.
Seeing as money is a bit tight I wanted to MAKE her something with LOVE & MEANING.
She has three beautiful children (I am such a proud Auntie!) Bella(3 soon to be 4!), Charlie(2) and Vinny (1). Yep, that's right! THREE kids under 3! Bless her heart!
So here is what I came up with…
These are 3 finished distressed photo transfer wood plaques! This was my very first time doing this and they turned out AMAZING!
Here is how these beauties came to be…
 First I painted the three wood pieces with a dark grey (acrylic paint) and then using sandpaper I sanded down the block and edges lightly for a distressed look.
I then put another coat of white on top of the dark grey color and sanded them again. Don't sand too much thought or you'll go right through the paint and to the raw wood.
 You'll want to print or copy the image of choice on regular printer paper, but NOT on an inkjet printer. It has to be printed with a laser printer (or a copy machine) with a toner ink. I personally printed the pics in B&W and copied them.
Next I used Gel Medium (found at any craft store in the painting section) which is like a Mod Podge paste but thicker. I added a thicker coat to the wood block and then placed my picture face down and rubbed out all the bubbles with a scraper (a brayer would work well) I also ripped my picture so the edges would look distressed and worn.
Let dry overnight/div>
Once dry, take a sponge and bowl of water and saturate the paper. then start gently rubbing off the paper. You'll have to rub off multiple layers but be careful- if you rub too much the ink will start to come off.
I then let them dry for a few minutes and sanded the torn edges to distress it a bit more and…
TA-DA!!!
Dre LOVED them! Mission accomplished
WHAT DO YOU THINK!?