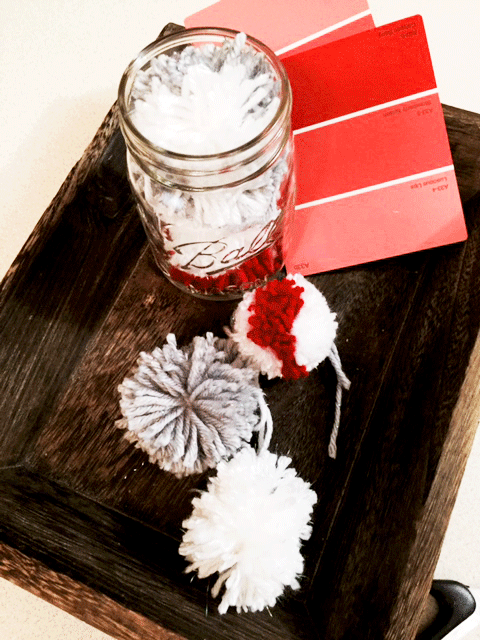 Pom Pom Phenom
Has anyone seen all the "Pom Pom" projects around the web lately?  Well, if not, you are missing out!  Really these little balls of yarn are so cute, and if you don't know, there are a ton of possibilities that you can make with these things!  Scroll down to see inspirational project pics from some  from fellow crafters!
After looking  around on Pinterest, I decided that I must make some!!  They are not difficult, but there are a few different ways to make them.   Below is a simple tutorial that I have put together for you, so you have options when you decide you need some tiny balls of yarn scraps in your craft repertoire!
Here are the three different techniques that I used to make pom poms, but I'm sure there are more, if you feel so inclined to do some more digging.  I would love more options!
I have conveniently named this technique the "c-wrap" method.  Forgive me if there is an actual name for this.. I like making stuff up!
This method requires a bit of cardboard….or old cereal box, or heavy cardstock-really anything you have laying around is fine.  I don't have the pictures of me cutting out the "C" shape, but I'm guessing you can manage that.  Only thing to note is that you need two of them.
So now, here is this technique in pictures.
This was fairly easy.  The only part that was a not super easy, was step 4.  It's not pictured very well, because I don't have three hands, but as you are cutting the yarn in step three, you have to hold the yarn in place and slide a long piece of yarn, (separate from the rest and long enough to tie a knot and have a tail if you want one) in between the two pieces of cardboard and then tie it tight enough to hold the pom in place.   If you try to make one, it will make more sense.  I will try to get a better picture of this step.
Ok, so now, technique two… The Finger Wrap.  Again, my name, not technical.
This is pretty easy too, and does not require any template or cardboard.  This technique does limit the size of your pom pom, unless you have or are able to borrow some very large hands.
So the only note I have for this method is to make sure tie really tightly, and you can even tie a second piece of yarn after you tie the first if it's not tight enough. Then slide the first piece off.
Now the final and my favorite technique.  My very made up and unique name for this is…..the "Fork Wrap".
I like this one best because, the fork has four prongs, and you can have your separate piece of yarn in between the fork right from the start, you don't cut off your circulation, and you can tie this one before you cut it, so it stays together nicely.  I used a large serving fork.
Now those are the three Pom techniques that I tried.. and here is my little Pom Pom display.  I only had red and white yarn, but I just went out and bought some pink yarn today, so I will be making more for some new Valentine's Day Decor!
Here are some awesome pics from some crafty people around the web!  Click on these to see more!
If you love those monsters up above, we just happen to have an adorable Pom Pom monster salon!