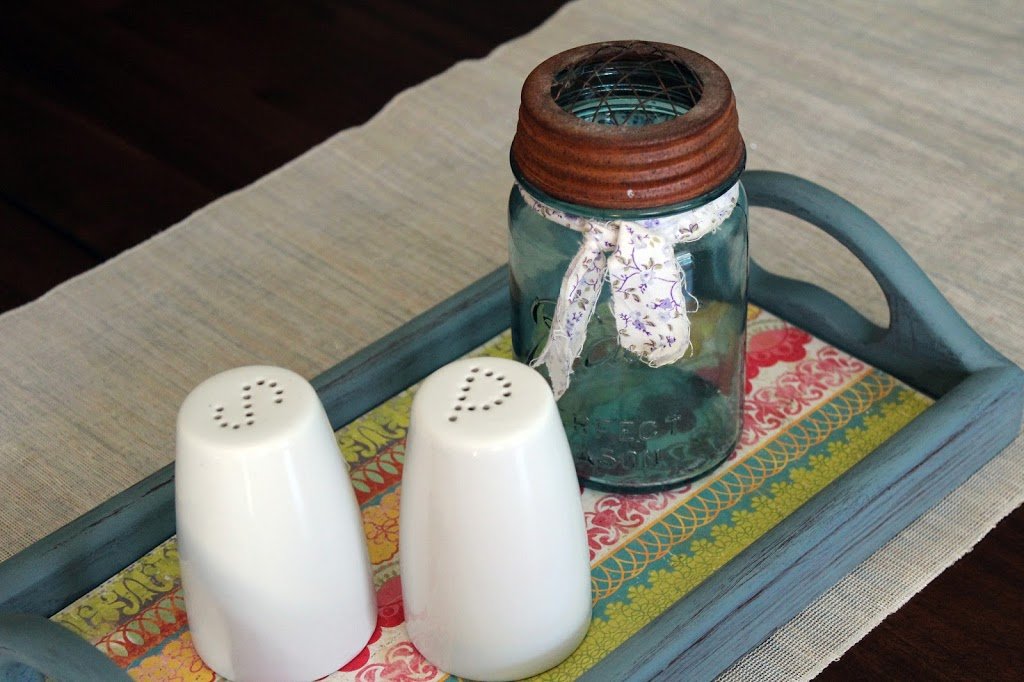 Refurbished Scrapbook Paper Serving Tray
A few weeks ago I picked up this lovely serving tray at the thrift store. The pineapple and apples were not quite my style, but the wood was in great condition and it was too good to pass up.
It was time for a  little project re-do! All this tray needed was a little TLC!
I wanted this tray for my kitchen so I used the paint sample that I had left over from our kitchen paint color. You could use any acrylic paint for this step I recommend Folk Art Paint. They have a huge selection of fun colors and it's a good quality paint..
First I sanded down the wood on the tray and then applied a thin coat of the blue/gray paint.
I used a pretty coarse
paint brush
to create a "streaky" and distressed look.
Once the paint was dry, I took the fame sandpaper and lightly sanded some of the paint off to show the wood beneath. I love the distressed look and this technique worked great!
Here's a good picture that shows the distresses look and how the paint turned out.
For the base of the tray all I did was cut a 12x12in sheet of
scrapbook paper
down to size. I lucked out and the width of the tray was 12in exactly so all I had to do was trim it to the width of the tray.
Then I simply took my large Zig Glue Pen and applied glue right to the glass and carefully layed the paper down and rubbed it until there were no bubbles.
Tip: If you get bubbles, use something like a
scraper tool
to help you flatten the paper and get out bubbles.
I decided not to put a sealant over the paper (like a
Mod Podge
) because I really like the flat matte look of the paper, and if I ever want to change the tray all I have to do is glue a new piece of paper over the top of this one!
I LOVE how it turned out…
What do YOU think? 
The combination of the muted gray/blue with the bright and bold paper choice looks great!
I cannot wait to put a vase of FRESH and BRIGHT tulips on the tray for Easter and spring!
Hope you loved the re-do! Please comment- I love to hear your thoughts!
Happy crafting,
Abbey