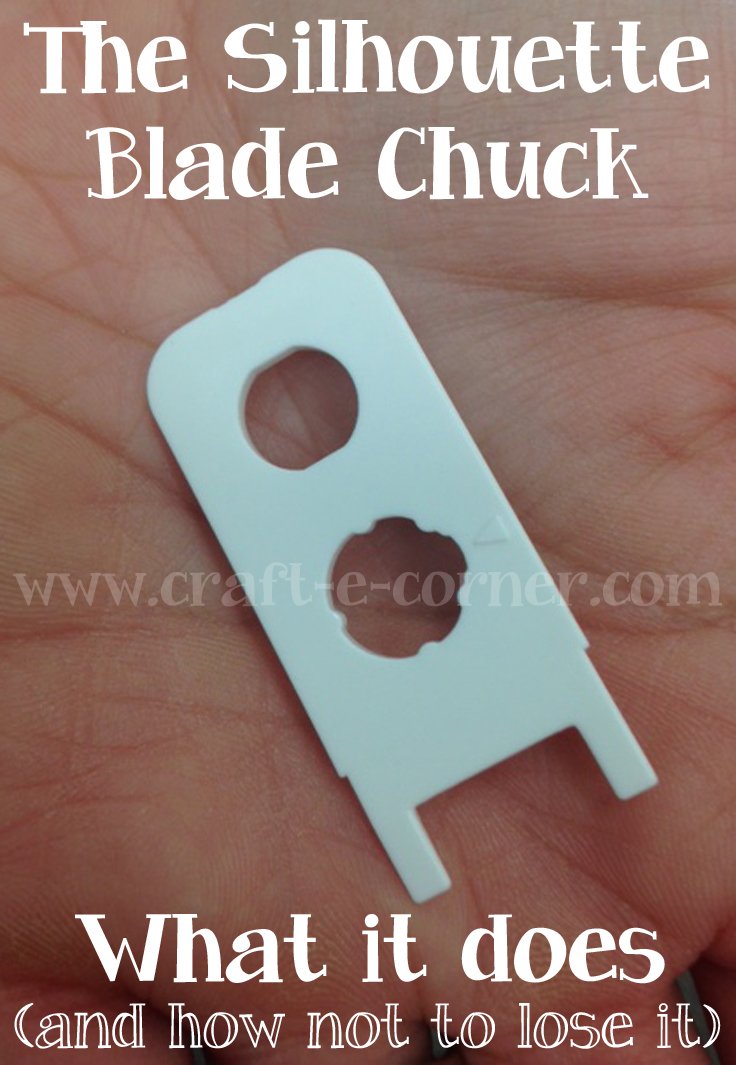 How to Use the Silhouette Cameo 3 Blade Chuck Tool
If you just got a Silhouette Cameo 3, you're probably wondering what the small, white, plastic piece does.  Let me tell you allll about it…
Each Cameo 3 comes with a baggie which contains the self adjusting blade, a cross cutter and then this little white plastic piece with holes in it.  What is it? Silhouette does not have an official name for it, but it has a few uses and one is to adjust the blades, so I am calling it the blade chuck.  Let's take a closer look at it's uses.
The blade chuck can reset the self adjusting blade to zero. The smoother of the two holes will fit the self adjusting blade.  Just press down and you'll reset the blade:
It can also be used to adjust a ratchet blade (which does not come stock with the machine) by using the second hole with the nubs.  Place the chuck over the top of the blade (line up the arrow) and then twist to the desired blade depth:
Finally the teeth at the bottom of the tool are to remove the Bluetooth dongle from the Cameo 3.  Each Cameo 3 machine (US) comes with built in Bluetooth.  To find the dongle, you'll need to flip your machine over at take a look at the bottom:
Before removing your dongle, make sure you TURN YOUR MACHINE OFF.  Once the machine is turned off, you can remove the small screw with a Phillips screw driver:
After removing the screw, you'll see the dongle inside the machine:
It's not impossible to remove the dongle without the chuck, but it makes it a lot easier to get it out of there.  Just slide the chuck teeth first between the dongle and the machine:
and use the chuck to gently work the dongle out:
Why would you want to remove the Bluetooth dongle from your machine? 
Just in case it stops working.  Silhouette will have replacement pieces and they say that it's unlikely that it will stop working or that you'll ever need to remove the dongle, but just in case!
To keep from losing your tool, utilize the pull out drawer in front of your machine. It's large enough to hold both the cross cutter and the blade chuck.  If you lose it (gasp!), no worries!  You can still adjust your blade with the built in blade adjuster on the deck of your machine (it works for both the self adjusting blade and the ratchet blade):
Removing the dongle will be a little more difficult without the chuck, but you should be able to use a flat screwdriver to gently work the dongle out, if needed.