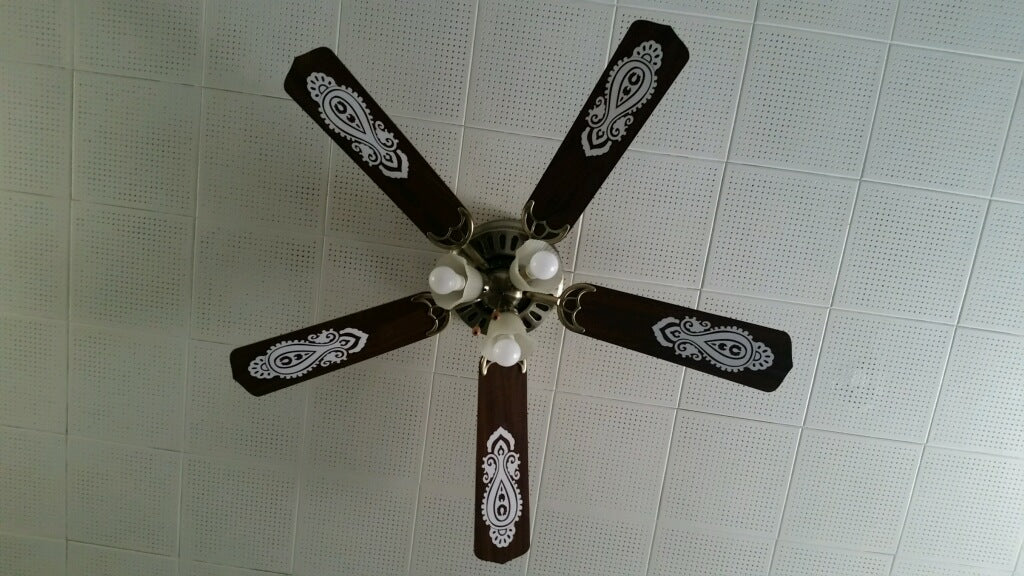 Updating a Ceiling Fan: A Cricut Rescue Story
Looking to spruce up an outdated ceiling fan? Try this easy hack with the help from your Cricut Machine!
My aunt was recently complaining that she did not like her ceiling fan and was considering painting the blades. She was worried about throwing off the balance of the blades if her paint job was uneven, so I suggested to simply find a pretty design and cut it out with the Cricut! This way it would spruce up the fan and each fan blade would be even since the designs would be identical. It turned even better than expected! 
First I found a pretty design and stretched it out to fit the size of the blades, then I cut out one for each blade using Cricut Removable Vinyl. ( I like the matte color )
Now I want to measure approximately how far down the tip of the fan blade that I want the design to begin for each blade. 
Here is the design after weeding...
Next I want to apply my transfer tape...
Remove the backing...
Then carefully apply to the correct position on the fan blade.
Make sure you use your scraper to transfer the design so it stays on your surface.
These fan blades were pretty old so some of the varnish came up when removing the transfer tape, but no worries, I just took a bit of antiquing wax and a small paint brush and touched up the light spots. Once you dab the area with the wax you can wipe it off immediately. Repeat until desired darkness is achieved. 
Here it is all touched up and in working order! Yay! It turned out so cute, and you don't see any of the spots that needed to be darkened. 
What kind of home decor items have you improved with your Cricut? Please let us know by sharing your work! Happy Crafting everyone!
Related Posts
How to Make A Personalized Doormat with Your Cricut
Cricut Bedroom Refresh - DIY Headboard and Closet Doors