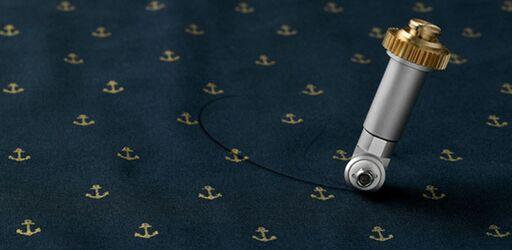 All About the Blades: Cricut Maker Rotary Blade
The Cricut Maker Rotary Blade is a real game changer!  The rotary blade is a mini version of the big rotary blades you use to cut fabric in straight lines with, only this one is fully automated and fully controlled by Maker.
The Cricut Maker has complete level control over the new Rotary Blade. It can move the blade left, right, up, down, clockwise, counter clockwise, and it can even tell what direction the blade is facing at any time.
Have a sharp corner in your design? The Cricut Maker can pick up the blade and adjust to get the perfect corner cut.  Cut all kinds of fabrics from delicate fabrics like chiffon to thicker materials like velvet, felt and denim.
The Rotary Blade is included with the Cricut Maker machine and is currently only compatible with the Cricut Maker.  You'll find the rotary blade inside the Cricut Maker box, in a smaller box that says "Let's get started" on the top:
Need more help finding the blade in your box?  Check out the Cricut Maker Unboxing post with step by step unboxing so you'll know right where to look.
The Rotary Blade is unique in that it cuts fabrics without having to stabilize the material first. While the rotary blade is designed to cut a huge variety of material, it is also helpful when cutting difficult materials such as burlap, tissue paper, felt or foam sheets.
The rolling action of the blade helps to eliminate a blade pulling on the material as it cuts, giving you cleaner cuts and reducing the chance of the material shifting or tearing while cutting. It can make very precise cuts, even on difficult to cut materials such as unstabilized or stiffened materials like felt, which can be difficult to achieve a clean cut with a standard or Fine Point blade.
Pair the Rotary Blade with the pink FabricGrip mat:
Cricut designed the pink FabricGrip Mat to be stronger and denser than the other styles of cutting mats so they can withstand the cutting pressure associated with using the Cricut Maker Rotary Blade. Cutting with the Rotary Blade on a StandardGrip (or other) style mat will result in damage to the mat and blade, decreasing the life of both.
Related Posts
All About the Blades: Fine Point, Deep Point and Other Blades to Use with Your Cricut Machine
All About the Blades: How to Calibrate the Rotary Blade