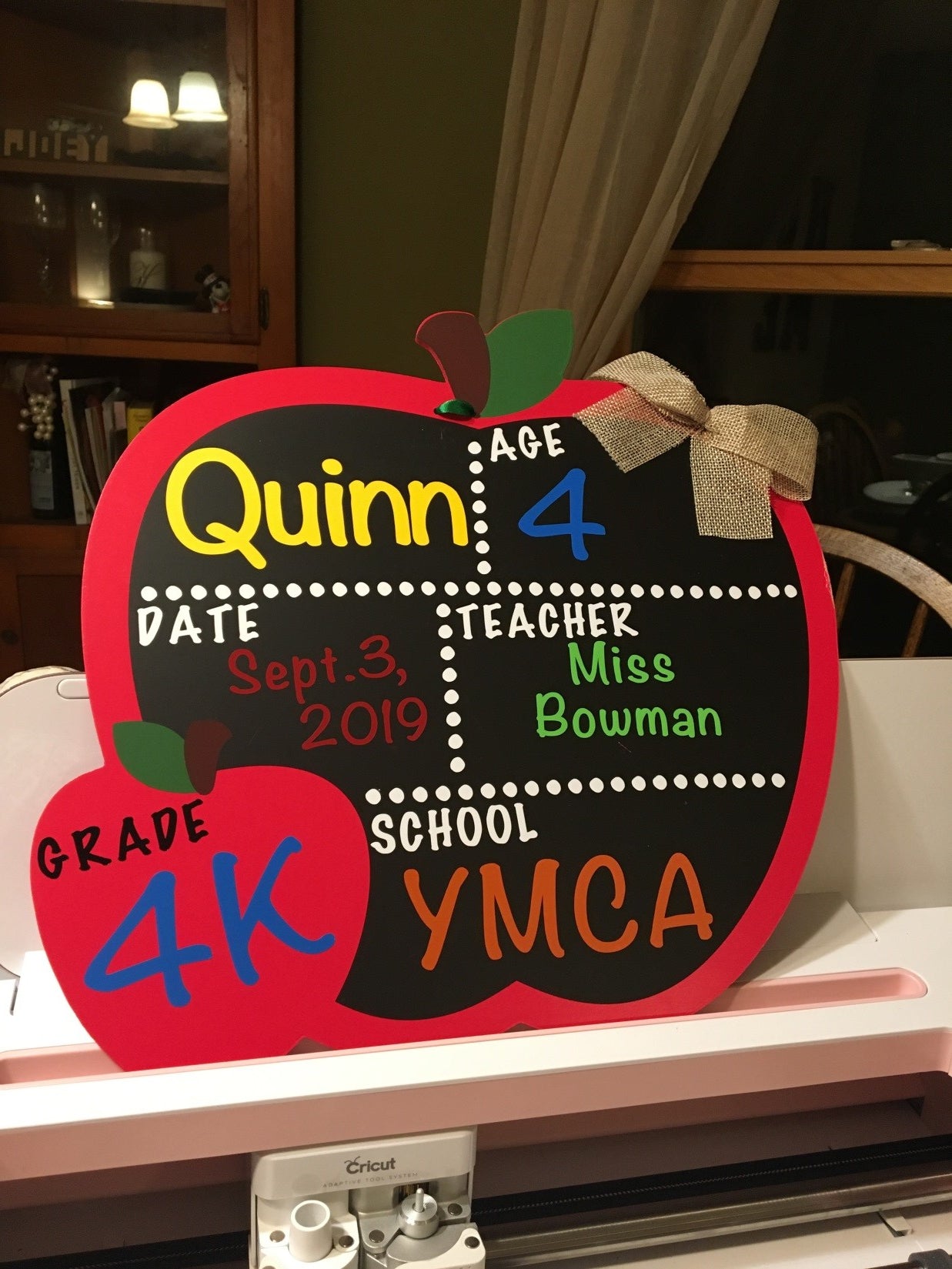 Back to School Photo Prop
As a newer contributor to the Craft-e-Corner community, and new Cricut user to boot, I was curious to see the uses for removable vinyl, and found a perfect opportunity to test it out.  
As we go back-to-school (or in our case, first-time-to-school), I knew I wanted to make a photo prop to use in the years to come.  I came across the cutest apple blackboard at Party City, and at $2.49, I bought two to have at the ready for my kiddos. While it's already super cute, both permanent and removable vinyl will help me jazz up.  One can always use chalk or a chalkboard marker to write on it, but I admittedly don't always have the best handwriting, so using my Cricut is a great substitute for cute lettering. And with the removable vinyl, I can update it every year with ease.  
For those who still want to use chalk or a marker in some capacity, you can always use some permanent vinyl for the categories that won't change every year, like Grade or School, and even for the dots separating the different categories on the apple.  
Hope this provides some inspiration on upgrading an already sweet product to truly make it your own.
Materials:
Cricut Cutting Machine

Cricut Vinyl – both removable and permanent

Cricut Scraper Tool

Cricut Weeder Tool

Cricut Light Grip Mat

Cricut Transfer Tape
Directions:
First I mapped out what types of categories and spacing I wanted on the apple.  To do this I lightly sketched on the apple with a pencil, getting a general idea for sizing I would need to use.
I went into Cricut Design Space, and wrote out each word needed for the project.  I love using the mobile app for simple projects like this, where I simply need to cut words out.  Sizing is so simple on the app as long as I know the space I have available. I also added some dots in a row to Cricut Design Space, which will separate each section.
I used Cricut Premium Permanent Vinyl in white on the black areas that will remain each year to stand out in contrast, and Cricut Premium Permanent Vinyl in black on the red apple for the 'grade'.  To change it up, I used various colors for each answer.  
Once I had my design cut out, I used my Cricut Weeder Tool to weed my design.  Next I used Cricut Transfer Tape to apply the various permanent and removable vinyl pieces to the apple. 
Here you can see where I could have stopped with my permanent vinyl if I preferred to handwrite the changing information, if my penmanship wasn't so wonky.
As always, I used my Cricut Scraper Tool and went over the sheet of transfer tape a few times to make sure that my design was firmly adhered to my surface.
I slowly peeled up my transfer tape with each section while scraping and making sure that my design stayed in place.  Voila! You can see my finished design. FUN FACT: I know that this will be easy to re-do every year, because as I created this blog post, I noticed I had the wrong day of the first day of school. #mombrain  I printed the number 3, easily removed the number 9, and now it's accurate!
Related Posts
Cricut Beginner Project - Felt Graduation Party Banner