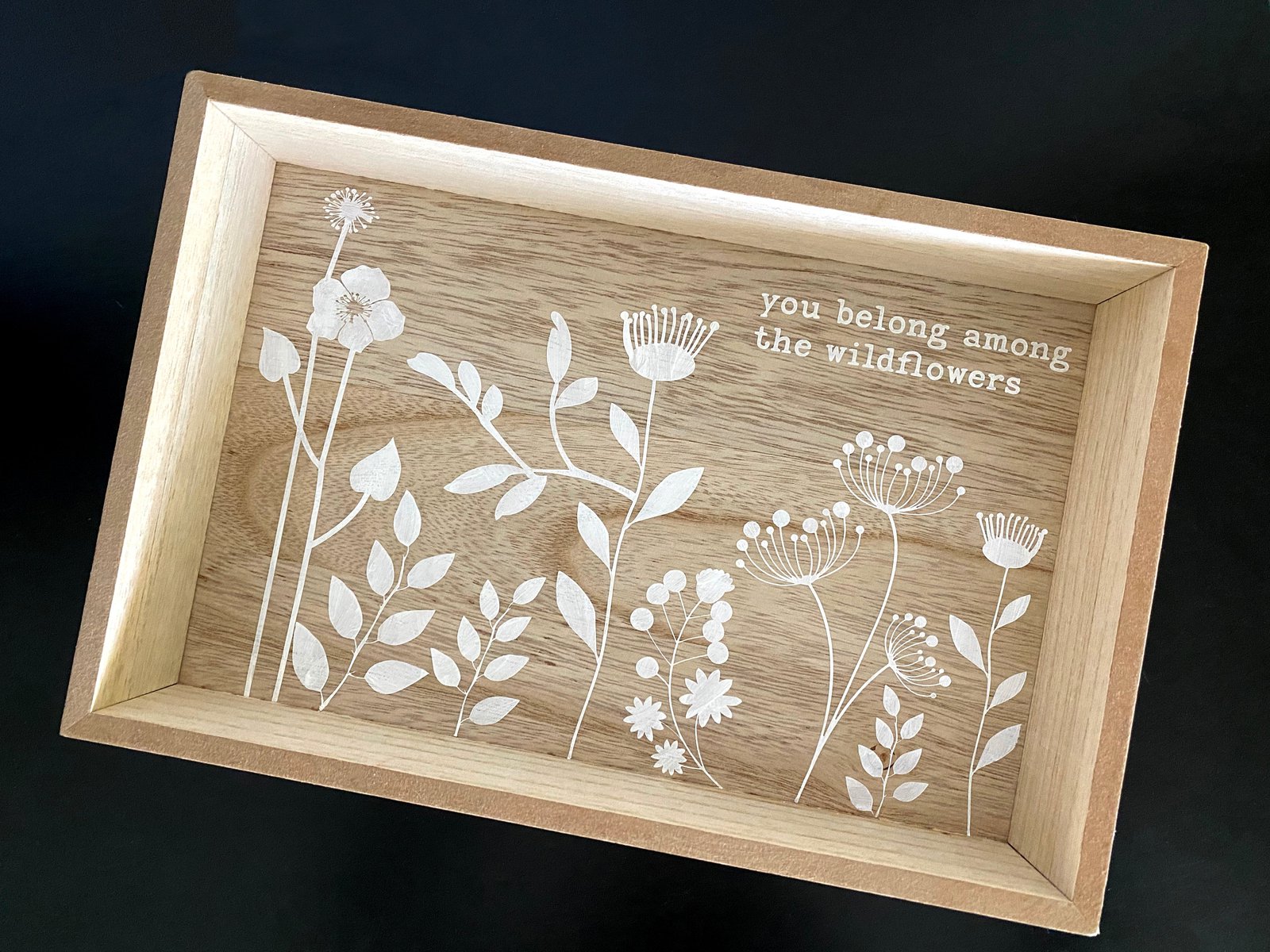 Decorate a Wood Tray Using Vinyl as a Stencil
Easily customize a wood tray using vinyl as a stencil!
Materials Needed:
• Wood Tray (mine is from the Target dollar spot)
• Cricut Removable Vinyl
• Cricut Transfer Tape
• Cricut Die Cutting Machine
• Cricut Standard Mat
• Cricut Tools
• Mod Podge
• Paint
• Paint Brushes
• X-acto knife (optional)
• Ruler (optional)
Directions:
1. Make Your Design
I found some free floral vector images I liked, arranged them to fit the tray and added a flower quote. There are many free images right in Design Space, or you can just do a search online for free vectors/svg files. Size your image accordingly to your tray.
2. Cut
Cut your design using the fine point blade on removable vinyl.
3. Weed
Carefully weed your design if it is as intricate as mine. Some small pieces may come up unexpectedly or move.

3. Trim
Trim the vinyl around your design if necessary so it will fit in the tray. I used an x-acto knife & ruler for a more precise cut.

4. Transfer Design
Use Cricut transfer tape to place your design in your tray. Again, be careful with small, intricate pieces. Use your scraper tool to help adhere the vinyl to the transfer tape, and then again when transferring to the wood. Slowly remove the transfer tape.
5. Mod Podge Over your Design
Using Mod Podge before painting helps keep the paint from bleeding under the vinyl. Let it dry completely.
6. Paint
Paint over your stencil with as many coats as you would like. I only used one so you could still see the wood grain through the paint. If you would like a more opaque look, do 2-3 coats. Let it dry again completely before removing the vinyl and touch up any spots you need to.

You are now finished!
Related Posts
Bridal Shower Party Decor using Cricut (Plus Free SVG)
DIY Wedding Crafts - Fabric Collage with Cricut Iron-On