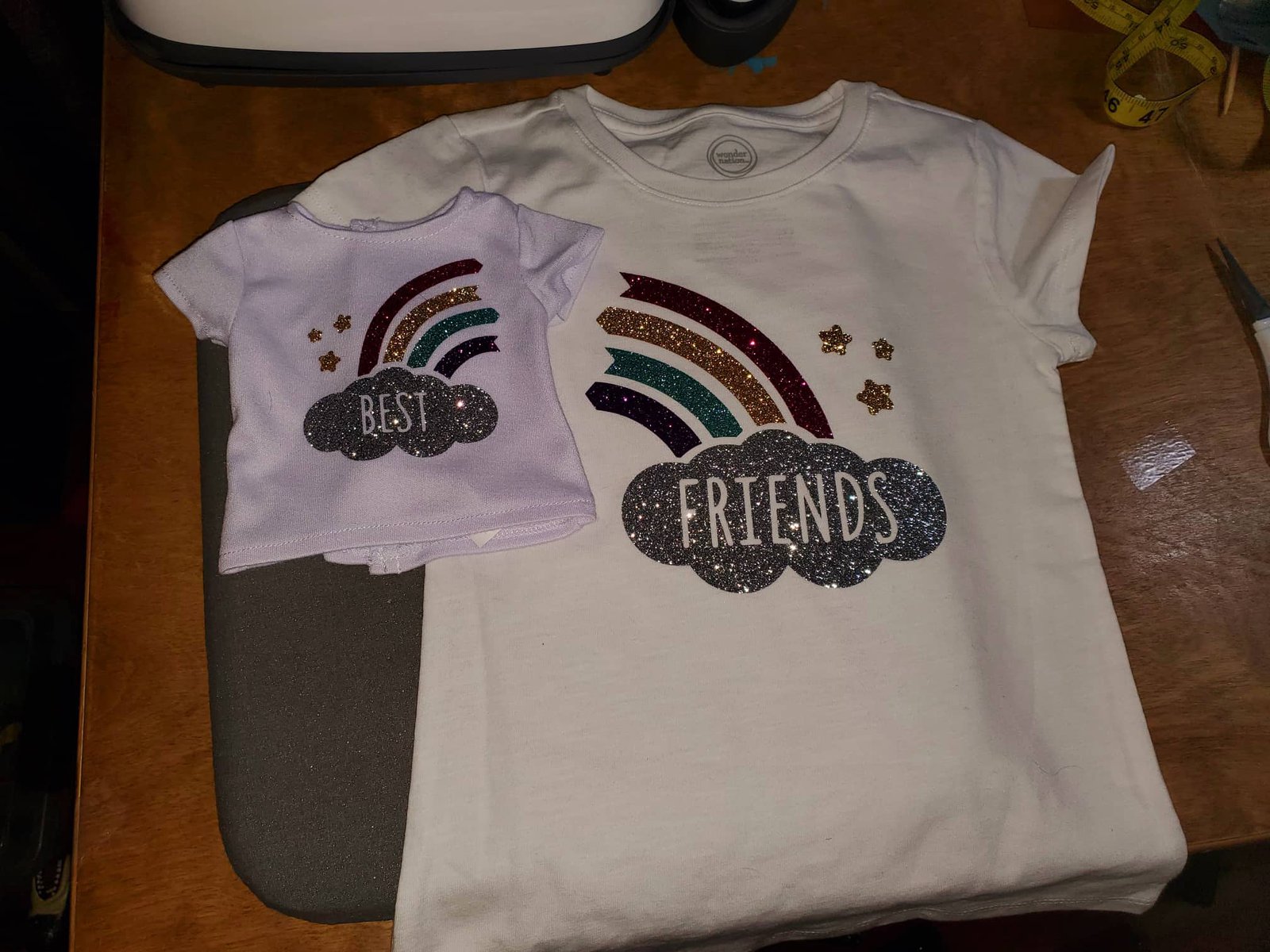 Matching Child and Doll Shirt with Cricut Iron-on
My daughter got a My Generation doll for Christmas and has been begging for matching clothes for her and her baby. There are some really cute matching outfits out there but they are just so expensive! I decided why not just make my own! I bought the doll outfit with the white shirt and jeans at Joanns. I also got a plain white shirt from Walmart. She was so excited to have a Momma-made matching shirt with her baby doll.
Materials:
                Cricut
                Cricut Tools
                Cricut Easy Press
                Iron-on Vinyl (I used Glitter Iron-on)
                Plain white shirt for doll and child
I found the Best Friends rainbow in Design space. It comes all grouped together. I ungrouped the whole thing. I then selected the parts that would be on just one t-shirt (Best). I grouped these parts together. I did the same for the other shirt (Friends).
I Decided on which one would go on which shirt. I sized the images according to the shirt they would be placed onto. My Daughter's shirt is a 4/5 and I sized hers at 6 inches wide. The doll shirt is pretty small, I sized this at 3.5 inches wide.
I had a bunch of left over glitter iron-on vinyl from a previous project so I decided to make all the different parts of the design different colors of glitter iron-on. Remember when working with iron-on you need to mirror your image and put the vinyl shiny side down. Glitter iron-on is much thicker than regular iron-on. You will want to make sure that you select glitter iron-on for your material to be sure that the Cricut will cut it correctly.
I used my Easy Press to heat transfer the iron-on onto the shirts piece by piece. I like to lay it all out on top of each other first to make sure the placement is correct and then carefully do one at a time as to not move the original spot.
My daughter was so excited to be able to match with her doll. She also loves that her momma made it!
Do you have a child that would love to have a matching shirt with their doll or stuffed animal? What would you put on the shirt for them to match?
*It started out as a harmless hobby…. I had no idea it would come to this
~Beth
Related Posts
Tooth Fairy Bag with the Cricut Easy Press Mini
Personalized Mermaid Night Light