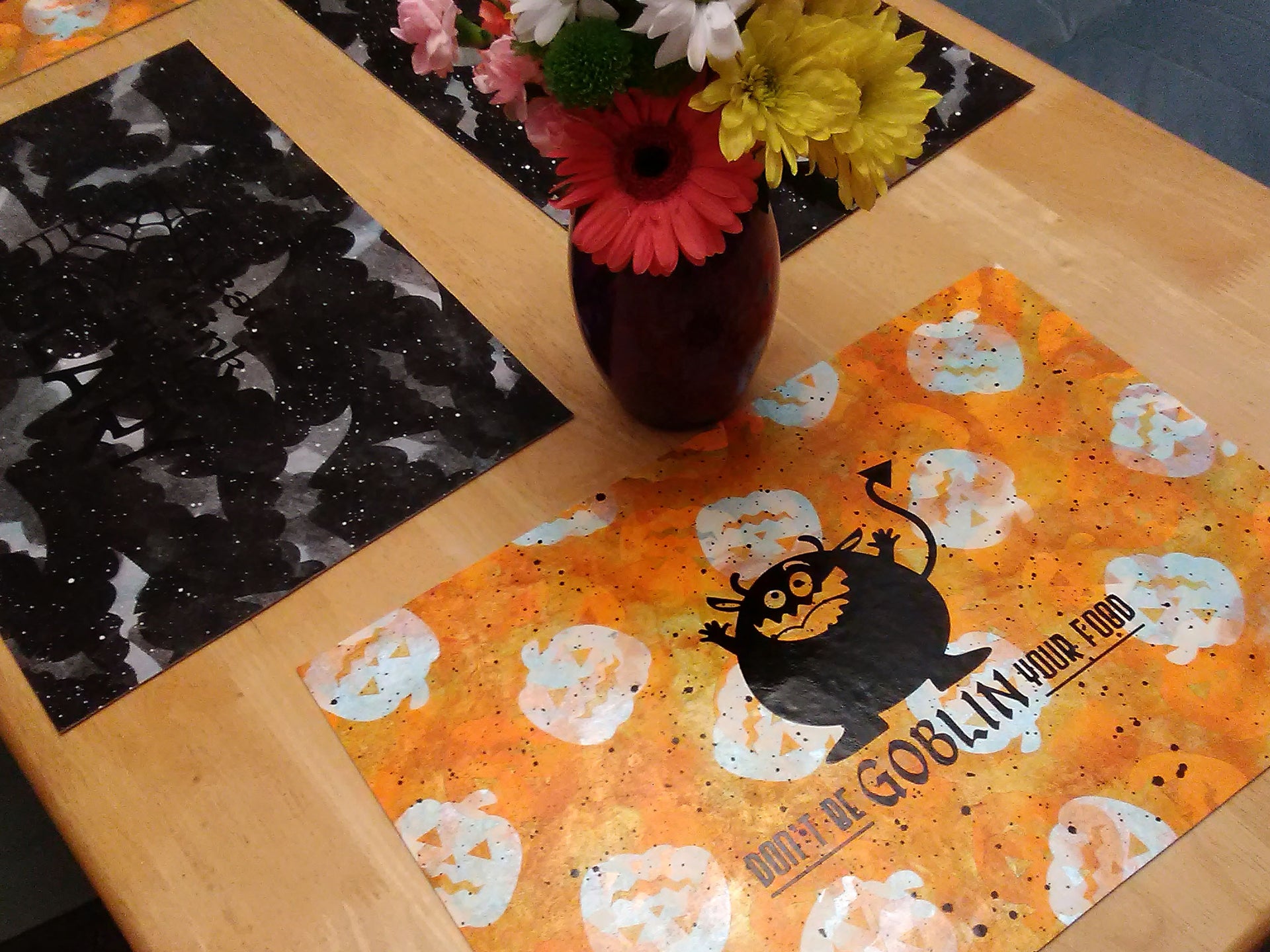 Painted Halloween Placements using Vinyl Masks
Have you ever tried using removable vinyl to create masks for painting? It's a really cool technique that gives you a negative image of whatever you're painting. All you have to do is place the vinyl mask on your canvas or paper, paint around it, and voila! The image is revealed in the absence of paint.
These placemats are not only a great addition to your Halloween décor, but they're also practical and easy to clean. We'll show you how to create a base coat on your fabric, apply removable vinyl masks, paint around them, and repeat the process to create a layered effect. We'll also demonstrate how to use a Cricut machine to create a focal image for your placemats using black iron-on. With just a few materials and some creativity, you can create unique and personalized placemats that will impress your guests this Halloween season.
Materials:
Smooth heavy fabric, like drapery lining – 1 yd will make 4 placemats
Acrylic paint, colors of choice
Polyurethane craft varnish (optional)
Removeable vinyl, any color
12x18 inch sheet stiffened felt (4)
Spray adhesive
Directions:
Rough cut the drapery lining fabric to approximately 14x20 inches.  Lining fabric is available in the home décor fabric section of the fabric store. I like to use this material because it is smooth and the edges do not fray when cut.
Base coat the fabric using acrylic paint in colors of your choice and allow to dry. I'm mixing white paint with a bit of black to paint the background variegated grey.
Select a simple Halloween silhouette from Cricut Access and cut from removable vinyl.  This is a great project for using vinyl scraps or damaged vinyl. I created an assortment of bats in several different shapes and sizes. 
Peel the bats from the backing sheet and apply the bats randomly to the background fabric.
Paint around each mask using a brush or sponge.  Carefully remove the masks to reveal the shape and allow the paint to dry. 
TIP: Return the masks to the original backing sheet or place them on a piece of freezer paper between use.
Repeat the process, placing the masks in new locations on the placemat and painting around them using a different color of paint.  Allow to dry. You can repeat the process as many times as you'd like until you're satisfied when the look.  I like to complete 3 or 4 layers to create an interesting background on the mat.  Spatter paint thinned with water across the mat.
Have some more fun! Try another background using a new mask shape and different colors.
Select a Halloween design from Cricut Access to use as a focal image on your placemats.  Size the designs to about 9 inches wide by 6 inches high and cut them from black iron-on. Weed the designs and iron one design to the center of each placemat.
Use spray glue to attach a sheet of stiffened felt to the back of the fabric. Trim away the excess fabric using a pair of scissors.
If you'd like, apply a thin coat of polyurethane craft varnish to the front of the mat to protect the painted surface.
Related Posts
Primitive Cat Dolls for Halloween