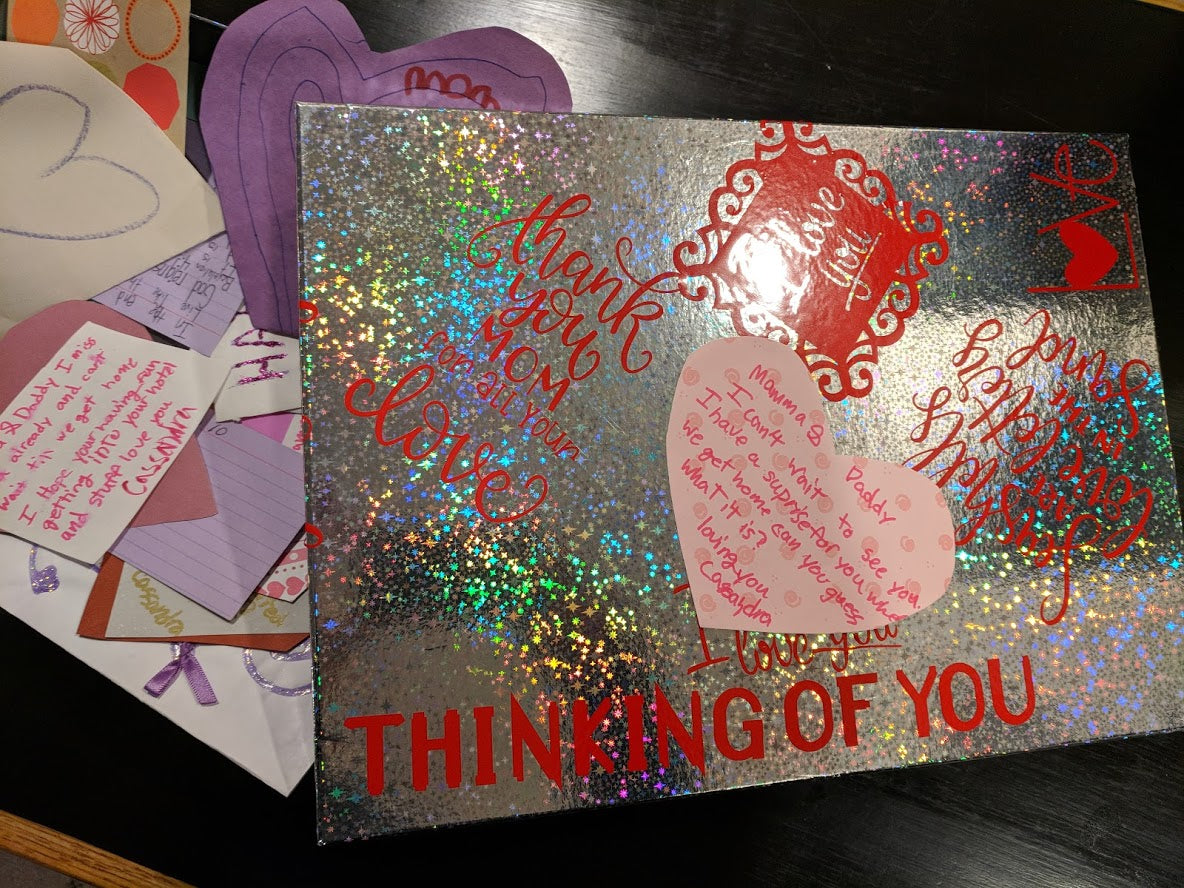 Cricut Vinyl Project - Gift Box
Cricut Vinyl Project - Personalized Keepsake Memories Gift Box (Color Sync Tip)
Cricut Machines can be used to personalize a box to keep personal small treasures, letters, trinkets, special moments, celebration keepsake gifts and memories for years to come.  
As a mom, who had a few business trips each year, leaving my little ones at home had them feeling sad and me wanting them to feel me close while I was away.  I found little ways to lift their spirits through notes and photos.  Years later my daughters have kept these special items, but not having one place to store all of them together.  As they got a little older my husband and I then took a 10 day trip without them and I chose to make them a keepsake box of new notes and treasures to enjoy while we were away.  
Ten years have passed and my girls now leave me notes of encouragement, love letters and trinkets from special times together.  I wanted to have my own keepsake box to put them all together.  I chose to use my Cricut Explore Air machine to make a bumper sticker inspired treasure box with sweet words that remind me of my girls.  
I started with a holographic colored box for a little glitter effect.  Any dollar store box will be easy to decorate.
Inspired by vinyl decals on cars (bumper stickers), I decided not one message, but many would share some of the love I feel when I sift through my box of memories. I selected several design images from Design Space and put them all on the same canvas. 
When I looked at the images I could see that Design Space would allow me to cut the letters, shapes and images with different color vinyl, yet I only wanted to cut it all out in Cricut Vinyl - Red. 
I then used the Color Sync function on the right hand side of my canvas and moved all of the designs under the main color.  Reminder the color shown on the screen doesn't need to be the color of vinyl being cut.  I dragged different color images to the all the same color. 
 This image shows now that all designs are intended to be cut by the same color material.  
 Design Space then turns all of the images on the canvas the same color. 
 I saw initially that all of my items wouldn't fit on the same size mat.  Since the sizing of my images weren't specific, I was able to resize a design or two and get them to all fit on the same mat, before I cut. 
A quick piece of red vinyl on my mat to cut my designs. 
Product Used: Cricut Red Vinyl
Here is a tip I use when weeding my projects.  I find that the vinyl wants to wrap around itself and back onto the mat.  I use a wooden ruler and have the vinyl stick to it, then I can pull the material across all 12 inches and have better control of the material. 
 I enjoy taking the bulk of the material of the mat and then getting all of the remainder of the weeding complete. 
 Transfer tape makes the transfer of vinyl material to any project a breeze. 
I found that using a play on words I put Love beyond Words on the edge of the box, like a bumper sticker might have fun on a car.  
I made this project to inspire you to create a keepsake box for an upcoming Valentine Gift Idea, as I know I'm not the only one who treasures those homemade projects and gifts.  Help someone keep those memories in one special place.  
Related Posts
Pet Bowl Memorial with Cricut Vinyl
Beginner Cricut Project - DIY Photo Cube Quotes