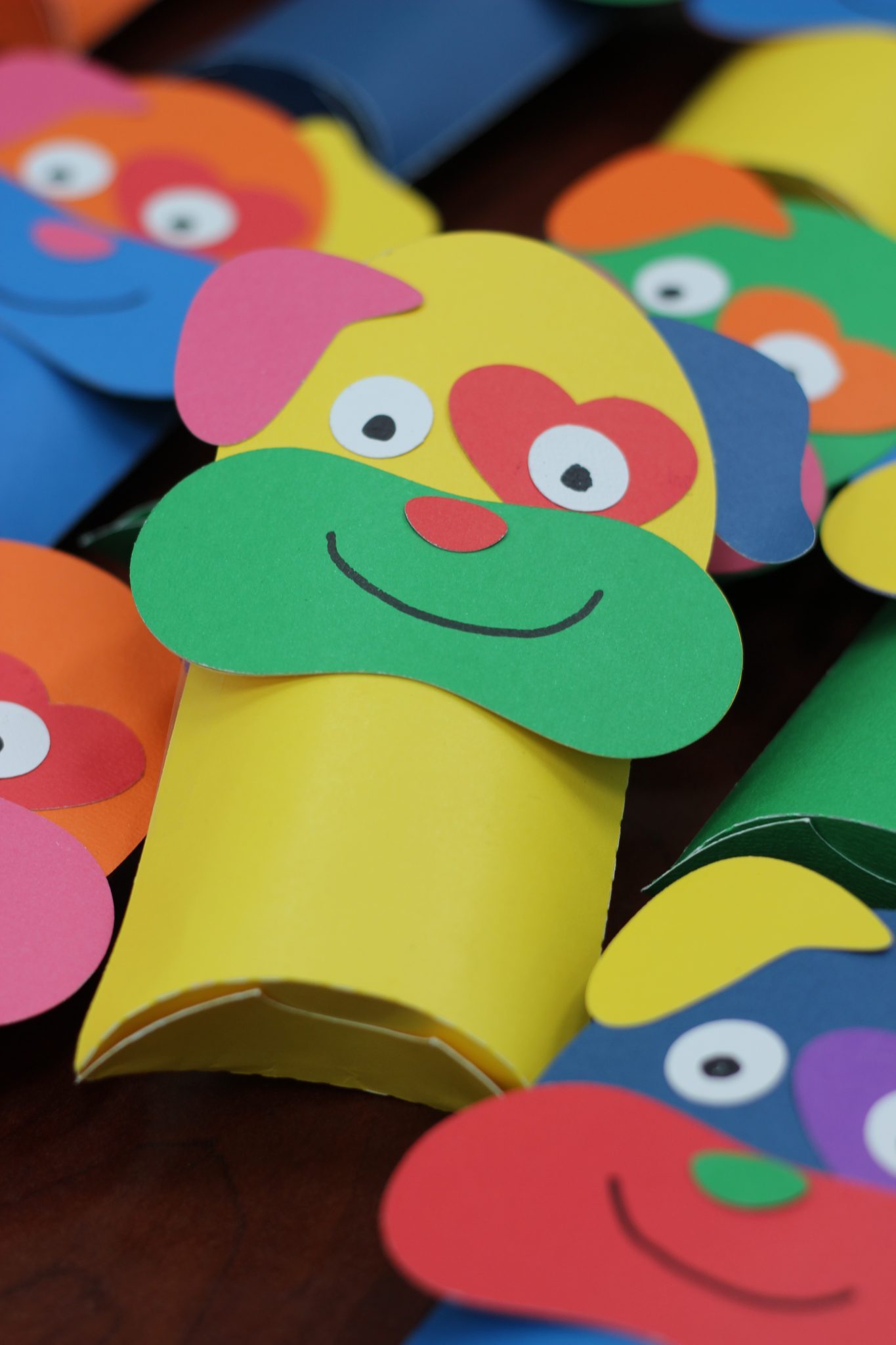 Puppy Pillow Box Valentine's Day Treat Boxes
If you're like me, you have Valentine's treats to make for a crowd. I wanted an "easy to mass produce," but still cute and colorful design- if you find yourself in the same situation, you'll want to check out this project!  Aren't these cute?
I used my Silhouette Cameo to create these little pillow box puppies and have a few tips to share about working with a design from the Silhouette Design Store, read on for lots of tips!
I always try to let my kids decide what they want to give their classmates for Valentine's Day.  This year, they want to give stickers, a sucker and some conversation hearts.  I searched the Silhouette Design Store for Valentine treat boxes and came across these super cute  pillow box animals:
We decided to make the puppy boxes so we purchased this design:
When you purchase a design through the online store, pay attention to if the design is for personal use or if a commercial license is available.  If you intended to make these and sell them, you will need the commercial license.  This design says it is for personal use only, which is fine for gifting these on Valentine's Day.
To purchase a design from the online store, simply click the add to cart button then go to your cart and check out.  When you open your Silhouette Studio software, go to File –>Download Pending Orders.  This should bring the new design into your library.  To open the file, simply click on it from your library.
When I first opened my file, it looked like this:
Most files that you purchase from the online store will come "grouped."  If you click on the the design, all the pieces will move together.  This makes it easy to resize if you want to make everything larger or smaller.  To make the file a little more user friendly, you'll want to ungroup your file.  There are several ways to ungroup…
Option 1: Right click anywhere on the design and click "ungroup."
Option 2: Click on the design and then click the ungroup button in the bottom left hand corner:
Option 3: Use your keyboard shortcuts.  Click on the design then hold Ctrl+Shift+G to ungroup.  To regroup, select what you would like to group together and hold Ctrl+G.
When you ungroup the file, boxes will appear around all of the pieces.  You can either leave everything ungrouped and manipulate the individual pieces, or you can group things you want to move together.
Once I had ungrouped my pieces, I deleted the pieces I wasn't going to use (the tag and eyes in this case).  Next I wanted to duplicate the pieces.  I had 12×12 cardstock paper in primary colors so I wanted to get at least 2 full puppies on each piece of paper.
To make duplicates of all the pieces, I clicked on the replicate button.  Next, I selected the pieces and used the duplicate buttons to dictate which direction I wanted to make my copies.  If you have several copies you want to make, you can click the "row of three" or "row of four" to make three or four copies right next to each other.  This is really handy when making things in multiples!
After I duplicated my pieces, I had this:
Some of my pieces were off my cutting mat surface and there were large spaces between everything so I needed to "nest" my pieces.  Nesting refers to putting things as close together as possible so as save on space and paper.  If you have Designer Edition or Designer Edition Plus, you can use the Nesting button and the Silhouette Studio will nest your pieces for you.
I chose to do my nesting myself… I'm not as good as the software at it, but it certainly saved on paper to move those pieces around!  The most import thing to remember is that you do not want your shapes to overlap.  Remember, the Cameo will cut anywhere that there is a red cut line.
Next I cut all the pieces out in each color of paper that came in my stack.  To assemble these, I used a combination of different adhesives.  For the little pieces, I used a Xyron Sticker Maker.  You feed your pieces in one end and crank it through the machine and out comes a sticker!  This made attaching all the noses and eyes and tails quick and easy.
I also utilized my Glue Glider Pro with Permatac cartridge in it to attach the larger pieces and seal up the boxes.
You can use any adhesive that you find helpful.  A glue stick would even work!
To finish them off, I used a Sharpie to draw in the eyes and mouths.  To finish, the kids filled up the boxes with their treats and we are all set for Valentines day!
I hope you enjoyed this project!
How do you approach Valentines Day?  Do you make a handmade treat container to fill with goodies or do you stick with the box of Valentines and have the kids write their name on them?
Related Posts
An Easy DIY Valentine (Plus Free Printable!)
Draw & Cut With Your Cricut – DIY Valentines