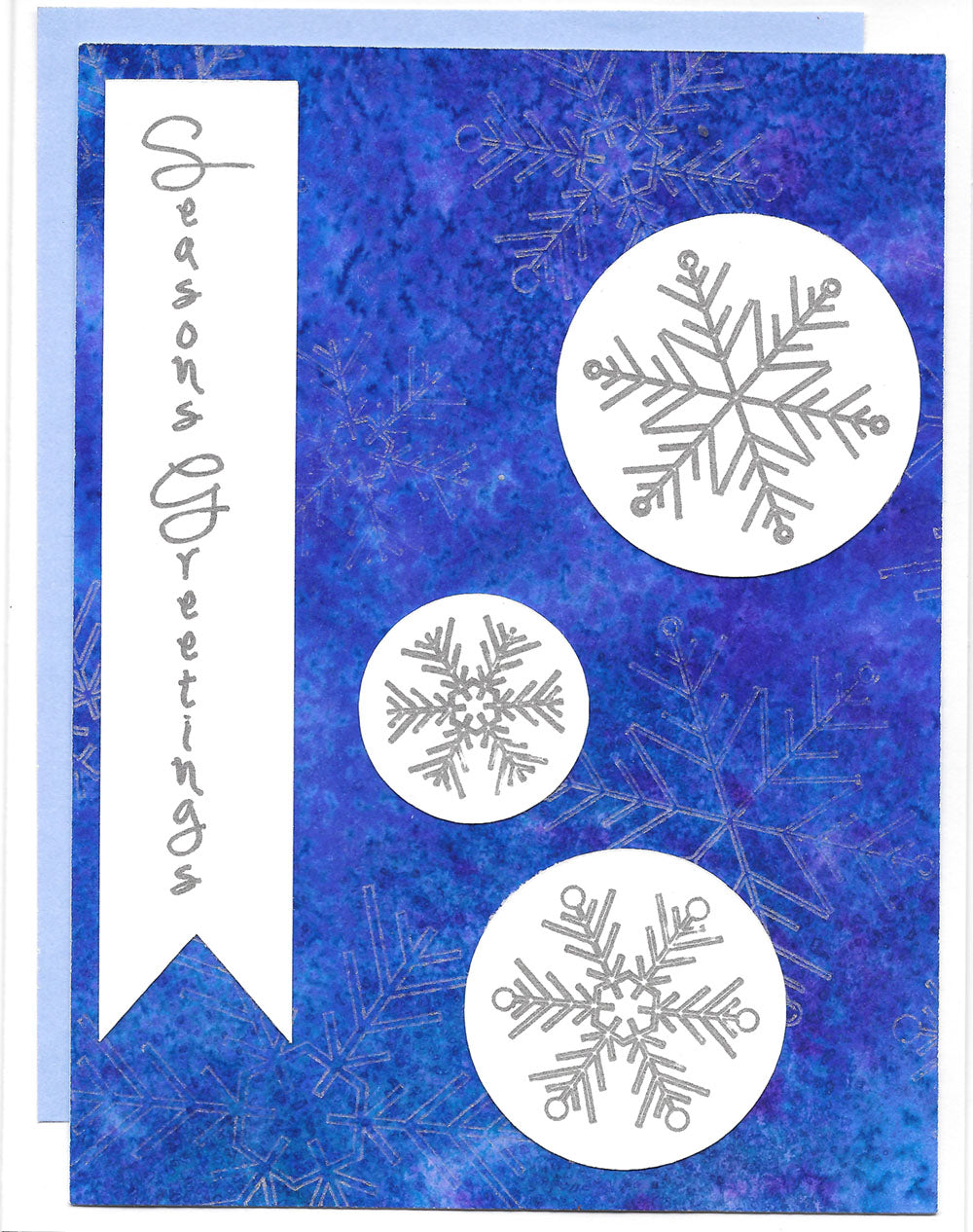 Snowflake Holiday Cards With Watercolor and Cricut Pens
A simple watercolor effect creates a beautiful background for drawing with gel pens.  The background provides an artistic touch to this easy snowflake card that you can use to share good wishes with friends and family this holiday season.
Supplies:
140 lb watercolor paper, 9" x 12"
Watercolor paint or other water media
Salt
Cricut with gel pens in silver and grey
Blank cards and envelopes
Double-stick tape or paper glue
Directions:
Dampen a 9 x 12-inch sheet of watercolor paper with water. Use your favorite watercolor media to create a dark wash of purple and blue that completely covers the paper.  Watercolor paints or non-acrylic spray inks (like Ranger Dyan Reaveley Dylusions Ink Spray) would both be suitable for this project.
While the paint is still wet, sprinkle salt across the paper.  Ordinary table salt will do, or you can experiment with salt having larger crystals if you'd like.  The salt will create an interesting mottled effect as the paint dries.  The effect will be subtle with regular table salt and more pronounced if you used large crystal, specialty salt.
After the paint has dried, thoroughly brush the salt from the surface of the paper.  Be sure to remove ALL the salt, brushing the paper with a rag if needed to make the painted paper as smooth as possible.
In Cricut Design Space, create a rectangle sized to fit your blank cards and envelopes.  Set the rectangle to cut.
Upload snowflake images from a copyright-free source.  The project sample uses the following free images found on Pixabay.com.
Snowflake 1
Snowflake 2
Snowflake 3
Add the snowflake images to the canvas in Cricut Design Space.  Resize and arrange the snowflakes randomly across the rectangle.  Set the snowflakes to write.  You want the machine to draw the snowflakes but not cut them out.
Group and attach the snowflakes to the rectangle.  Duplicate the group to draw then cut 2 rectangles from each 9 x 12-inch piece of painted watercolor paper.
Follow the machine prompts to make the project.  If your watercolor paper is uneven, use masking tape to help secure it to the cutting mat.
Set the material to custom, heavy watercolor paper.  Use a silver or light grey gel pen or a silver metallic pen as the drawing tool.  If needed, repeat the draw and cut.
Create additional pieces to add to the front of your card using basic shapes available in Design Space.  Draw snowflakes on white cardstock and cut out circles around them.
Create a "Seasons Greetings" banner by slicing a triangle from a narrow rectangle and writing text on top.
Tip: Use the Advanced feature, 'Ungroup Letters,' to create writing with a vertical alignment.  The project sample uses a free font called Simply Glamourous available from DaFont.
Assemble your pieces on the front of a blank card and adhere using paper glue or double-stick tape.  Include additional scrapbook papers or embellishments as desired.  Have fun and make the card your own!
And if you're really ambitious, use the Cricut to draw some snowflakes on – and even address – your envelopes!
Related Posts
Hand-Colored Vintage Christmas Cards With Cricut Pens
How to Make Watercolor Greeting Cards using Cricut Pens
Create Your Own Imagery for Fabric Collage Using Cricut Pens