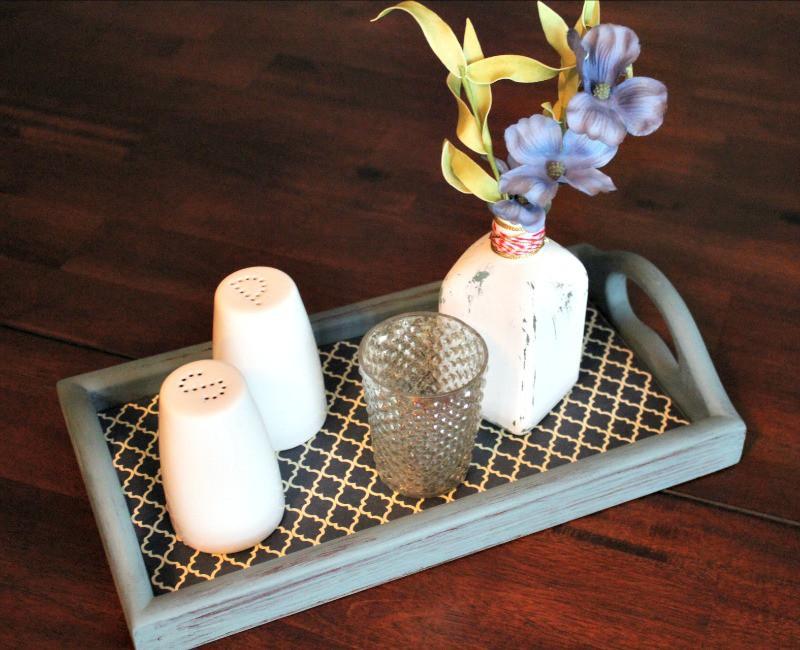 Something Old, Something New, Something Red, White & Blue!
I think I might have a problem. Maybe it's an addiction, I am not sure, but I think it's time to admit it.
Here goes nothing…
I, Abbey, am a holiday craft addict! There, I said it.
I love to decorate for holidays all year round, but since I have become a mother of a now very active 1-year-old, I am finding it much harder to find the time and energy to decorate. It also takes me longer to take everything down. This year, my Easter stuff didn't come down till almost 2 weeks after Easter!
(shaking my head shamefully)
So today's post is all about simple, fast and cheap ways to change up your home decor!
My new decorating motto: Reuse, Recycle and Redecorate!
Here is an recycled tray that I made over last year to match my kitchen.
I wanted to add some patriotic flair to my kitchen, and this tray was just what I needed.
I chose a navy blue classic quatrefoil pattern paper and trimmed it down to fit perfectly inside my tray. I am not going to adhere it down. That's the beauty of it… without adhering it down, it gives me the freedom to change the paper out whenever I want a new look!
Next up, clearance Christmas items!
I got this blue plastic plate on clearance at Target just after Christmas. I think I paid a whopping $.75 for it. Stores like target are known for their holiday sections, and a few days after the holidays are over, everything goes on clearance. This is the best time to browse for those year-round items. Items, like this blue plate, that can be used for more than just Christmas.
I am using the same concept as my other centerpiece by adding fun patterned paper to my plate. Using patterned paper is a genius way to decorate on a budget. It's cheap and it's changeable.
I trimmed down a blue stripped paper to a square and rounded the corners.
I added the same salt and pepper shakers and a patriotic star mason jar vase I made.
Check out that tutorial here
. The bright blue stripes really add a fun pop and it took me no more than 2 minutes to make my fun patriotic centerpiece!
I hope you loved these quick tips and tricks and happy SIMPLE decorating to you all!
Which one do you like better?
*comment below with your answer*