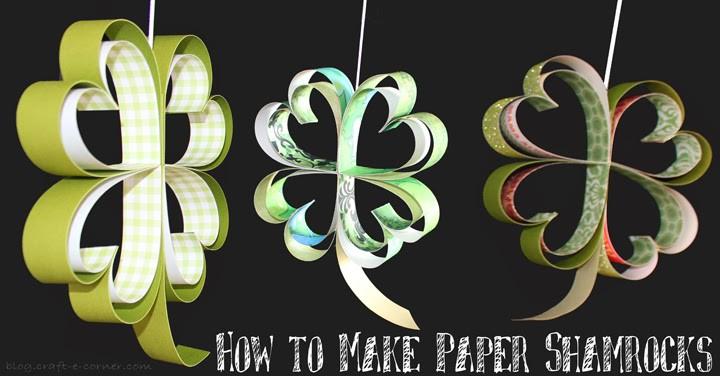 St. Patrick's Day Crafting: How to Make Paper Shamrocks
Saint Patrick's Day is just around the corner!  I'm actually Irish, but read somewhere that everyone is Irish on March 17th. I was looking for a fun project for St. Patrick's Day and decided paper shamrocks were in order!  These shamrocks were so easy to make, and they're adorable to boot!  See below for all the details!
First thing you will want to do is gather your supplies:
For this project, you will need:
12×12 Green Scrapbook Paper
Paper Trimmer
Scissors
Ribbon, Twine or Yarn
Glue Glider Pro with Permatac (or other adhesive)
Bone Folder (mine is from the Cricut Tool Kit)
First thing you will want to do is trim your scrapbook paper into 1 inch strips.  You'll need four 12″x1″ strips for the outside of your shamrock and four 10″x1″ strips for the inside of your shamrock.  You can stick with one color, two colors, a different color for each piece- it is up to you!  You'll also need one strip for a stem in a coordinating color.  I chose dark green for my outside color and stem and green gingham for my inside color.
Next I folded  all my paper strips in half (except the stem).  If you are using patterned paper like me, you'll want to fold the pattern part OUTWARDS if it is the 12″ strip, or INWARDS if it is a 10″ strip.
To make the leaves of the shamrock, I first unfolded one of my green 12″ strips and ran a line of tape along the ends.  I added one line of adhesive in the middle over the bend too (see red arrows, above).  You want a thin line as close to the edges as possible.  I love using my Glue Glider Pro with Permatac for projects like this… it is probably more sticking power than I "need," but it never lets me down!
Next I took one strip of my green gingham and stuck one end (pattern side UP) to one end of the solid green strip where I put the adhesive.  Then I bowed the outside green paper and stuck the other side of the gingham paper to the other end.  You'll have somewhat of a D shaped piece of paper at this point.  Next I took my tape and ran a little strip along the outside edge (see red arrow above…. tape runner adhesive is hard to photograph!).
I bent the paper backwards on itself to that last little strip of adhesive I put down in the previous step.  Pinching the ends together, I then lined up the bottom edges of the two hearts and stuck the middle parts together (that's where the middle strip of adhesive comes into play!).  Do this 4 more times until you have 4 green double heart leaves.
Next take one of your hearts and run some tape along the bottom edge (TIP: I used by hand to support the paper when using a tape runner so I didn't squish my hearts).  Stick the two hearts together to make half your shamrock.  Next I ran some tape along the side of the half shamrock and stuck down my ribbon that will be used for hanging.  I joined the other two hearts together and attached the stem to that half of the shamrock.  Leave enough of a tail hanging out that you can slightly curl your stem.  Stick the two halves together to make your whole shamrock. Finally I used bone folder to slightly curve the stem (see how you can use a similar technique to make a beautiful curled paper wreath here).  I trimmed the stem to a length that looked good to me and angled the end a little with my scissors.
How cute did these turn out?  Feel free to use different colors of paper even – who says shamrocks have to be just green?  I'm sure the leprechauns wouldn't mind shamrocks in all the shades of the rainbow!
Feel free to experiment with this project- make shorter paper strips for smaller shamrocks, if desired.  You could add more layers too!  Just keep a 2″ difference between layers so they separate nicely.
I hope this gets you in the mood for St. Patrick's Day!  How will you celebrate St. Patrick's Day this year?
When you give this project a try let me know how it turns out!
Happy Crafting!
Kala