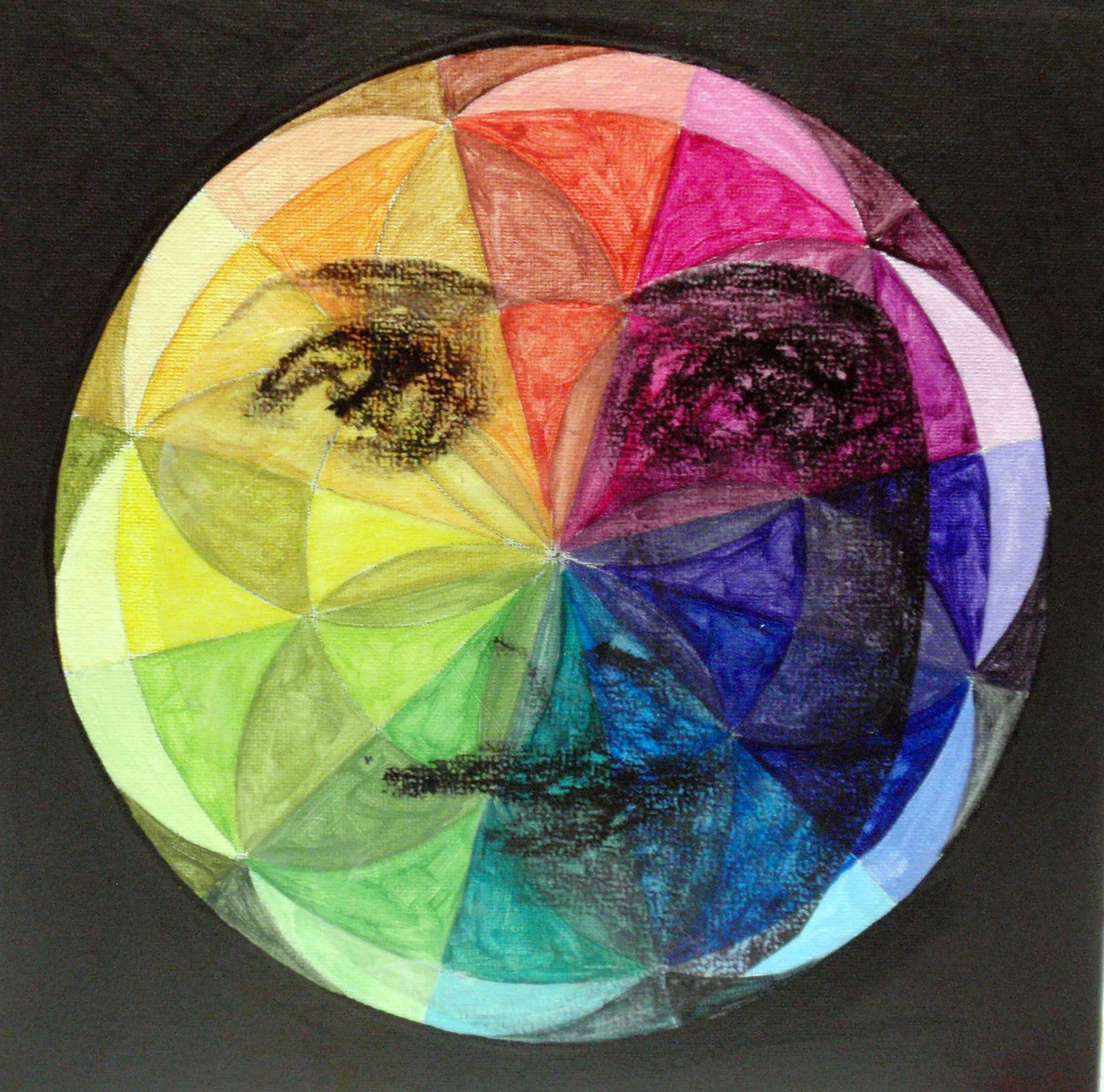 Color Wheel Bonus - Gel Medium Image Transfer
Image transfers using gel medium is a fun technique to add interest to your artwork.  It works because acrylic medium applied on top of a toner-based print or copy will trap the ink from the print. Once you remove the paper, you're left with a transparent version of the image to adhere to your painting.
Supplies
Color wheel mandala
Water
Step by Step
For best results, select an image with lots of white or light space.  Modify the image using Photoshop, PowerPoint, or other photo editing software if desired.  I used a pencil sketch filter on my image in PowerPoint. Print the image in greyscale or black and white using a laser printer or make a photocopy at a local copy shop.
Brush a light coat of acrylic gel medium over the image.  Allow to dry and repeat 2 more times for a total of 3 coats.
Place the image face down and moisten the paper on the back side with a little water.  I have a small spray bottle that I like to use for this purpose.  Gently rub the damp paper with your finger to remove it.  This process separates the paper from the dried gel medium, leaving a clear acrylic skin that retains your image.  Work carefully while removing the paper to prevent tearing the acrylic skin.
When you've removed as much of the paper as you can, trim away any unwanted parts of your image using scissors.  Glue the image transfer on top of your mandala using gel medium.  Put medium both under and on top of the image transfer.  Rub the top of the transfer using your damp finger to remove bubbles trapped under the transfer and any excess medium.  Allow to dry.
More Info about the Color Wheel
Related Posts
The Color Wheel: Choosing and Mixing Paint Colors
All About Paint: Which Paint Do I Use?
Color Schemes using the Color Wheel Plus Free Magnet Pattern