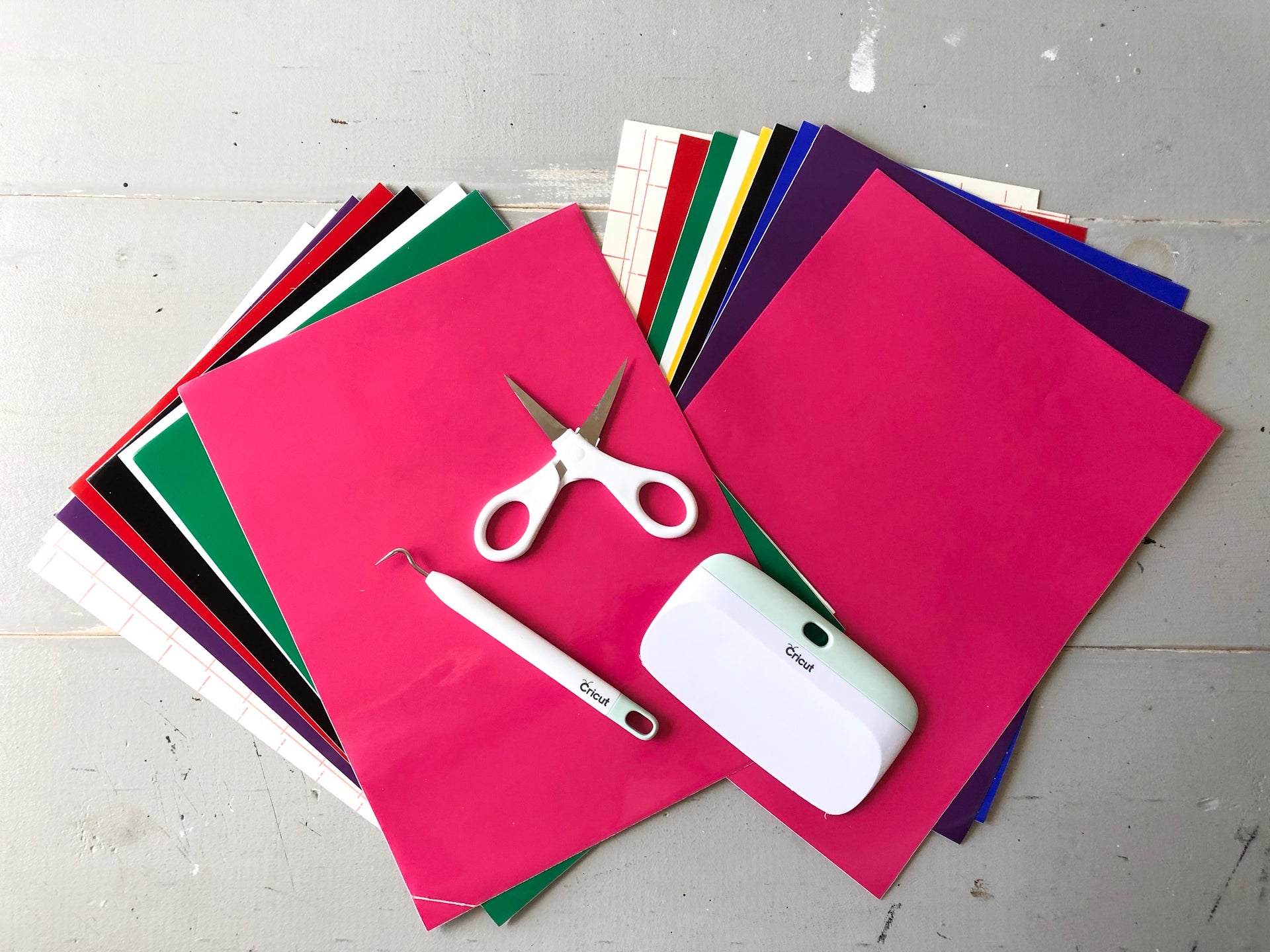 Vinyl 101: The Very Basics of How to Vinyl #vinylallthethings
With a little bit of vinyl, you can transform everyday things.  Vinyl is simple to work with, but it can be intimidating if you are new to working with it!  Let me walk you through a super simple, back to basics, vinyl project to explain how to work with vinyl.   This is a step-by-step project with lots of photos, so get prepared to learn all you need to know when working with vinyl!
Before we begin, it is worth noting that there are two kinds of vinyl you may encounter when crafting.  The first is the kind we will discuss here, and that is adhesive backed vinyl.  Adhesive backed vinyl can be used on just about any surface except fabric.  The second, heat transfer vinyl, would be used for fabrics and won't be discussed today.
Here's a super simple, step-by-step, tutorial on how to work with adhesive backed vinyl.
I found a small tile at a hardware store and wanted to add something cute to it. Here is how I added vinyl to make my own custom tile:
Step 1: Cut your design
When I cut vinyl I use my Cricut Explore Air 2 and use the preset settings for vinyl. Note: If you use a different brand of vinyl, you may have to adjust your settings accordingly.
You want to cut through the vinyl but NOT through the backing sheet that the vinyl comes on (this is called a Kiss Cut).  Cut with the vinyl side up.
Step 2: Weed the design
A hook tool is very useful to remove the extra vinyl that is not part of your design.
Step 3: Take the vinyl off the vinyl backing sheet
One of the easiest ways to move your design to the project surface is by using transfer paper. Transfer Tape or Transfer Paper a sticky paper that comes on a roll or in sheets. This paper can be used more than once, so save the transfer paper backing sheet and stick the transfer paper back to it after you are done using it.
Cut a piece of transfer paper slightly larger than your design and smooth it over your design.  Next, burnish the transfer paper onto the vinyl.   You can use a scraper, bone folder, credit card, or the like to burnish your vinyl.  This will help the vinyl stick to the transfer paper and help it come off the vinyl backing sheet.
To remove the vinyl backing sheet, turn your design over and work the backing sheet off by folding the backing sheet over on itself.   If the vinyl refuses to stick to the transfer paper, burnish from behind and press the vinyl down as you go.  You can also use a hook tool to help pick the vinyl off the backing sheet and help it stick to the transfer paper, in extreme cases!
Step 4: Applying vinyl to surface
Once the vinyl is stuck to the transfer paper, you can move your design to the project surface.  Line up your design and then press it down to the surface.
Step 5: Take off transfer paper
Burnish your design onto your surface and then remove your transfer paper.  Fold the transfer paper back on itself as you remove it.
Step 6: Let vinyl cure
To finish my design, I cut the i and u from green vinyl and placed it on the tile by hand.  A very simple project, but oh-so-cute!  The final step in any vinyl project is to let the vinyl cure.  Leave vinyl alone for at least 72 hours before handing it so the adhesive can fully adhere to the surface.

Step 7 (OPTIONAL): Heat set your vinyl
While you should let your vinyl cure for 72 hours, you can also heat set your vinyl.  I heat my vinyl designs with my embossing gun when done.  This helps the adhesive stick better, and helps work out any air bubbles that might form.  Just be careful, you can burn your vinyl by doing this, so keep watch!
Craft-e-Corner carries vinyl in all shades!  Check out our vinyl; we also have transfer paper for use with vinyl as well.
What will you transform with vinyl? Happy Crafting! - Kala