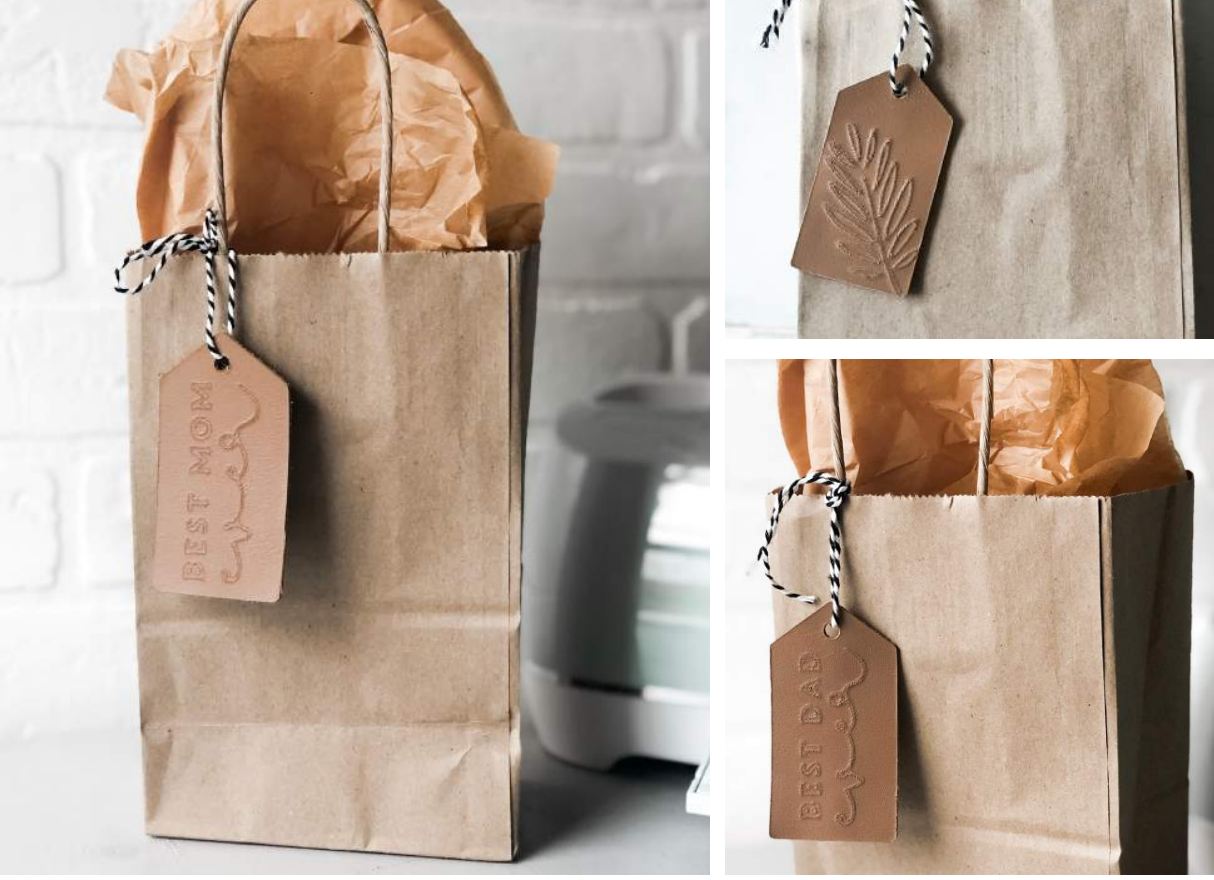 Best Mom Ever Leather Gift Tag using Cricut + Free Designs
Mother's Day is just around the corner and it's the perfect opportunity to show Mom how much you appreciate her. While giving gifts is a wonderful gesture, it's the little details that can make all the difference. This is where a handmade leather gift tag comes in - it's a simple project that can add a personal touch to any present. In this blog post, we'll show you how to make a leather gift tag using your Cricut Maker or Explore. While we used the Engraving Tip (which only works with the Cricut Maker), you could also draw on your gift tag or use iron-on instead. So, no matter what materials you have on hand, you'll be able to make this project and impress Mom with your crafting skills.
To get started, we'll guide you through the materials and steps needed to create this project. We'll also share some tips on cutting settings for Cricut leather and how to adjust the pressure of the cut to ensure that you get the perfect result. And, if you're looking for more Mother's Day project ideas, we have some additional inspiration for you to explore. With this leather gift tag project and other DIY ideas, you'll be able to create heartfelt gifts that Mom will cherish for years to come.
Materials:
Download all the design files used with this project here.
Directions:
We'll start by applying the genuine leather to a StrongGrip cutting mat. Using a Brayer Tool or Scraper tool, push down on your material to help adhere it onto the mat. If your mat has lost some of its stickiness, then you'll want to apply some masking tape or painting tape to the edges to help it stay on the mat. You don't want your leather to move while it's being cut, so use tape! It can't hurt anything, we promise.
Then we'll get cutting and engraving. First, insert either the Deep Point Blade or the Knife Blade and cut your leather. Then, if you have the Cricut Maker, insert the Engraving Tip and engrave the leather.
If you do not have the Cricut Maker, you can still make this project! You won't be able to engrave the leather, but you could apply iron-on to get the same effect. Or you can even draw on the leather with your Cricut and a pen! If you do this, let the ink dry for 24 hours.
Last, use some twine or string to loop through your gift tag! See how it instantly jazzes up any gift? It's a simple project but will help your gifts to stand out - and Mom will be sure to love it!
Learn More:
Cutting Settings for Cricut Leather
It's really important to get the correct cutting settings when you are working with your Cricut. This doesn't just apply to leather but with all materials. If you use the wrong settings, it could lead to damaging your mat or material. If you're ever wondering what settings to use for Cricut leather, here's a quick cheat sheet for you. These are the four settings that we use when cutting leather and what we use each setting for:
Faux Leather (Paper Thin): Faux Pebbled Leather with the Fine-Point Blade
Genuine Leather: Genuine Leather with the Deep Point Blade
Metallic Leather: Genuine Leather with the Deep Point Blade
Tooling Leather - 2-3 oz (0.8mm):Genuine Leather or Metallic Leather with the Knife Blade
In addition to this, it's helpful to note that you can change the pressure of the cut. This will be helpful in case your blade is dull or if your blade is cutting through the material and into the mat. To adjust the pressure, click on the dropdown box the says "More" after you choose your cutting setting. In the example below, we have selected Genuine Leather as our material and set the pressure as "More". We highly recommend that you conduct your own experiments and try it out to see what works for you! Remember to start small and do practice cuts if you are using a new material.
---
Do More:
For more Mother's Day projects from our team, check out these other projects from our blog. And happy making!